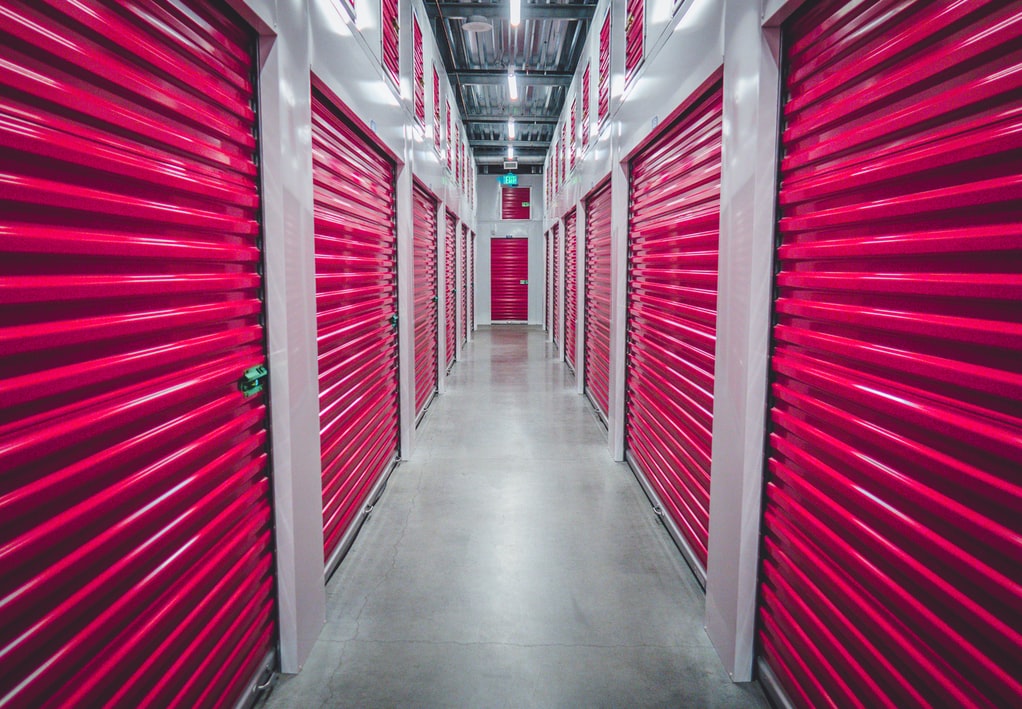 America's Best Self-Storage Companies - Find the perfect self-storage unit near me.
Whether you are moving, or you simply have too many possessions for your home, self-storage is a great way to get your belongings out of your home, without getting rid of them. "Self-storage" simply refers to private storage units that you can access whenever you want, allowing you to come and go as you need. This gives you the freedom to access your belongings, as well as the safety and security offered by these companies, providing you with peace of mind.
Planning a move without unwelcome surprises goes beyond selecting the right movers. From today to moving day, be on top of your game by asking the right questions, validate key information and plan for the little things. 
Read on for a thoroughly-researched review of the 5 best storage unit companies in the USA.
MovingWaldo's list of the best storage unit companies in the USA.
MovingWaldo is a Free Moving Concierge Service. Since 2016, we help millions of people tackle moving tasks in minutes. We care to take the stress away from moving by offering free tools, tips and tricks and referral of service providers that you can trust. MovingWaldo is everything moving under the same roof!
How are storage companies selected?
Our network of storage you can trust is carefully built based on professionalism, years of experience, accreditation, awards and social proofs from customers. We care to help you through the maze of information the web provides about this unique industry. You can trust the storage companies listed here!
Are you a good storage company?
4.3 stars based on 6 652 reviews from Trustpilot

With approximately 225 locations in three countries, StorageMart began with a single store in Columbia, MO and is now the largest privately-owned, family-operated storage company in the world. Dedicated to providing clean, well-lit storage units, and friendly customer service, StorageMart is led by the Burnam family, which has been in the storage industry for four generations. Through the "Store it Forward" charitable giving program, StorageMart gives back to the many communities it calls home.
Drive-Up Units

Heated

Gated Access

Ground Floor Access

Variety of Sizes

Car Parking

*Services may vary on locations
Get a quote online today!
Prices and availability for 5×5, 5X10, 10X10, 10X15, and 10X20 all unit sizes available on their website, or call them to speak to a storage expert.
Offers various promotions, including a free month discount*

Save time and money by renting online

Award winning 24/7 customer service

Wide variety of storage unit sizes

Month-to-month leases


Online account management
Prices and promotions may vary by location

Popular unit sizes often rent quickly


Amenities change by location
Why Should I Choose this Storage Company?
This storage company prides itself on customer service and it has the national recognition to back it up. Awarded Newsweek's Best Customer Service Company, StorageMart offers convenient, 24/7 access to friendly self storage experts who are always ready to help you.
3.8 stars based on 3 390 reviews from Trustpilot

MovingWaldo Exclusive Offer
Click on the link to the Website or call 1-844-509-0318 to get 10% on your moving and storage container by using promo code WALDO.
An industry pioneer and leader since 1998, PODS provides residential and commercial moving and storage services – with contactless delivery and pick-up – across a vast service network that spans North America, Australia, and the United Kingdom. The Canadian-owned business, with its unparalleled flexibility, convenience, and control, makes for a great choice as your local or long-distance moving and storage partner. A PODS portable container is delivered to you, you load it on your schedule, and you can keep it in your driveway for 24/7 access, store it at one of their secure indoor facilities, or have it moved to your new home. Click on the link to the Website to get 10% on your moving and storage container by using promo code WALDO.
• Storage Services
• Storage On-Site
• Store at Their Facilities
• Local Moving
• Long Distance Moving
• Commercial Moving & Storage
• PODS Container Moving
• Contents Protection
• Moving Supplies
•Coordinating Packing and Loading Assistance
Get a quote online today!
10% discount available if booked through MovingWaldo
Contactless delivery and pick-up
They do the driving
You control the schedule – so you can take your time
10X fewer damage claims compared to traditional movers*
Flexible, easy storage options – in your driveway or in their secure indoor facilities
Packing and loading help available
*According to AMSA (American Moving & Storage Association)
12 x 8 x 8 feet container only available for local moving and storage

Do not provide online quotes
Why should you choose PODS?
Whether you are moving across town, across the country – or if you need storage – in one of their secure indoor facilities, PODS has offered a flexible, convenient way to move and store their belongings for more than two decades.
Mix and match among a range of portable moving and storage containers to fit your needs, and unlike traditional moving companies, PODS does not require a deposit, nor are you required to pay for your entire move upfront. They offer pay-as-you-go pricing, since you rent your PODS container(s) by the month, putting you in control of your schedule, so you can take your time. Not to mention, PODS is a contactless service, so you do not need to greet their driver for delivery or pick-up.
PODS can also help make packing and loading/unloading easier by referring you to highly-rated, hourly labor in your area. These pros know their containers inside and out to help maximize your space, and they will do as much as you need them to do.
PODS also offers a discount for people who book through MovingWaldo, which may be a great cost-saving option for some.
3.1 stars based on 7 219 reviews from Trustpilot

About Extra Space Storage
Extra Space Storage has offered clean, updated and secure storage since 1977. The company is located in 40 states and operates over 1800 stores to make sure they serve their customers anywhere they are. The BBB accredited Business is a secure and trusted place to store your belongings. Use their size guide to find the right storage for your needs.
• Climate-controlled units
• Vehicle storage
• RV storage
• Boat storage
• Business storage
Visit their website to find out all Extra Space Storage locations in
• Professional managers
• Variety of sizes
• State-of-the-art-security
• Clean and well-lit
4.8 stars based on 41 161 reviews from Trustpilot
Public Storage first opened in 1979 and has continuously grown since then. The company was originally founded in Southern California, before expanding throughout the United States and even moving up into Canada. The company now boasts over 2000 different locations nationwide, with units of varying sizes.
Unlimited access between 5 am – 10 pm for most locations (there is no 24/7 access for any location)
High security (24-hour surveillance, alarms, personalized codes for electronic gate access, sprinklers)
You can use your own lock at some locations if you would prefer
Climate-controlled units
Get a quote online today!
Visit their website to find out all Public Storage locations
Promotions that offer cheaper rates regularly
Large number of locations nationwide
All of their security features indicated on their website are not available at all locations
Access is not available 24/7
Why should you choose this self-storage company?
Public Storage has a vast range of storage opportunities for customers, in order to accommodate all needs. The various sizes of their units mean that customers do not need to pay any extra for space they don't require, and the high level of security offered means that everything is protected.
People who are interested in renting storage space from this company should find out further information about their specific location before they book a unit. The website states that most units have climate control technology and 24-hour surveillance, indicating that some facilities may not. Always make sure that you are getting appropriate safety and security for your belongings.
4 stars based on 10 000 reviews from around the web

U-Haul is perhaps one of the most widely-known, international rental companies that aid customers in moving and storing possessions. They offer a variety of different storage units suited for a range of different purposes so that all needs are met.
Maximum security (alarms, security cameras, electronic access, fire sprinklers, access to the floor is limited to authorized individuals)
Insurance is available to purchase directly from U-Haul
Some units are climate controlled
Indoor/outdoor storage
U-Haul also provides additional moving services for those who need to be able to transport their belongings
Get a quote online today!
Visit their website to find out all U-Haul locations
Offer various promotions year-round

Some locations offer a $0 deposit fee, and some locations also offer one month of free storage if you also rent a truck/trailer from U-Haul

You can easily book and manage payments online on their website

Large number of locations

Some locations offer 24-hour access
Not all locations offer the same types of storage units
Not all locations offer the same services.
Why should you choose this self-storage company?
U-Haul offers one of the widest ranges of self-storage options on the market. Not only do they provide customers with storage units of varying sizes, but you can easily also choose whether you want an indoor or outdoor unit, whether it needs to be temperature controlled or not, or even whether your unit is for something specific such as a boat or car, which they also have specific units for.
Booking a storage unit with U-Haul is also one of the easiest processes compared to other sites – you can easily book and make your deposit online, and you can also manage your monthly payments through their website too. This convenience allows you to organize your storage whenever you want, and their 24-hour access at many locations means that you can store and access your belongings at your convenience.
Frequently Asked Questions about Storage
How much does it cost to store my belongings?
The cost of storage varies wildly depending on the type of storage, size required and the location. It can cost from a few dollars a month to store specific items, up to hundreds of dollars per month to store a whole apartment in a temperature regulated environment.
For example, if you need to store all your belongings for a month until your new home is ready, you can budget between 220$ up to 600$ for a 3 bedroom apartment. You can find more price ranges on our full article about the cost of storage here.
How much does it cost to store:

A bike: 10$ per month
A set of tires: 20$ per month
A sofa: 30-40$ per month
4 appliances: 100$ per month
These are only approximate prices. Prices may vary depending on many factors.
Should I rent a self-storage unit or use a valet storage to store my belongings between two moves?
If your new home is not quite ready and you need to store your belongings for a period of time, there are different options for you. Some companies will offer to pick up your belongings at your current location, then bring it to your new home only when it is ready. They will charge you storage costs on a monthly basis until they deliver your belongings to your new residence. The benefit of this solution is that most of these companies will charge you for a single move. If you decide to rent a self-storage unit, you may have to pay to get your belongings there, then hire movers again to bring it to your new home.
What to look for in a storage unit?
There are many things to consider in the selection of a storage unit, including:
Size: do you need a large storage unit or only to store a specific item?
Temperature regulation : is it necessary?
Location: does it need to be close to your home?
Access: do you need 24h access?
Frequency: do you need to go often?
Security
Insurance: do you need insurance for your items?
Valet service: do you need help to move your belongings?
Does my home insurance cover my belongings in storage?
If you have a home insurance policy, you are likely to be insured for your belongings kept in a storage unit. This said, the insurance might only cover your belongings in the storage unit for 90 days, after which you would need a separate insurance. Insurance for storage units can usually be purchased with the company itself. 
Will I be able to access my belongings at all times?
This will depend on the storage company. Some self-storage units have 24/7 access, while others have hours of business. If you go with a valet service storage company, you might need to plan in advance to have your items brought back to you.
Can I store anything in a storage unit?
Items prohibited in a storage unit are usually:
Anything inflammable or explosive
Firearms, weapons or ammunition
Perishable food
Plants
Animals of any kind
If it doesn't feel right, it is probably wrong!
How much does it cost to store:
A bike: 10$ per month
A set of tires: 20$ per month
A sofa: 30-40$ per month
4 appliances: 100$ per month
Share this article on social media
Share this article on social media
Moving tips
Utility Bills in US: How Much Does It Cost for Electricity, Water, Gas, Internet, Cable & Home Phones in 2023? How Much Is the Average Monthly Cost of a Utility Bill in the US? The average
Read more »