Everything You Need to Know about Moving a Piano
Pianos add such beauty to a home, whether or not they're used much! But, as anyone who has ever tried to move one knows, moving one isn't for the faint-hearted!  It is certainly an arduous tasking, requiring thorough preparation and manpower. Because of the unique skills involved in moving a piano, there exists a niche moving market where professionals are there to give you a hand solely in moving your beautiful instrument.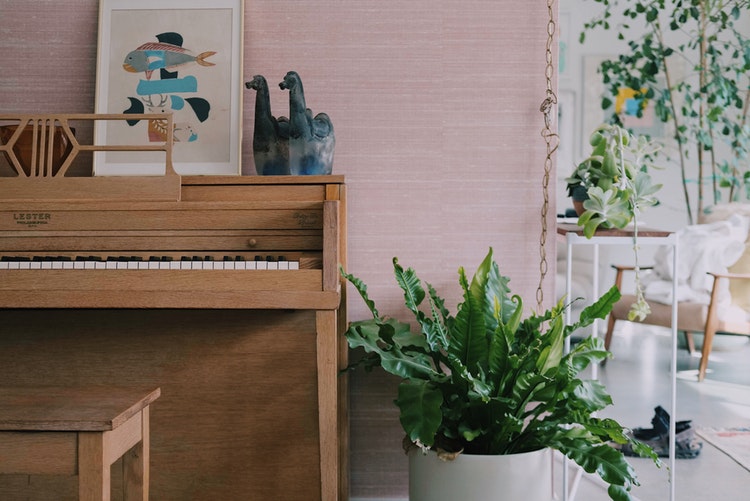 Moving My Piano with Professional Movers
If your budget allows, moving your piano with a professional team of movers is certainly advised. Pianos can weigh up to 1000 pounds and even the smallest of them weighs in at around 300 pounds. Pianos are also often the largest, not to mention the most valuable, item in a person's home. Some pianos can cost up to $100,000 so it's important to get the moving part just right (or risk damaging your most prized possession).
How to Prepare My Piano for Professional Movers?
Before you start to prepare your piano for a move, it is important that you examine your piano closely and determine what sort of piano it is (if you don't already know, that is!). The style, shape, and weight of your piano play an important role in how it should be moved.
The smallest type of piano is a spinet piano. They are therefore the easiest type to move and don't require any disassembly. It should be relatively easy if you have four or five people to assist with the piano's move.
The next type of piano is the standard upright piano. They tend to be taller than spinet pianos as well as being wider too. To move an upright piano, it's best to use a piano trolley. Your professional moving company will have one of these.
The last type of piano, and evidently the most difficult type of piano to move, is the grand piano. Thanks to their harp-shaped body and lengthy keyboard, they weigh up to 1, 000 lbs. It should go without saying that this type of piano will require extra special care to be moved from your home and it may even need disassembling.
Once you know what type of piano you have in your home, you will be able to inform the professional company and they will be able to take the necessary steps to prepare for the move.
Before they arrive, you should also take some additional care to protect your piano whilst it is being moved. Pianos have a delicate finish and casing which could become scratched, dulled or damaged when moved. You should protect it by using big protective blankets that are non-slip. The blankets can be tucked beneath the piano's legs and bottom edges so that they don't become loose as you move the piano. Some professional piano movers offer a wrapping service which will provide you with great peace of mind.
How to Move a Piano Myself – For DIYs
If hiring professionals to move your piano is out of your budget, it is possible to move almost all pianos yourself if you follow some simple steps. However, if your piano is a large and heavy grand piano, it really is recommended to hire professionals to do it for you.
Before You Move Your Piano
Firstly, you should source proper equipment such as blankets and a piano trolley to assist you in your move. Straps that are strong and durable will also help to secure your piano to the trolley. The blankets will help to protect your piano's finish from any bumps, knocks, and scratches that might occur as it is moved. You should make sure that they are thick and non-slip so that they stay in a place where you want them throughout the whole moving process. You should also try to secure the blankets with tape or some other fastenings to prevent them from slipping and exposing your piano. You should also ensure that the keys and pedals are protected too by covering them with additional blankets, secured with tape if necessary.
The next step is to find as many people as you can to help you move the piano. You should need at least four people, but this could be more if your piano is larger or if the move is more complex than straight in and out of a ground–floor building. If you know any strong people who have experience in the field, whether they be family, friends or neighbours, see if you can enlist their help. You should also ensure that they wear appropriate clothing to move your piano, as well as shoes that have a good grip.
Before attempting to move your piano, you should make sure that it is going to fit through the spaces in your home and onto the moving truck. Measure the staircase, doorways, and hallway to see if it will easily fit. You should make sure the doors are left open and that you have put down protective material to protect any floors. Other furniture should be moved out of your path first.
Once your piano is protected, you can begin to move it. When lifting it, you should have a person on each side. You should also take care, making sure that all people lifting the instrument bend their knees in order to prevent injuries. Once you have placed your piano on a hand truck or moving dolly, you can carefully wheel it out to the moving truck.
As mentioned above, if you've got a grand piano, you really should hire professionals to help you move it. However, if you are going to go for it, you should remember to lower the lid and secure it. You might need a screwdriver to remove the legs and the pedals too. You should ensure that all of it is securely wrapped in moving blankets, fastened with tape if possible. You will definitely need a piano board for this type of piano as well as many helpers as you can find! Once you have manoeuvred the piano onto the board, you can carefully move it to the truck.
We recommend that you have your piano tuned after you have moved it. Moving pianos often cause things to become loose and your piano won't necessarily be in tune after. You should also give it a clean after removing blankets to stop any dust or lint getting into the workings of the piano.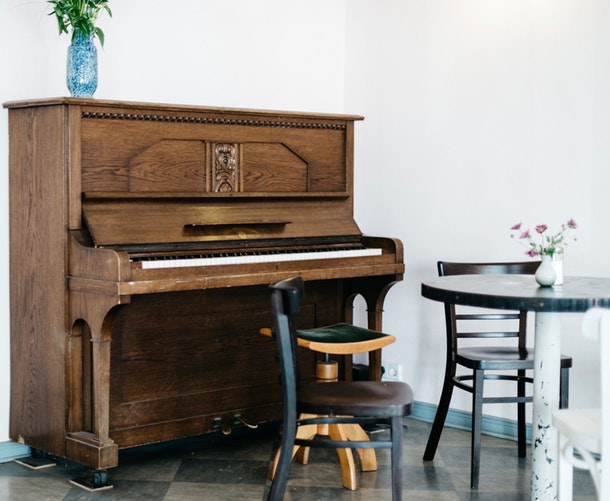 Frequently Asked Questions (FAQ) about Moving a Piano
How many people does it take to move a piano?
Moving a piano will take at least four people, possibly more if your piano is a grand piano. You will need someone on each side of the piano to help you lift and guide it to where it needs to be.
Can a piano be laid on its back?
Quite often you will need to tilt a piano to move it, especially if it is a grand piano. However, you should never leave a piano in such a position for an extended period of time.
How much does a piano weight?
Small pianos, such as upright pianos, weigh in the region of 300 to 400 pounds on average. Bigger upright pianos can weigh between 800 to 1000 pounds whereas grand pianos weigh upwards of 1000 pounds and average at 1200 pounds in weight!
Should I disassemble my piano for moving?
Most pianos can be moved without being dismantled. However, if you have a grand piano you will probably need to remove the legs with a screwdriver prior to moving it.
Share this article on social media
Movers US
Moving out from Cleveland, OH is one of the most stressful things you can ever do. Whether it is residential moving, long distance moving, moving cross borders, or commercial moving, the process can be a disaster
Read more »
Check out MovingWaldo's free moving app that will save you up to 10 hours of paperwork. And it's free.