We hope to change the way people are moving through technology and service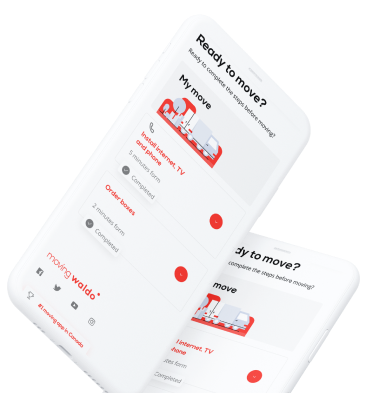 Welcome to MovingWaldo!
We are looking for talented and entrepreneurial people to join our team.
MovingWaldo is a Montreal-based startup developing technology solutions to transform the moving experience. Our mission is to simplify and reduce the stress associated with moving. Our customer base includes businesses of all sizes and active in various industries, from movers, telecommunications, and grocers to Hydro-Quebec.
The company launched in 2016 and is now seen as a Canadian mainstay of relocation with nearly 25% of moving individuals going through our platform. The company is also expanding in the United States.
Are you looking for a professional challenge in a company where creativity, curiosity and leadership are rewarded? We would be happy to meet you!
Job description
MovingWaldo is looking for a Move manager to join its team. In this role, you will be responsible for managing and coordinating moves with our parenting moving companies as well as our customers to ensure a smooth moving experience. More specifically, you will be:
Responsible for the well going of moving services by coordinating with partnering moving companies and customers;
Accompany new partners through their onboarding and act as a source of information within the company for our partners pricing and service offer;
Manage invoicing, payments, and basic financial activities and reporting;
Handle customer requests;
Assist sales people with timely requests;
Report monthly results and performance indicators.
Required skills for this position
Solution oriented
Organized
Resourceful
Multi tasking
Always on
Good with people / communication skills
Dealing with live situations and customer complaints
Excel skills
Use of Customer Relationship Management software (CRM)
Basic financial skills
Experience required for this position
Experience in the moving industry, such as move dispatcher, coordinator, manager of a moving company, or similar.
Languages
English (required)
French (strong asset)
Working conditions
Job type: Permanent, full time – may have to answers user's request outside of business hours
Start date: As soon as possible
Salary: To be determined
Hybrid work (at your own choice)
Location: 917 Mont-Royal Ave E, Montreal, Quebec H2J 1X3
Collective insurance
Wellness account
Ready to apply? Nothing's easier. fill out the form on the right and don't forget to attach your resume. We will get back to you as soon as possible!
Spontaneous application?
Want to join MovingWaldo but can't find the right job for you? No problem, we are always keen to develop our talent pool! Send us your application and tell us why you would like to be part of the team.