Best Charities to Donate to when Moving in Canada - Find the perfect charity around you.
Getting ready for a move is one of the best times to really sort through your belongings, and get rid of anything that you don't want to take with you. Not everything you want to leave behind should be thrown away though, in fact, often you can donate a large number of household items to charities, for a second life within your community. Being able to give back even in this small way is a great feeling, and it also helps the environment by reducing the amount of rubbish in landfills.
Once you know that you want to give your gently used belongings to charity, it can be overwhelming trying to decide what organization to support, especially if you are focused on a large move. To make it a little easier, we have offered you our best options that would greatly benefit from your donations, providing you with charities that are diverse, and highly reputable. The good news is that no matter what charity you choose to support, you are still giving back to your community in some way, helping to improve the lives of those most in need.
MovingWaldo's list of remarkable charities to donate to when moving in Canada
MovingWaldo is a technology company that specializes in simplifying the moving process for individuals and families. Our comprehensive suite of services includes booking trustworthy movers, comparing internet plans, and automating administrative tasks, which can save users hours of paperwork.
How are charities selected?
Our network of charities is carefully built based on social impact, years of experience, number of locations and the type of donation they accept.  You can refer to the charities listed here to give a second life to everything you don't want to move with you!
Are you a remarkable charity looking for donation?
The Salvation Army is a global charity that helps to support communities in over 100 different countries. They have been supporting people in need for over 130 years, and currently provide services to 400 different Canadian communities. In Canada alone, the Salvation Army specifically helps children and families in need by providing basics such as food and shelter, and by helping individuals who are suffering from drug addiction to get their lives back on track. They will gladly accept the home goods you no longer need so that you can move without having to worry about what to do with them.
Locations of Salvation Army in Canada
There are literally hundreds of different Salvation Army locations spread out throughout Canada, in an attempt to reach out and support as many people as possible. You can easily find all of these by checking out the Salvation Army website and then clicking on the "Find a Location" tab. These locations are separated by function (admin/church/thrift store/food bank/emergency housing/addiction recovery) so that you can find a location that is right for your type of donation.
The organization accepts a wide range of donations
You can donate goods such as clothing, food, even cars. You can also volunteer with the organization.
There are a large number of locations across the country for easy access
Financial donations can easily be done online
Some people may feel uncomfortable donating to a charity that is so heavily affiliated with a specific religion (Christianity)
The charity does not offer pick-up services for your donations
You must take them to the store location yourself
Why donate to this charity?
The Salvation Army is a well-known charity that has been providing support in different countries for more than a century. This large-scale organization has strong policies in place meaning that your donations will be used in a way that benefits the community as much as possible, and the charity holds themselves accountable for maximizing the good that can be achieved with your money, food, products, or even time. No matter what kind of home goods you are no longer using and want to get rid of, the Salvation Army will gladly accept them if they are in good condition.
Another great reason to donate to the Salvation Army is the fact that they provide a wide range of services for communities in need, offering holistic support. Knowing that the proceeds of your donations will be going to such a worthy cause is important, and it means that you are making a good choice.

About ValueVillage in Canada
ValueVillage is a multinational charity that sells second-hand clothing and home goods on behalf of charities that they partner with. They currently operate in Canada, the United States, and Australia. When you donate old clothes or household items to ValueVillage (or directly to non-profit organizations that ValueVillage partners with), ValueVillage purchases these items, with proceeds going towards these community initiatives. The goods are then sold at ValueVillage thrift stores across the country, allowing members of the community to shop for great deals while also knowing they are supporting a range of different organizations.
Locations of ValueVillage in Canada
Quebec (Village des valeurs)
British Columbia
Alberta
Saskatchewan
Manitoba
Ontario
New Brunswick
Nova Scotia
Prince Edward Island
Newfoundland and Labrador
To find a list of the exact locations of ValueVillage thrift stores, you can type in your city or postal code on the website to find the options that are closest to you. You can then drop off any clothing, small furniture, or other household items so that they can be sold in the stores. 
ValueVillage is a great option to donate clothes before moving
Through ValueVillage, your support is then used to help various different charities within the community
ValueVillage generates money on behalf of a range of different organizations
You can also support the organization by buying from the thrift store
You can buy things for yourself, while still helping the community
There are a large number of locations throughout the country
They don't offer to pick up your goods
You don't have control over what specific charity your money goes towards
This charity only accepts small furniture donations
They cannot accept goods that require more than 2 people to lift them
Why donate to this charity?
Donating gently used clothing or household items to ValueVillage means that you are helping the environment by reusing and recycling, and you are also providing support to various different charities in the community. This is a great way to help your community even if you don't have the cash for donations or the time to volunteer. ValueVillage takes your unused goods and sells them, allowing you to give back to the community when you perhaps can't give back in any other way.
Another way that you can help is to shop at ValueVillage, which means that they have the business to stay open and grow. When you purchase goods from these thrift stores your money doesn't go directly to the charities (the goods were already purchased from the charities in order to be sold), but it means that you get something in return for your good deed, and the cycle of support that Value Village facilitates can continue. Although this may defeat the purpose of decluttering your life before you move, it is for a worthy cause, and your communities will benefit greatly from your patronage.

Food Banks Canada is an overarching non-profit organization, that helps to provide food for families and individuals in need. It is a great option to donate food you may not be able to move to your new home. They work in close association with food banks across the nation, helping to share resources, and facilitate the connection of these food banks with food supplies, and with each other. They accept help in a number of different ways – individual and corporate sponsorship, volunteering, and donations. Food banks accept donations in the form of food, but also need items such as nappies and infant formula, toilet paper, and personal hygiene items.
Locations of Food Banks Canada
Alberta
British Columbia
Manitoba
New Brunswick
Newfoundland and Labrador
Nova Scotia
Northwest Territories
Nunavut
Ontario
Prince Edward Island
Quebec
Saskatchewan
Food Banks Canada provides services in all of the provinces listed. For more specific communities that they serve, you can check the "Find a Food Bank" page on their website. Once you select your province, you can then see a list of all of the cities that are supported by this charity. This will also give you locations of the closest food banks, so you know where to go to give your donations.
Great option to avoid food waste when moving homes
There are a large number of locations throughout the country
You can donate food directly to the people in need in your community
You can be sure that your contribution is helping those around you
Your contributions to Food Banks Canada are going towards solutions for the future
You are not just helping your community now, but making sure that structures are in place to help people in the future, too
Their support is limited to food-based help, as opposed to charities that help communities in many ways
You can only donate foods or small household items
You cannot donate old clothes or furniture
Why donate to this charity?
As research on the Food Banks Canada website indicates, food insecurity is a massive issue for over 1 million Canadians. People that are affected the most are children, and those surviving on pensions or provincial disability supports. These are already vulnerable people, and providing them with food ensures that they get the basics that they need to survive. Donating to Food Banks Canada means that you are supporting your local community as well as providing wider, national support at some level.
For many people, moving with cupboards full of food just doesn't make sense, and it can create unnecessary stress and problems for your move. Organizing a donation just before you leave your home for the last time is a great way to make your move easier for you, but to also help your community.

Goodwill was first opened in Canada in 1945, and today it is an international company. This is a thrift store, accepting gently-used donations which can then be sold. The money raised from their stores is used for a number of different community initiatives, including generating employment opportunities for everyone who needs them, with a special focus on disabled communities.
Locations of Goodwill Canada
Ontario
Cambridge-Goderich-Kitchener
Guelph-Mississauga-Stratford
Woodstock-St. Thomas-London
Sarnia-Chatham-Essex
Kingsville-La Salle
Goodwill only operates in the province of Ontario, but they do have numerous stores. For more information on exact locations, you can click on the "Locator" button found on their website. If you type in your postal code, you get the opportunity to search for the stores closest to you.
Goodwill accepts a wide range of donations
The charity provides a number of different initiatives for communities, meaning your support is important and far-reaching within your region
Their store locations are very limited throughout the country
This charity only operates in Ontario
Not all locations can accept heavy furniture donations
You are encouraged to ring your local store and check they can handle the donation
Why donate to this charity?
If you want to be sure that your old clothing, electronics, and small furniture items are being donated to a good cause, you should donate them to Goodwill. Not only do they provide people who are most in need with support, but they also focus on sustainability and employment, providing future opportunities to improve and become independent.
One of the only downsides to this charity is that they only operate in Ontario communities. The company is an international brand but still remains relatively small in Canada. This makes it a great option for those who are local to the area, but everyone else needs to consider other options. It can also be a great option for those who are moving to Ontario – although you have to bring your items you no longer want with you, you can easily donate them when you arrive in your new city.

About Habitat for Humanity in Canada
Habitat for Humanity is an international organization that focuses on ensuring that everyone has a safe place to live. Shelter is a basic necessity, and unfortunately, there are some people who do not have access to this, leaving them in incredibly unsafe conditions. This charity offers local help for those in need, with a special focus on indigenous cultures and providing services that are useful but also appropriate. They also offer international support, helping to build homes in nations such as the Dominican Republic and Nicaragua. Habitat for Humanity gladly accepts home goods that are no longer in use and can be resold, as well as building materials that can be used to create safe homes.
Locations of Habitat for Humanity in Canada
Alberta
British Columbia
Manitoba
New Brunswick
Newfoundland and Labrador
Northwest Territories
Nova Scotia
Nunavut
Ontario
Prince Edward Island
Quebec
Saskatchewan
Yukon
If you click on the "Find a Habitat in your Community" button, you are directed to a list of provinces that this charity is active in. You can select a province for specific location details of Habitats as well as ReStores, so you know where you can donate your old items to.
There are a large number of locations throughout the country
They accept leftover building materials
Many ReStores can offer pickup services for your donations
Not all ReStores accept the same goods
You should always call your local store in advance, just to be certain they can accept your donations.
Why donate to this charity?
Habitat for Humanity is a widely known and respected charity, so if you donate to them, you can feel satisfied knowing that you have helped your community. Their aim is to provide everyone with their basic human right to shelter, and you can aid in this endeavor. This charity also accepts goods that may not be accepted by other organizations, such as raw building materials that are still in good condition and large furniture items.
Habitat for Humanity really is one of the most convenient charities to donate to, considering that many of their locations are also willing to organize pickup services to collect your goods. All you need to do is organize what you need to donate, and they can do the rest, leaving you free to focus on your move.
Share this article on social media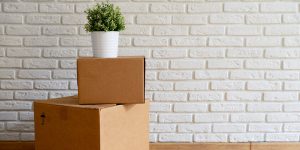 All posts
When you have to move, knowing how to pack certainly comes in handy, especially as what often makes people feel overwhelmed when thinking about moving is the apprehension of having to (basically) fit the whole house into moving boxes…
Read more »