Everything You Must Know Before Moving from Toronto to Calgary
Calgary is a relatively young city that houses the financial and administrative headquarters of Canada's petroleum industry. The city sits where the Bow River and Elbow River meet in the southern province of Alberta. With more than one million people, it is the most populous city in Alberta, but not as many people as Toronto. 
Toronto, the capital city of Ontario, has about six million residents and is the most populous in Canada. The city is an established global city, the international centre for finance, business, arts, and culture. When in Toronto, consider experiencing diverse cultures as it is one of the most multicultural and cosmopolitan cities in Canada.
Moving to Alberta from Ontario shouldn't be too unfamiliar, but there are still some differences between the two provinces.
Moving from Toronto to Calgary
Booking trustworthy movers starts here
Compare multiple moving quotes calculated across the same metrics
Cost of Living: Calgary vs Toronto
Calgary is a booming city, the same as the other major cities in Canada. For a decent lifestyle, the expenses can vary and will depend on your lifestyle but let's see how much you will save.
Calgary's housing is a lot cheaper than in Toronto. In fact, the cost of living in Toronto is higher. Also, car insurance rates in Calgary are cheaper than Toronto's but still very costly compared to using public transport. It only has a Goods and Services Tax (GST) which is about 5%, a lot cheaper since Alberta does not impose provincial taxes.
Category

Calgary

Toronto

Housing

$1058 / Month

for a 1-bedroom apartment

$1708 / Month 

for a 1-bedroom apartment

Housing Utilities and Insurance

$230 / Month

$215 / Month

Transportation

$109 / Month  (Transit Rider)

$156 / Month (TCC Pass)

Car Insurance 

$1316 / Year

$1528

Entertainment

$187 / Month

$230

Grocery Cost for 1 Person

$214 / Month

$283.60

Communication (Phone and Internet)

$80 

Unlimited talk, text, and data included

$80

Unlimited talk, text, and data included

Health and Fitness

$65 for the membership

$55 for the membership

Provincial Taxes

About 5% (Goods and Services Tax)

About 13% (HST)
The Benefits of Moving to Calgary from Toronto
Calgary's cost of living

is cheaper compared to Toronto. Apart from having no provincial taxes, some neighborhoods can offer affordable housing options due to a competitive housing market. 

Calgary offers a wide variety of activities to do during your free time. It is not as bustling as the city in Toronto, you can still enjoy outdoor activities and entertainment. There's the Olympic Park where professional athletes train. Since Calgary sits close to the Rocky Mountains, it is ideal for running, cycling, and trekking.

When it comes to the city's transport network, Calgary's public transit system is reasonably good, with networks of trains and buses available. 
Best Areas to Live in Calgary
The neighborhood is at the centre of Calgary. It's densely populated because of its famous hub for restaurants and the lavish nightlife present. 
You can see here a higher concentration of head offices, malls and nightlife opportunities. The region is divided into several neighborhoods, mostly ideal for young professionals.
Chinatown sits north of downtown, where you can see the Chinese Cultural Center's unique architectural and cultural experiences. Restaurants here offer a variety of Asian cuisine like Chinese, Vietnamese, and Japanese. 
More students live here because of the presence of several schools and institutions. The neighborhood is located in the northwestern part of Calgary.
Pros and Cons When Planning to Move from Calgary to Toronto
According to

Forbes Magazine

, Calgary is one of the cleanest cities globally.

There are over 100 parks in Calgary with different amenities. Whatever outdoor fun you have in mind, there is undoubtedly something for you to enjoy.

The cost of living is cheaper than in other bigger cities. 
Overcrowding in schools is also a problem in Calgary. If you are moving with your children, find schools where they can get better academic opportunities. 

Calgary's downtown does not offer that much fun as other cities do. The downtown generally houses office buildings and other commercial areas. 
What are the Best Movers from Toronto to Calgary?
Packing your things to move to a new neighborhood is already a handful. With Calgary being two thousand miles away from Toronto, renting a moving truck is a more complicated option but it is still possible. If you want to make the move easier ; you need a long distance moving provider to do it for you. 
Skip the long hour searching for long-distance movers online and the stress of sorting them from the best to the worst. Choose the best long distance moving company to assist you from start to finish. Some movers even offer full value moving coverage, packing, unpacking, loading, unloading, custom crates, short term, and long-term storage services. Most have online tracking so you can monitor your packages making it safe and convenient. 
Keep your eye open for movers with excellent reputation, accreditations and awards, and overall good reviews.
Calgary is a breath of fresh air from the bustling city of Toronto. It offers you a low cost of living and allows you to increase your savings. People who long for the outdoors and an active lifestyle will have a great time in this city. Once you figure everything out and know what to expect when moving to Alberta, you'll realize Calgary is an ideal city to live in.
Share this article on social media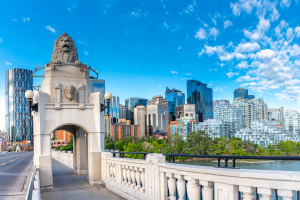 Moving tips
Living in Calgary vs. Montreal: Where Should You Live? Calgary combines the dynamism of a large metropolitan area with the warmth of a connected community. Fresh air, lots of sunshine, open spaces, parks, rivers, and mountains
Read more »