The Best Moving Checklist for your Move
Finding a new home is a double-ended sword, on one hand you're excited to start your new adventure and on the other, moving can be quite stressful. Thankfully, you can significantly reduce the stress of moving into a new home by carefully planning your move ahead of time and breaking down the tasks into weekly checklists.
With proper organization and the weekly moving checklist we've created for you, we make sure that your moving experience is stress-free and goes as smoothly as possible. MovingWaldo provides you with all the necessary tools for a successful move; starting with this printable checklist that you can follow to stay organized and ahead of time.
MovingWaldo's Moving Checklist
8 weeks before you move checklist
Your move into your new house will be much easier if you start planning the whole process at least two months ahead of time. So let's start!
1. Create a moving binder
Create a moving binder, depending on what you're more comfortable with, you can have a paper one or a digital one on Google Drive or Dropbox. It'll help you track a lot of things like quotes, receipts, records related to your move and storing them in one place is a huge time saver.
2. Research moving companies
Start researching moving companies and familiarize yourself with different options. Make sure to look into licensed and insured companies, check out customer reviews to make sure your move is in good hands. Explore a maximum of options and don't limit yourself. Get at least four or five quotes, compare them and figure out your budget.
3. Set a budget for your moving expenses
Speaking of budgeting, before hiring any moving company, you must figure out your overall relocation budget. Moving between cities is not the same as moving between countries, so you must take that into consideration early on to prepare your finances.
4. Request time off work for moving day
It might seem like it's too early, but depending on your company, give an early notice of your moving day and ask for time off. A great tip is to request a day off on Friday so that you have a three-day weekend to get yourself organized in your new home. Make sure to let your manager, coworkers and clients know you will be out of the office that day.
This is an important step to consider if you have children that go to school. Make sure to start researching schools early on in your new area to get information about them and find top-rated schools for your kids.
Are you moving and wish you had some help? Check out our free interactive checklist.
Tackle Your Move in Minutes.
1. Save time with every task
2. Access exclusive deals
3. Track your progress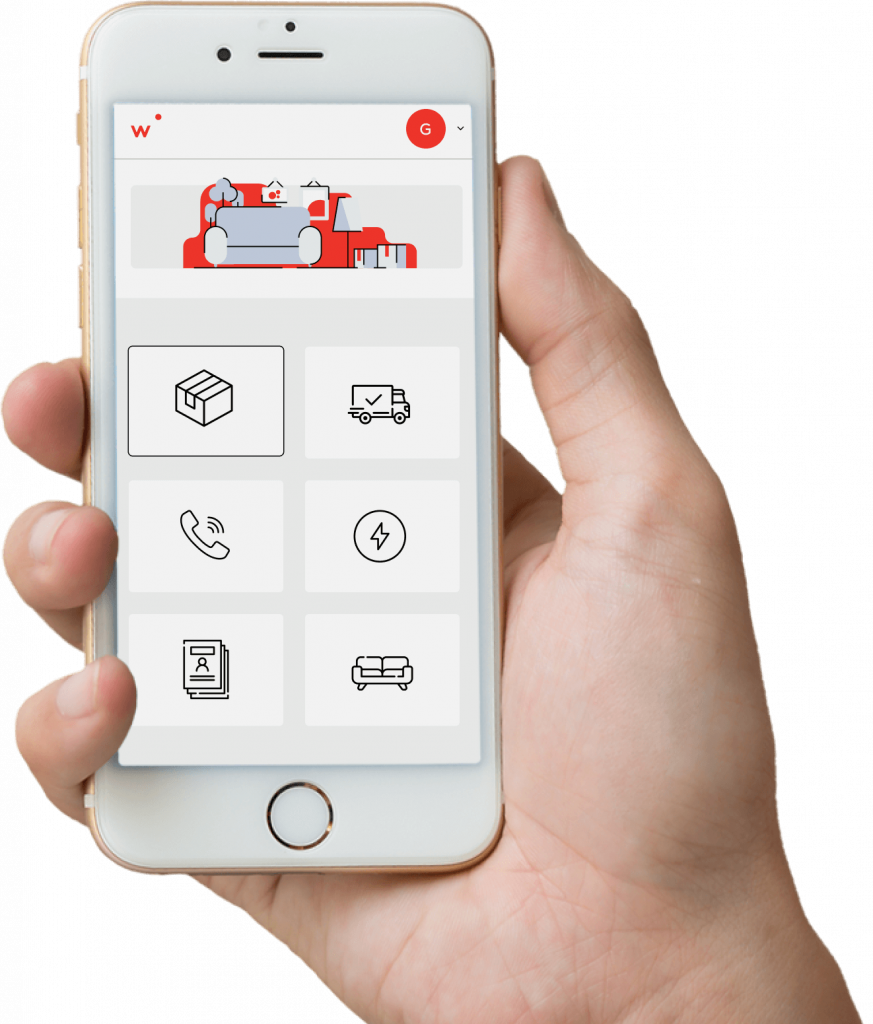 6. Make a list of questions to ask your movers and request estimations
Once you have your mover options laid out. Narrow your list down to three or four options and make a list of questions you want to ask them. From cancellation policies to liability coverage, it's important to know as much as you can about the moving company before signing any contract.
You can then have them do an in-person inspection of your belongings and request an estimate. Compare different estimations, ask them whether they are binding estimates or not and based on that make your final decision
7. Give notice to your landlord
If you're renting your current place, you'll need to give your landlord a notice about the move. Many landlords request up to 60 days notice before moving out, so make sure to respect that and any specific details about moving on your lease agreement. 
8. Create room by room inventory
In the early stages of planning, you can just start off by doing a room by room inventory, it's not hard to do and will prevent you a massive headache in case you have to claim for lost, stolen or damaged goods. You can also label items that require special care or are fragile.
Deep clean your house. Not only will this help you organize your stuff better, but also increase your chances of getting your deposit back if you're a renter or selling your house faster if you're an owner.
10. Organize a garage sale if necessary
Once you're done cleaning, you'll get a clearer picture of what you need to keep and what you'd rather sell or donate. To get rid of excess or unwanted items, organize a garage sale and donate anything left that you couldn't sell.
6 weeks before you move checklist
You've spent the last two weeks organizing and familiarizing yourself with the whole moving process. Now it's time to dive a little deeper and start collecting boxes, organizing your belongings and valuables, but most importantly deciding on your movers.
By this time, you've narrowed down your choices and decided to schedule your movers. Pay close attention to your move day as a specific week, day or month can affect the cost of your move. If possible, try to book a day during off-season months and on a weekday.
2. Find a storage unit near you
For everyone relocating to a new home, renting a storage unit is always a good idea. Whether it's temporary while you settle down in your new home or a long-term solution to your clutter, we're here to help you find a storage unit near you that will make your moving much easier and hassle-free.
3. Start collecting free moving boxes
Start collecting free moving boxes from restaurants, grocery and furniture supply stores or local bookstores. Most of these businesses have more boxes than they need and will be glad to hand them to you for free.
4. Order all moving supplies
To avoid any bad surprises, start ordering all your moving supplies as soon as you can. From boxes, bubble wrap to tape and packing paper, these will ensure your belongings arrive safely at your new home and avoid any damage.
5. Label your moving boxes
Once you get your boxes, label them using different colors or tapes for each room (ex: kitchen supplies, books, etc.)
6. Take pictures of your valuable belongings
In your moving binder, create an inventory sheet for all your valuables. Take pictures of your valuable belongings and the boxes they are in before they go in the moving truck. This will save you a lot of trouble in case you need to file a claim and just make the unpacking process much easier. 
7. Do small repairs to your current house
Address small home repairs before moving out. This will increase the odds of you getting your deposit back if you're a renter and selling your place if you're a homeowner.
8. Research your new community
Start researching your new community for points of interest. It'll make you look forward to moving and you can find your new favorite restaurant, coffee shop or hangout spots.
4 weeks before you move checklist
You have officially hit the one-month mark, not much time to go until you're sleeping in your new home. Now is the time to start your packing process fully and insure your move.
1. Check your homeowner insurance
Before you move, contact your home insurance company to discuss your upcoming move to your new home, coverage and insurance plan. Here are some of the best insurance providers that you can turn to if you want to insure your home.
Get moving coverage to cover all your belongings if they get broken or damaged during their journey to your new home.
3. Make travel arrangements
If you're traveling a long distance to your new home, start making travel arrangements right now, like booking flights, hotel rooms, rental cars… Booking them sooner will help you avoid high prices.
4. Start the packing process
Now it's time to figure out your packing technique. Before boxing up your things, we recommend that you start packing non-essential items first such as things that you won't be using for the upcoming weeks (books, home decorations, electronics…). You can then pack your essential items such as kitchen supplies, clothing, toiletries and any other item that you will need in the upcoming weeks/days.
5. Gather all important documents in one place
Gather birth certificates, passports as well as legal, financial and medical documents of everyone that lives with you in one place. Keep them in a safe place until your moving day.
6. Find internet, TV and phone providers
2 weeks before you move checklist
The big day is almost here! In these two upcoming weeks, your priority is to start updating your contact information with your new address and finalize moving day logistics. You also want to dedicate these two weeks to packing, medication, meals…
Your inventory is done and you've got your moving boxes so now it's time to do the actual packing. Pack your fragile items carefully and label boxes as clearly as possible.
Update your address with institutions that may need your new address like loan providers, banks, credit cards, insurance companies… Luckily, you can do this on your phone without having to go anywhere.
3. Update all memberships
Update or cancel your memberships to the gym, clubs or community organizations. Most memberships require a 2 weeks' notice to cancel so make sure to do it as soon as you can.
4. Confirm moving dates with all your services providers
To avoid any misunderstandings, contact any company you've booked services through to confirm moving dates. This includes your moving company, truck rental, new home installation services, etc.
5. Get mail to your new address
Forwarding your mail is an easy task; you just need to arrange with your post office to have your mail forwarded to your new address starting from your chosen date.
6. Transfer your utilities
Before you move, call your utilities' providers and let them know you're moving. They should be able to transfer your utilities (water, electricity, gas, etc.) to your new house easily if you're staying in the same city. If not, you may want to start looking for utility companies in the area and schedule installation dates.
Make sure utilities are working before you move into your new home, you don't want to spend your first night freezing or in the dark.
7. Get a babysitter or pet sitter
To keep your children safe during the move, line up a babysitter to watch them. And if you have any pets, look into pet daycare or ask a friend to watch them for a day. 
8. Send a moving announcement
Tell your family and close friends about your move and give them your new address. Some of them may also be happy to help you pack or unpack.
9. Change address for Social Security within 10 days of moving
Update your mailing address for your Social Security or Medicare online 10 days before you move. 
10. Update your driver's license, auto insurance and car registration
11. Fill your prescriptions if needed
If necessary, while you're waiting to transfer your prescriptions to a pharmacy close to your new home, make sure to fill your prescriptions before going. You don't want to be stuck without your medication during the wait.
1 week before moving checklist
Now it's all about making everything ready for the big moving day. It's time to finish up packing, organize your belongings and clean your old home.
Don't forget to clean your old house before the move. A little cleaning once in a while can save you a cleaning fee or charge to your deposit.
2. Dissemble big furniture items
3. Schedule your final walk-through with your landlord
If you're renting, arrange a day for a final inspection with your landlord. Discuss any damages or issues that may have occurred and try to negotiate to get your security deposit back.
Pack an essential box for your first 24 hours at your new home. Include clothes, phone chargers, snacks…
Tipping movers is always a nice gesture for a job well done. So, have enough money on hand to tip your movers and deal with any unexpected events.
6. Take pictures of your empty home
Take pictures of your empty home to be able to prove that it was in good move-out condition when you left.
Clean your new house before moving in. It'll save you some time and you'll be glad to enter a clean sparkling new house.
On the last day, pack your suitcases with everything you will need for a few days (pajamas, socks, toiletries, shoes, underwear, towels…)
You've been waiting months for this and the big day is finally here! Everything you've done led you to start this day with a peace of mind. Make sure to get an early start, so that by the end of the day, you're comfortable in your new home. 
The moving company should provide you with a moving inventory list that you need to check before they depart. You can also do it by yourself and keep a copy of it as this will be critical if something is missing and you need to file a claim.
2. Do a final sweep of the house
Before leaving your old house for good, do a final walk-through to avoid leaving anything behind. Check closet corners, shelves, washers, dryers and any other easy-to-miss spots.
3. Be available at the loading process
Stick around during the loading process to facilitate and answer any questions the movers have. Also, make sure to give them your contact info and your new address.
After moving day checklist
You have successfully moved in and checked off almost everything on your moving checklist, but there are still things to take care of to call your new place home.
Unpacking can be overwhelming, but with a little effort and organization, you will be done before you know it. We recommend you start with your suitcase, kitchen supplies and other essential items, before unpacking room by room until you're done.
3. Change your locks and make spare keys
To secure your house even more, one of the best things to do is to change your locks. You never know who the former residents gave their keys to and you would rather stay on the safe side. Also, make copies of your new keys to give them to your babysitter, housekeeper, gardener, dog walker…
4. Get to know your neighbors
Introduce yourself to your new neighbors after you move in to get a good sense of the community. Most people will appreciate the gesture and you may even make new friends as you go.
5. Explore your new neighborhood
Once you've settled in, get out there and explore your new area. Take a drive or even a walk around the neighborhood and visit local shops, cafés, libraries, restaurants…
6. Plan a housewarming party
Reward yourself for your good job and host a housewarming party to celebrate your new home with your family, friends and neighbors.
Share this article on social media
Long distance moving
The beautiful country of Canada is situated in the northern part of North-America. It has a total area of about 9.985 million Km2 which makes it the world's second-largest country in terms of land area, only next to Russia. The total population is 37,940,640 and its capital is Ottawa. The country ranks among the highest in the international measurements in terms of quality of life, government transparency, civil liberties, education, economic freedom, and healthcare. In addition, the country is known for the respect the differences of everyone, its unparalleled diversity as well as its safety and security.
Read more »
Check out MovingWaldo's free moving platform and find everything you need for your move. No sign up required!