Moving to Vancouver: Our Guide for Newcomers!
Vancouver is located in the southwest corner of the coastal province of British Columbia. There's so much to see and do in this city. Vancouver was named after Captain George Vancouver, a British officer of the Royal Navy most famous for his expeditions from 1791 to 1795. Many historical monuments and architectural landmarks can be found in this city.
Vancouver is also home to North America's largest city park. Stanley Park is bigger than Central Park in New York. Our Newcomers Guide covers all the basics, from salaries to food and transportation. Let's dive in!
Living in Vancouver: What to Expect
Booking trustworthy movers starts here
Compare multiple moving quotes calculated across the same metrics
The views are stunning everywhere you look in Vancouver
From any angle you look at the skyline in Vancouver, the views are stunning. Here are examples of some of the picturesque landmarks to visit when living in Vancouver:
The Fairmont Hotel Vancouver. Known as the Castle in the City, this hotel was founded in 1916. It reflects the timeless luxury of the metropolis.
Chinatown Millennium Gate. Located in one of North America's largest historic Chinatown neighborhoods, this towering entrance is a must see. 

Stanley Park Totem Poles. Stanley Park's totem poles at Brockton Point are important symbols of British Columbia's Indigenous heritage and culture. They are one of the most visited places in the province.
Other notable places include BC Place Stadium, Gastown Steam Clock, Vancouver Art Gallery, Granville Island, English Bay, and Queen Elizabeth Park.
It rains a lot in Vancouver, but it's not as cold as the rest of Canada.
Vancouver has surprisingly mild winters compared to many other cities in Canada. It rains a lot in the winter in Vancouver, but it's not as cold as the rest of Canada. Most rainy days are in January, February, March, April, October, November, and December, with November bringing the most days of rain.
If you plan on moving to Vancouver in any of these months, ensure you get the proper waterproof gear as it can get very wet. Vancouver averages about 92 inches of rain yearly. Vancouver also makes the list of Canada's hottest cities, with an average daily temperature of 57°F. Major cities on the list include Toronto and London, both in Ontario with average temperatures of 55°F. Winnipeg, Manitoba has an average temperature of 48°F and Calgary, Alberta has an average temperature of 51°F.
What's there to do in Vancouver in the rain?
It's not all dark and gloomy when it rains in Vancouver. On the contrary, the city offers fantastic entertainment options even with a downpour. Here are fun activities to do in Vancouver in the rain:
Vancouver Art Gallery:

The Vancouver Art Gallery exhibits works of art by local British Columbian and international artists in an old, beautiful building. In addition to housing more than 11,000 works of art, the gallery is an excellent resource for learning about British Columbia's history. 

Bloedel Conservatory:

The Bloedel Conservatory is situated on the top of Queen Elizabeth Park and is a beautiful glass dome filled with a tropical paradise of plants and animals. There are over 500 species of plants in the conservatory and over 100 species of beautiful exotic birds.

Vancouver Lookout:

Visit the Harbour Centre building for some of the best views of Vancouver. The Vancouver Lookout is one of Vancouver's most prominent and most famous landmarks. You can see the spaceship-like structure from almost anywhere in the city. 

Gastown:

In Gastown, you'll find some cute, cozy coffee shops and cafes – an ideal place to stop during a rainy day in Vancouver. You can wander down its cobblestone streets and gaze at the twinkly lights hanging from the trees as they reflect off the puddles.

Visit a Brewery:

If you like craft beer or simply enjoy trying local pubs and breweries, Vancouver is a great place to be! The best local beers in Vancouver can be found East of the downtown core.
Literally everything is expensive when living in Vancouver
According to Mercer's 2021 Cost of Living Survey, Vancouver is the most expensive city in Canada. The average cost of living in Vancouver is higher than the national average, partly because the city is an important tourist center. Housing and rent are expensive, groceries are also costly. Everything is expensive when living in Vancouver—going to see a movie can cost as much as CAD $15 for a regular ticket. However, some things are incredibly affordable in the megacity when compared to other places in Canada. For example, the cost of transportation is cheaper in Vancouver than in Toronto, Ottawa, and Hamilton. Here's a chart of the average cost of living in Vancouver.
Average cost of living in Vancouver
Type of Charge

Monthly Cost

Housing

1-bed apartment

$2000

Utility

Electricity, Heating, Cooling, Water, Garbage and Internet

$175

Transportation

Monthly Pass – Regular fare

$105

Entertainment

Restaurant, movie & gym

$155

Groceries

Fresh produce & refrigerated items X2

$320

Total

$2757
(*Numbeo)
Why is Vancouver so expensive?
Vancouver is so expensive because:
Vancouver offers a high standard of living and megacity amenities. However, the outstanding quality of life comes at more cost.
The city has a high salary average. The average salary in Vancouver is around CAD $73,000 yearly. Its average hourly wage is CAD $35 per hour.
The government taxes are higher than in other parts of the country. For example, the sales tax is 8.4%.

The weather and the views are stunning compared to other places in Canada.

The city is a popular tourist attraction. Yet, as in every tourist hotspot, prices of commodities tend to rise.
Salaries are high, and job opportunities are plentiful in Vancouver.
One good thing about living in Vancouver is that the salaries are high enough to match the high cost of living and the job opportunities are plentiful. The average salary, as mentioned above, is CAD $73,000 per year.
For job seekers, Vancouver offers excellent job opportunities. Specific industries provide more job opportunities and higher pay than the others, including Technology, Engineering, Health, and Finance. Ten of the most sought-after jobs in Vancouver include Web Developer, Electrical Engineer, Aerospace Engineer, Veterinarians, Pharmacist, Financial Advisor, Project Manager, Business Development Manager, Human Resources and Recruitment Officer and Industrial Electrician. 
What salary do you need to live in Vancouver?
In Vancouver, you need a salary of around CAD $55,000 to live comfortably.
Vancouver's Bike Share Program (Mobi) is convenient
Since 2016, Mobi by Shaw Go has been providing bike-sharing to those visiting or living in Vancouver. Mobility bikes are the city's official bike share system. They are owned and run by Vancouver Bike Share Inc., a subsidiary of Cyclehop LLC. 
Approximately 200 Mobi stations are located all over Vancouver, including the Eastside, where there is a higher concentration of low-income residents, making Vancouver's Bike Share Program, Mobi, convenient and accessible. A mandatory helmet law in British Columbia also requires Mobi to equip all of its bikes with helmets. Members are entitled to unlimited 30-minute rides within 30 days. If the ride exceeds 30 minutes, there is an overage charge of $6 per extra 30 minutes.
(*Mobi Bikes)
Living near a SkyTrain is a smart choice
The SkyTrain is the rapid transit rail system serving Metro Vancouver, British Columbia. It uses mainly Advanced Light Rapid Transit (ALRT) technology, an automated rail system that operates primarily on a raised guideway, although some sections run underground or at street level.  The system is run by TransLink, the provincial transit agency for the South Coast of British Columbia. It was the world's first driverless urban rail system.
The SkyTrain has three lines connecting 53 stations in seven municipalities. Hence, living near a SkyTrain is a smart choice because it allows you to quickly gain access to many parts of the city and other municipalities and saves you from getting stuck in the city's insane traffic. It costs CAD $100.25 to get the monthly pass to ride the SkyTrain in one zone.
(*TransLink)
Vancouver is divided into different areas
If you are moving to Vancouver soon, you are probably thinking of where exactly you should stay. Generally, Vancouver is divided into four areas: Central, West Side, East Side, and South Vancouver. These general areas are further divided into neighborhoods commonly known simply as areas. Thus, Vancouver is into 22 distinct areas. Among the best areas to live in Vancouver are Gastown and Yaletown. 
There are a lot of diverse foods and restaurants in Vancouver
The city of Vancouver is home to many different cultures. Immigrants make up a considerable portion of its population. As a result, the city has a long tradition of variety and cultural cuisine worldwide, but most prominently from Japan. Generally, British Columbia has such a rich food culture thanks to the fantastic array of food and local produce from the region's fertile natural landscapes and shorelines.
That is why there are a lot of diverse foods and restaurants in Vancouver. If you're moving to Vancouver, here are some must-try foods from the fancy restaurants to the street food markets: The BC Roll, Salmon, Japanese Fusion, Okanagan Fruit, Fresh Crab, Salt Spring Meat, Fish Tacos, Puffcream, and Avocado Toast on Sourdough Bread.
If you love the outdoors, Living in Vancouver is right for you
In and around Vancouver, there are numerous exciting excursions that you can enjoy. You can hike, bike, or paddle out to scenic coves, forest peaks, and river canyons in this city and its surroundings throughout the year. Therefore, there's no doubt that living in Vancouver is right for you if you love the outdoors.
Here are some great outdoor activities that will excite you about moving to Vancouver. In Vancouver, you can ski or snowboard at Cypress Mountain, skate at Grouse Mountain's Skating Pond, watch whales around the Gulf Islands, walk the 230 ft high Capilano Suspension Bridge, Kayak at Deep Cove, or enjoy Whitewater rafting down Squamish River.
Moving to Vancouver is a no-brainer if you can afford it. The premium city life, the excellent infrastructure, beautiful scenery, rich history, culture, and immersion in nature are enough to convince any one of the comfort living in Vancouver offers. If that's not enough, the amazing food scene and great outdoor activities are excellent reasons to consider the move.
Remember, Vancouver offers high-paying jobs in many different fields, meaning it's a perfect city for professionals and to grow a successful career. Are you planning on moving to Vancouver soon? Ensure you use a mover in Vancouver you can trust with your properties.
The Pros and Cons of Living in Vancouver
Great job opportunities

High average salary and hourly wage

Diverse foods and restaurants

Amazing outdoors and stunning scenery
High cost of real estate

High sales tax rate

The cost of utilities is expensive

Regular traffic jams
Share this article on social media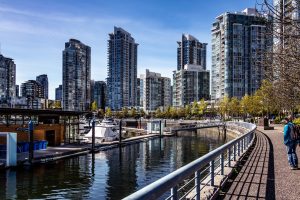 Real Estate
5 Best Vancouver Notaries – Discover the Best Notaries Public in Vancouver, BC A notary is a person authorized to witness the signing of legal documents contracts, often concerned with estates. Getting a qualified notary can
Read more »