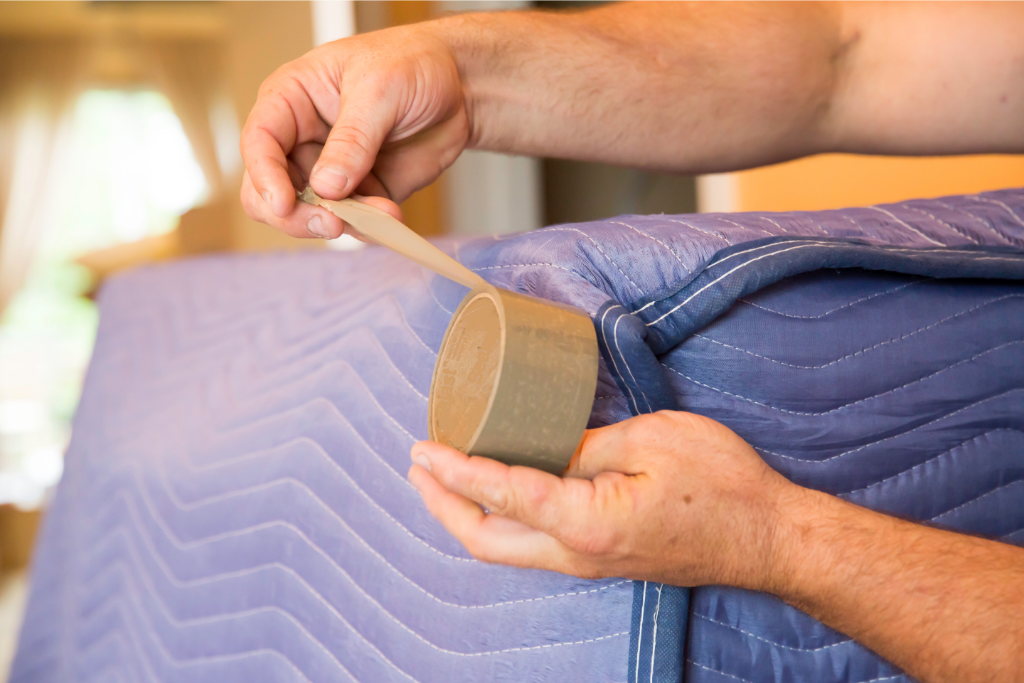 Moving Blankets: Why they're Useful & Where to Buy Them
When you're moving to a new home, it's important to make sure that your items don't get damaged. Moving out of your house to a new place is never easy and the cost of moving has gone up significantly. Can moving blankets help you save both time and money? 
Moving blankets, aka furniture pads, provide the ultimate protection to your home and furniture. A moving blanket is a 72" inch size pad that will cover most of the items in your home. It's a blend of polyester and cotton forming a thick rug-like structure and can be used by both professional movers and homeowners alike. Read on to learn more about moving blankets, why they're useful and where to buy them.
Everything you need to know about moving blankets
Are you moving and wish you had some help? Check out our free interactive checklist.
Tackle Your Move in Minutes.
1. Save time with every task
2. Access exclusive deals
3. Track your progress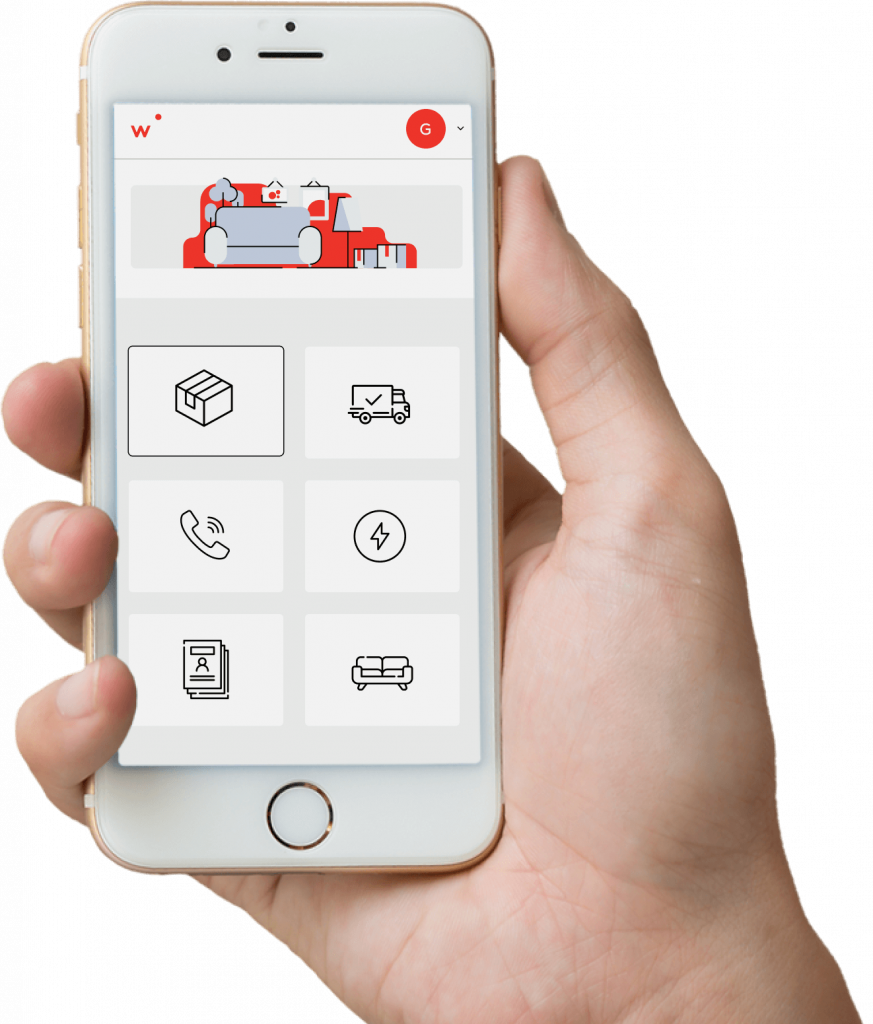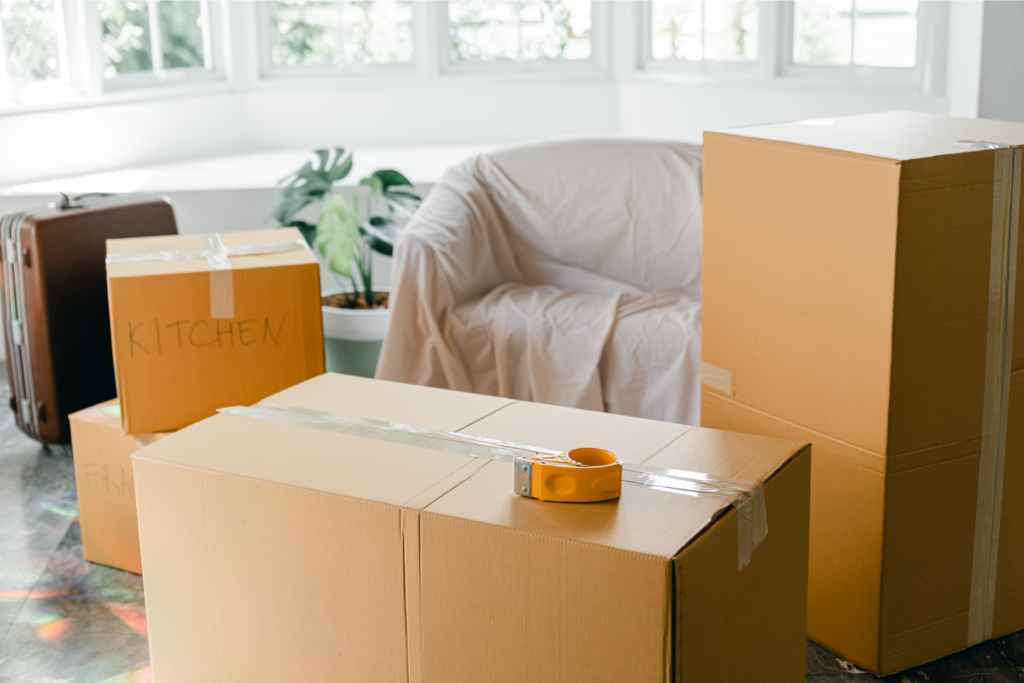 Why should you use moving blankets?
Moving blankets offer great protection and durability in transportation. Moreover, it's necessary to protect your furniture since it's expensive and is likely to get damaged. Here are some of the benefits of using moving blankets:
Excellent protection:

Moving blankets ensure your belongings are not damaged during transportation.

Benefit for a low cost:

Moving blankets offer huge benefits at a very low cost. They are priced anywhere between $10 -20 a blanket and are reusable .

Durability:

Furniture pads are built out of a blend of polyester and cotton giving them high strength and durability. 

Prevents scratches:

Scratches are inevitable in transportation but moving blankets offer an incredible solution that prevents dents and scratches, keeping your items safe. 

Flexible:

Typically, used containers and boxes for transportation are not flexible and can not be used uniformly with all items. Moving blankets, on the other hand, can be used with items of all shapes and sizes. 

Prevents your floor from getting scratched:

Moving items can cause floor scratches both to the house you are moving to and the one you're moving out of. Heavy items that can cause scratches are kept on the moving blanket and then slid across the house. This not only prevents scratches but also makes moving items within the house a lot easier. 
Where can you buy moving blankets?
There are many places where you can buy moving blankets:
While MovingWaldo SHOP does not sell moving blankets, you can find all sorts of useful moving supplies for your move. Avoid a trip to the store by getting your order delivered directly to your door and for free.*
Note: Instead of looking for moving blankets for sale, you can consider renting them. 
*Currently not available in the U.S.A. 
What is the cost of moving blankets?​
A dozen of the smaller moving blankets (48″ x 72″) can range from $50 to $95. The size and the thickness of the pads can considerably affect the cost of moving blankets. For instance, a dozen thickly padded moving blankets (72″ x 80″) can range from $100$ to $190. 
(*The Fun Times Guide & The Home Depot)
How to choose your moving blankets?
Here are the factors to consider when choosing a moving blanket or a furniture pad:
Quality

: Moving blankets come in different qualities (fabric material) such as non-woven, polyester, and cotton. Non-woven blankets are made of textile or non-woven fabric and are of quite low quality. Made of polyester polypropylene stitching, and thick-woven cotton respectively, polyester and woven cotton are ideal for cushioning and safety of items in transit. 

Quantity:

Moving blankets come in packs of 2, 4, 10, 12, and more. To determine the number of blankets you need, you can buy a dozen moving blankets for every 5 feet of space in the moving truck, or a dozen for every room in the house. 

Size, thickness & weight

: The standard blanket size used for moving is 72×54 inches. This size is appropriate for all appliances, electronics, and furniture. Then there is a larger size of 72×80 inches, which is used for bigger appliances such as dryers, washers, or TVs. 
Light furniture pads:

These are particularly budget-friendly options and are made of non-woven fabric. Light furniture pads can be used for light transportation when the items are not too valuable. They typically offer minimum protection and do not last for long. 

Heavy furniture pads:

Heavy furniture pads for moving provide maximum protection and are extremely thick. Very durable, they're made of woven cotton fabric and are often used for carrying high-valued items that you cannot afford to scratch or break.
How many moving blankets do you need?
A typical rule of thumb for ascertaining the quantity of blankets is a dozen blankets for every 5 feet of space in your moving truck. The quantity is determined based on the size of your truck or the room. You can safely presume a dozen blankets for each room in the house. Keep in mind that the quantity can easily go up, with large items such as TVs, dryers and washers.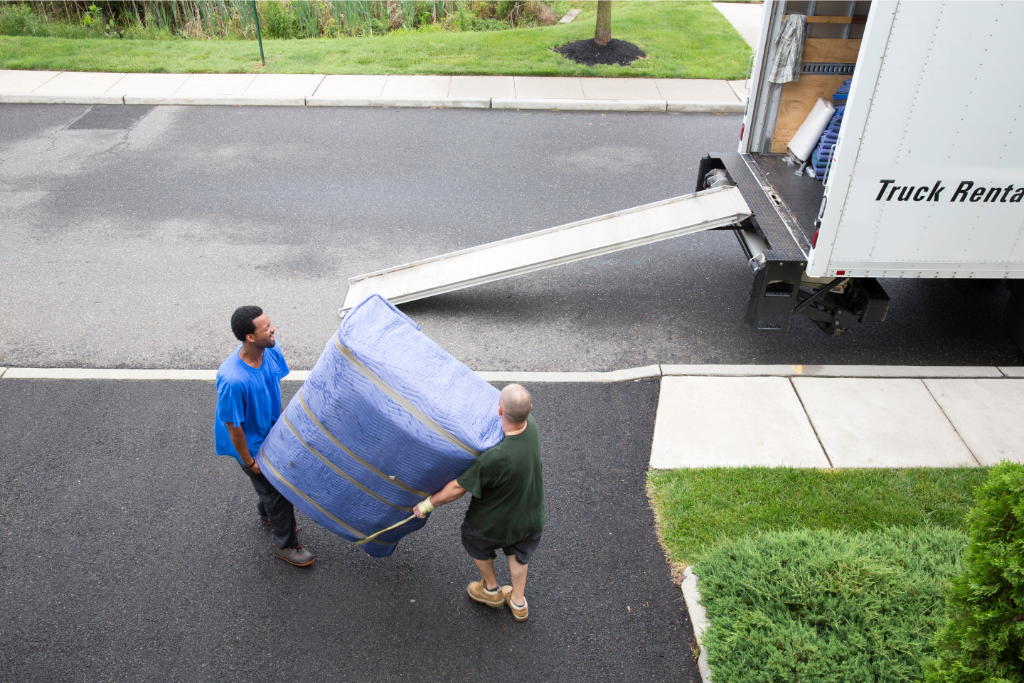 How to use moving blankets?
If you are using a moving blanket for the first time, don't worry! Using a moving blanket is easy. Simply follow the steps below:
Step 1: Place an unfolded blanket over the item you're wrapping
The first step consists in placing an unfolded blanket over the item you are wrapping. It will cover the item from the top and you'll know if the size is sufficient.
Step 2: Use pieces of packing tape to secure the blanket in place
The next step is to use packing tape to secure the blanket in place so that it doesn't slide off during transport. Make sure that you have firmly secured the item in place by trying to slide off the blanket and double-check if necessary.
Step 3: Make sure the entire furniture item has been covered with moving blankets
You need to make sure that the entire item is covered in a moving blanket. This is determined at the first step itself. If after securing with tape, there is some uncovered part left, you might want to add a second moving blanket to the furniture piece.
Step 4: Load your covered and secured item into your moving truck
Make sure to load your secured item into your moving truck with caution. Bear in mind that the blankets only protect against scratches and small dents.
Can you wash moving blankets?
Yes, you can wash moving blankets. You can either wash them by hand or use a commercial size washing machine (laundromat) for this purpose. You should not use a home washer as it has a limited capacity of up to 20 pounds and will wear out quickly. It is also preferable to line dry your moving blankets instead of using a dryer. 
Note: You should avoid using bleach and fabric softeners as they can destroy the fabric and create a build over time, giving your blanket a scratchy feel.
In this article, we have had significant insights on why using a moving blanket is a good idea and how to use it. Moving blankets are reusable and can be washed. This makes them a good investment. The thickness of the blanket helps to prevent scratches and dents. Pair it up with a bubble wrap and none of your expensive items will get damaged in transit. You should also consider protecting your mattress with a mattress cover. 
Share this article on social media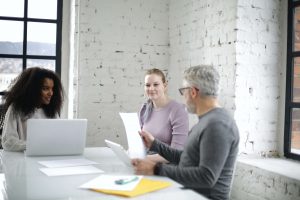 Moving tips
Everything You Need to Know About Making an Offer to Purchase on a Home in Canada Purchasing a home is a huge step, and we're here to help you every step of the way. There are
Read more »
Check out MovingWaldo's free moving platform and find everything you need for your move. No sign up required!