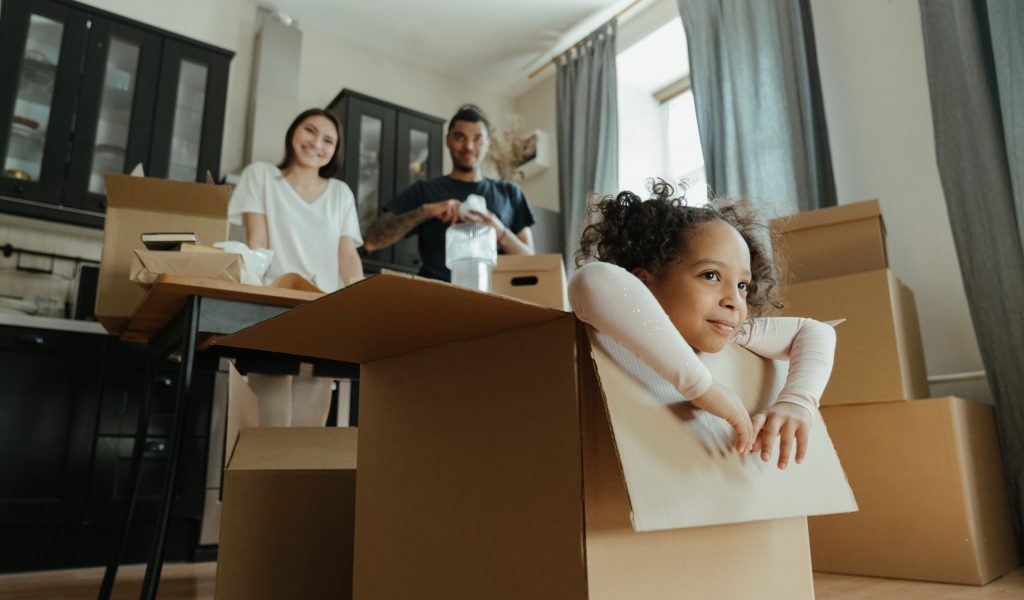 How to Unpack After Moving: A Step by Step Guide
At this point, you've already done most of the moving process. However, you still have a long way to go before being fully settled in your new home. You might wonder, how long does it take to unpack your house? Unpacking can be a lengthy and tiring process but with unpacking house tips it should not be a hassle.  At MovingWaldo we know how unpacking after moving can be stressful, which is why we are here to give you a step by step guide on how to unpack after moving. 
Booking trustworthy movers starts here
Compare multiple moving quotes calculated across the same metrics
Step 1: Inspect Your Boxes and Items Thoroughly Before Opening Them
You should inspect your boxes and items thoroughly before opening them to know if they have been damaged with water or insects. If your boxes are damaged, it is possible that your belongings inside your boxes are damaged. Therefore, it is important to check out your boxes to know if you need to notify your insurance. Moreover, it is important to inspect your boxes to see if all your boxes are in your new place and contact your movers if a box is missing.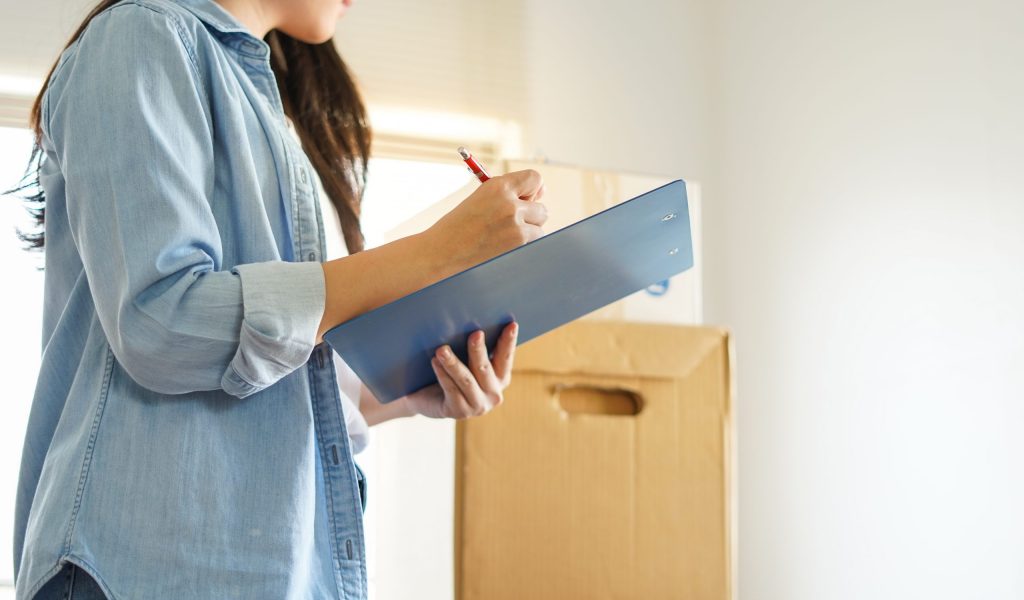 Step 2: Unpack the Essentials First
Unpacking is a lengthy process. You won't be able to unpack all your boxes during the first day of your move. Therefore, you should unpack the essentials first. The essential items include:
Toilet paper

Basic clothing

Some food for your first meal at your new home (example: a box of pasta and a jar of tomato sauce)

Basic toiletries (soap, shampoo, conditioner, toothbrush, toothpaste)

Phone charger and computer charger

Some plates and utensils 

Other kitchen tools needed for the first day (example: a pan to cook pasta)
You also might want to consider putting some items  in an essential bag instead of putting them in a box. With this unpacking tip, you'll have all the essentials at hand, and you won't have to go digging through the bottom of boxes to find your pajamas or some socks.
For a quicker unpacking of the essential items, don't forget to label all your moving boxes.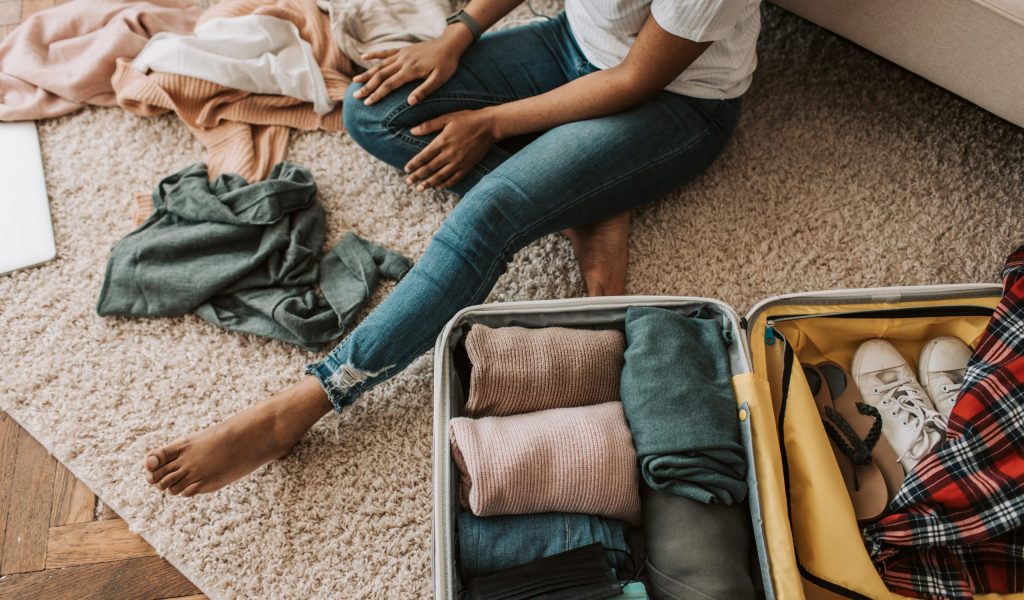 Step 3: Assemble Big Pieces of Furniture
Not only will assembling the big pieces of furniture free up the space to be able to walk in your new place, but they are also essential to make the first few days comfortable. Here is a table with some of the items to assemble first and last.
What to Assemble First

What to Assemble Last

Bed frames

Large desks and tables

Bookcases

Vanities

Sofas

Cabinets

Dresses

Bedside tables

Chairs

Benches

Coat racks

Stools

Table lamps

Side tables

TV stand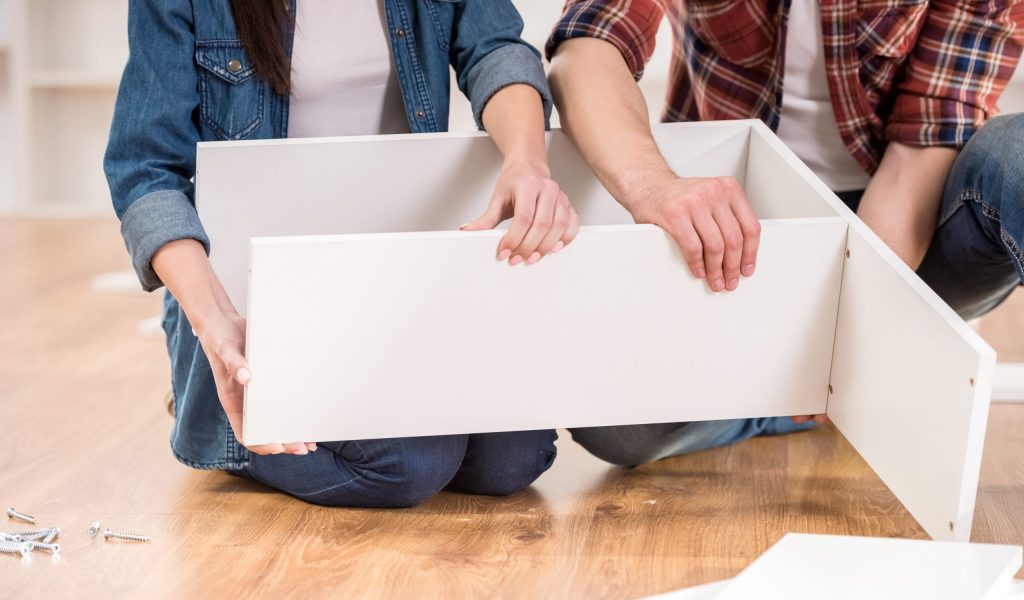 Step 4: Unpack the Kitchen
Unpacking your kitchen should be your priority when moving into your new place. Why? Because cooking requires a lot of different kitchen tools, so it will be much easier to prepare your meals if you start with the kitchen. 
Start by

gathering all your boxes

labelled with the word "Kitchen" 

Continue by

unpacking all the essential kitchen items

. These items include plates, bowls, cups, glasses, and utensils.

Store the

most used item

on a shelf at the eyes level or below. This way, it will be easily accessible to everyone.

Store the

less used items

on the highest shelf. 

Finish by organizing your pantry.

Store can and dry food should be stored in a different place than the kitchen tools.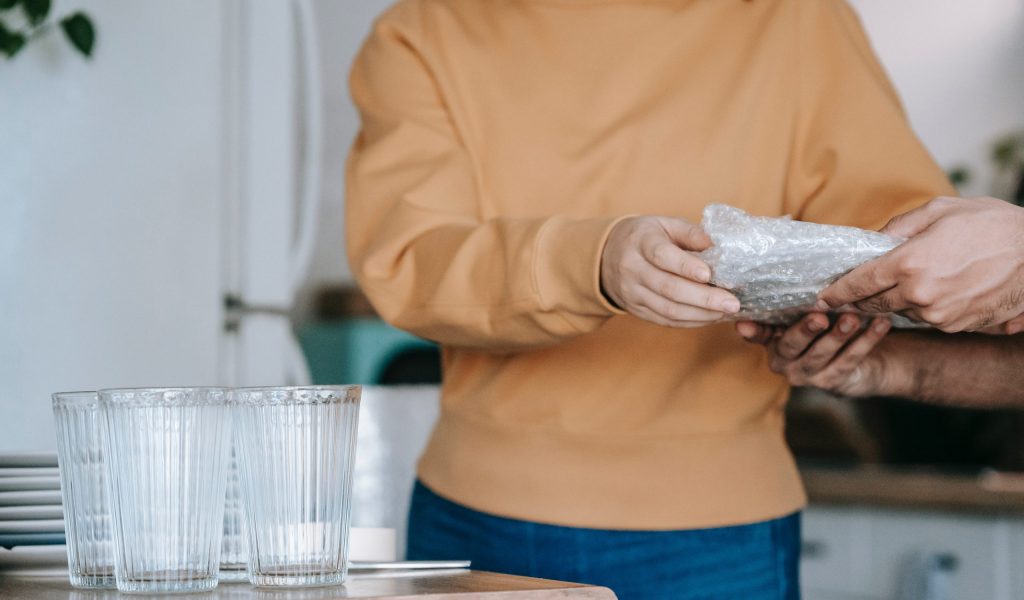 Step 5: Unpack the Bedrooms and Bathrooms
Continue by unpacking the bedrooms and bathrooms since they are essential rooms in the house.
Since you have already assembled the big furniture, including the bed frames, start by finishing the beds.  Beds are the first essential element in the bedrooms that you should place if you want to have a comfortable first night. All you have left to do is put the mattresses and sheets on the beds. 
After that, gather all the boxes belonging to the bedrooms and put them in their respective bedroom. Once you have gathered all the boxes, unpacking your clothes should be the next step. You don't want to go through your boxes every day looking for a pair of socks or a sweater. Therefore, you should unpack your clothes and put them in your wardrobe and your dresser. This unpacking tip will definitely save you time for the next morning! 
After unpacking your clothes, you should assemble the different furniture that you have not already assembled and place them in the bedrooms. Finish by unpacking the rest of your boxes that belong to the bedrooms and store their contents.
Unpacking the bathrooms should not be a lengthy task since there is not a lot of furniture to assemble in the bathrooms. However, things like toiletries are essential to be able to wash and take a shower. The bathroom boxes are important to unpack in the first few days, especially if you have important medications to take every day. The unpacking items in the bathrooms include:
Appliances and accessories

Cosmetics

Hair products

Hygiene products

Toiletries

Medicine

Towels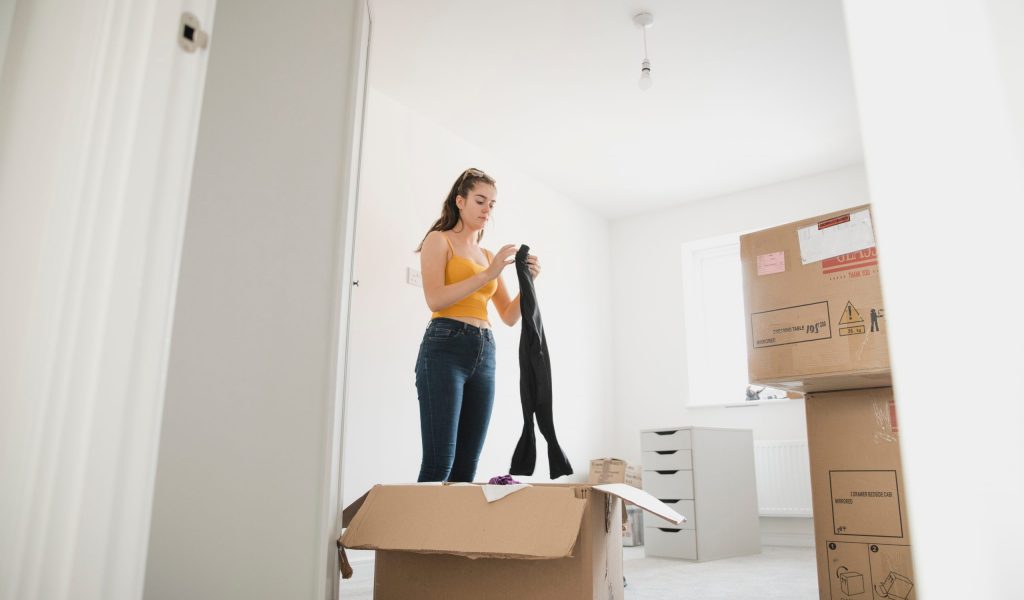 Step 6: Unpack the Living Room
You already did all the unpacking for the kitchen, the bedrooms, and the bathrooms. Now it's time to unpack the living room! 
Start by

gathering all your boxes

that belong to the living room. 

Since you have already assembled all the big furniture, f

inish assembling the small furniture

that belongs to the living room.
These items include: 
Coffee table 

TV stand

Side tables 

Table lamps and so on 
Prioritize the essential items

in the living room to make your living comfortable. If your living room has no lighting, placing lamps should be part of this category. 

Install the TV and other electronics

that you might have.

Empty the rest of your boxes

that belong to the living room and

store their contents.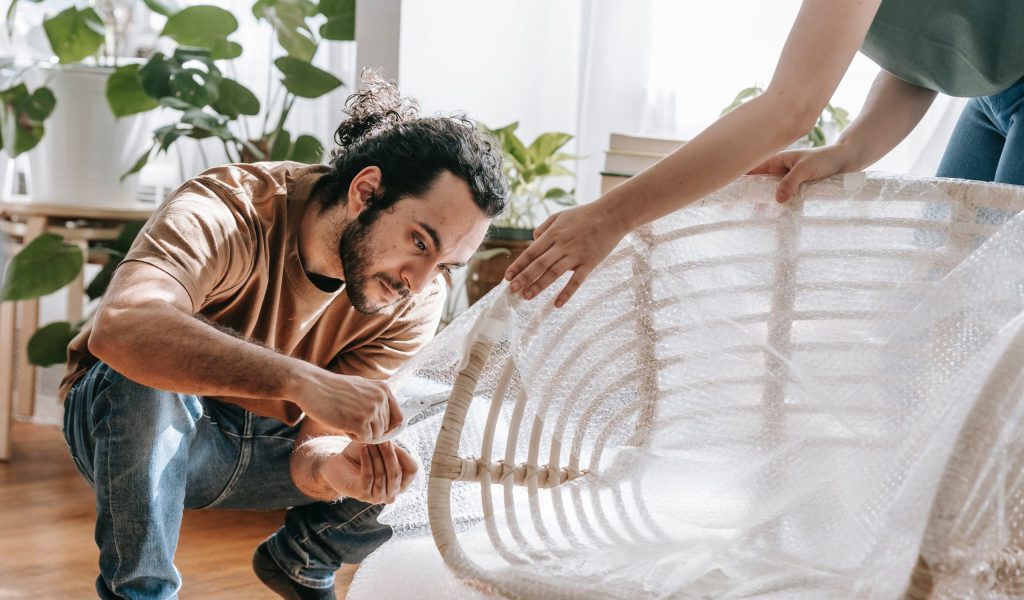 Step 7: Unpack the Storage Rooms, Basement and Garage
Start by

gathering all your boxes

that belong to the storage rooms, basement, and garage. 

Since you have already assembled all the big furniture, finish assembling the small furniture

that belongs to these rooms. 

Empty your boxes and store their contents.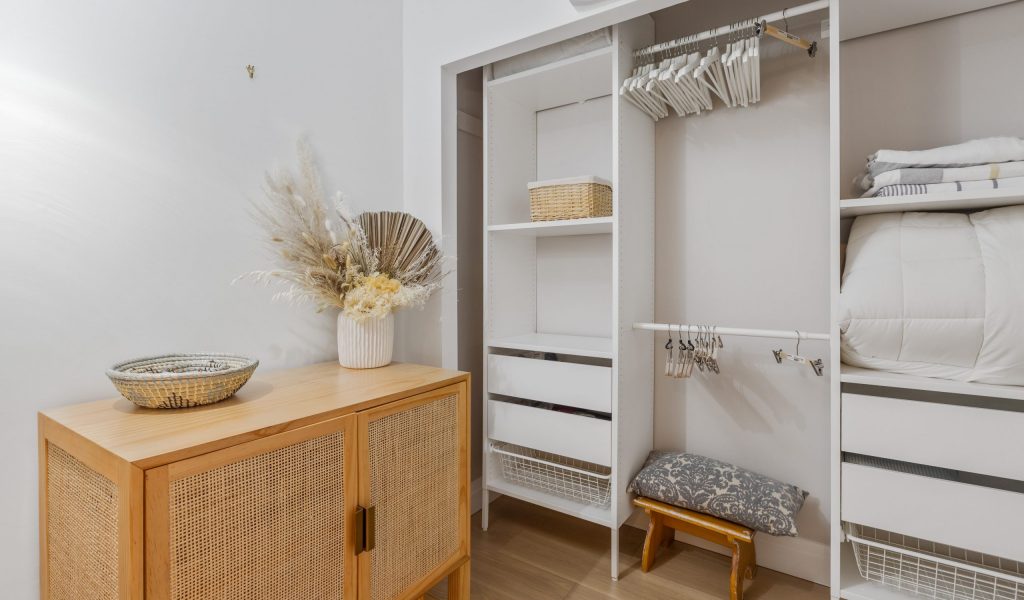 Step 8: Finish by Unpacking the Decor and Non-essential Items
You have already finished all the steps of unpacking! All you must do is to place the decorations and other non-essential items in your new home. You might be tempted to place some items such as your books when you assemble the bookcases, however placing books is not essential for a comfortable living in your new house for the first few days. These are some unpacking items that you can wait until the end before placing them: 
Pillow

Curtains

Wall decor and art

Plants

Blanket or throw for the sofa

Rugs

Books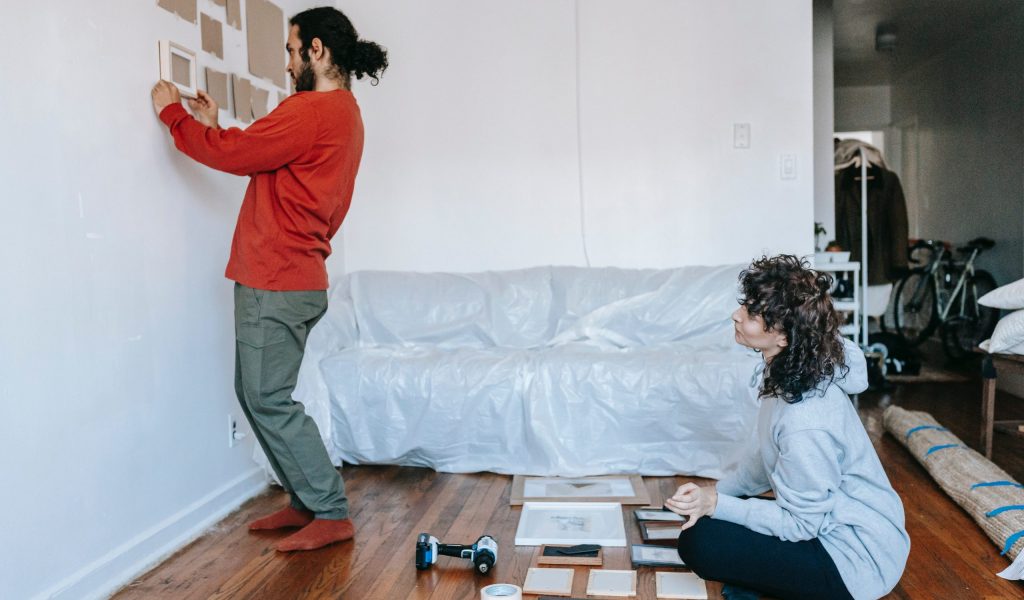 Unpacking is the last step before being fully settled in your new place. From unpacking the essential items to unpacking the decorations, it can be a lengthy process. Things can move fast, and you can quickly run out of time before the big moving day.  To make your moving process easier, don't forget to check out our 9 packing tips for moving! 
Share this article on social media