Safest Cities in Arizona with the Best Quality of Life - 2022
From pretty neighborhoods to national parks and large sites like the Grand Canyon, Arizona attracts thousands of residents. Arizona provides a desert climate with mild winters and hot summers for people who are tired of shoveling snow yearly. Moreso, Arizona provides safe neighborhoods to live in and start a family. According to the FBI, Arizona recently registered 381.9 violent crimes and 2341.2 property crimes reported per 100,000 population, which is close to the national average of 308 violent crimes per 100,000 people and a property crime rate of 1958. There's so much to know and consider when moving to Arizona, but this article highlights Arizona's top 10 safest cities with the best quality of life. While these cities may not be the biggest or most popular, they have been chosen based on their quality of life.
We based our ranking on the 3 following criteria: the violent-crime rate, the property crime rate, and the total crime rate (the sum of both property and violent-crime rates). Statistics come from the FBI Uniform Crime Reporting (UCR) Program. According to the Federal Bureau of Investigation (FBI), The UCR Program "includes data from more than 18,000 cities, university and college, county, state, tribal, and federal law enforcement agencies. Agencies participate voluntarily and submit their crime data either through a state UCR program or directly to the FBI's UCR Program".
We've used these data to rank the 10 safest cities in Arizona while also considering their quality of life. To support our ranking, we thought it would be relevant to compare the statistics of the cities concerned with the rates of the State of Arizona.
(*FBI & National Incident-Based Reporting System)
Top 10 safest places to live in Arizona
Best for sport enthusiasts 
The first city on the list of the safest cities in Arizona is Paradise Valley, a small but wealthy city. Located in the heart of Scottsdale-Phoenix, Paradise Valley is a dream destination for those looking for somewhere nice to live with their family. In Paradise Valley, residents enjoy access to lots of restaurants, coffee shops, golf courses, hiking trails, and parks. If you're a sports enthusiast, you might also want to know that Paradise Valley often hosts professional sporting events. The violent crime rate in Paradise Valley is 0.68 per 1000 people, which is 82% lower than the national average. With Paradise Valley crime below Arizona's average, you can rest easy knowing that you and your family will be safe and secure.
Florence is a small town in Arizona, located in Pinal County and about 45 minutes away from both Tucson and Phoenix. Living in Florence offers residents a suburban rural mix, which can be excellent for families looking for more space and a good area to raise children. The town of Florence endorses many town events, children sports and parades on old Main Street. Education in Florence ranks high on national and statewide levels compared to other cities. In Florence, crime rates are lower than in other suburban areas, nationally and statewide. Florence records a violent crime rate of 1.67 per 1000 people, which is 56% lower than the average violent crime rate.
Best for employment opportunities (management, business & science industries)
Sahuarita a small town located in the county of Pima and is one of the best and safest places to live in Arizona. Sahuarita ranks well in education, crime, cost of living, and diversity. With a violent crime rate of 1.39 per 1000 people, Sahuarita is 63% safer than most cities in Arizona. Living in Sahuarita offers residents a rural feel, and Sahuarita truly has something for everyone, and that's why it's a great place to call home. Most residents in Sahuarita work in management, business, and science industries.The city is close to major regional employers: Raytheon Missile Systems, the University of Arizona Science and Technology Park, and Freeport McMoRan.
Once known as the "Hay Shipping Capital of the World", Gilbert is a growing suburb that is one of the safest places to live in Arizona. The city records a violent crime record of 0.97 per 1000 people, making it 74% safer than most cities in Arizona. Residents in Gilbert have access to excellent schools, plenty of outdoor activities (playgrounds, basketball, tennis, and volleyball courts), and all the shopping and nightlife they need. The city is home to the most scenic areas of Arizona like Sedona, the Grand Canyon, ancient ruins, and Jerome and Northern Arizona wineries. Plus, Gilberlocated only 22 miles from Phoenix.
Next on this list is the beautiful and small San Luis, known for its vineyards and outdoor activities. San Luis is a suburb of Yuma and boasts 7,000 acres of designated open space with 52 miles of trails. Residents enjoy tons of outdoor sports, ranging from hiking and horseback riding to sailing, surfing, kayaking, and windsurfing. San Luis's downtown is always bustling with sidewalk cafes, amazing restaurants, and locally-owned shops. The area's main industry is agriculture, however, large employers in San Luis include the City of San Luis, the ACT call center, and Gadsden Elementary School District. San Luis recorded a violent crime rate of 0.96 per 1000 people, 74% lower than the average violent crime rate.
Oro Valley is one of the top-ranked safest cities in Arizona, otherwise referred to as the state's "Upscale Tech Mecca," since it has more than ten high-tech firms. This city is also known for its predominantly low crime rate, with a violent crime rate of 0.48 per 1000 people, Oro Valley, is 87% safer than most Arizona Cities. Living in Oro Valley offers residents a sparse suburban feel, and the city is very safe and family-friendly. The city boasts of a quality park and recreation system that delivers high-quality parks, trails, recreation programs, and facilities for all residents. Moreover, Oro Valley has a median household income nearly 29% higher than the U.S. median.
Best for: proximity to a large city
The next city on our list of safest cities is Maricopa, the 21st most populous city in Arizona.  Nestled outside of the Phoenix area about 15 minutes, this city is the perfect location for families who prefer a small-town living experience. Maricopa records a violent crime rate of 1.67 per 1000 people, which is 56% lower than other cities regarding crime and safety. Maricopa's neighborhoods are mostly very safe and quiet. Residents enjoy outdoor activities such as riding horses at Koli Equestrian Center, hiking and biking.
Best for recreational activities 
With a crime rate that is noticeably lower than the national average, Surprise is undoubtedly one of the safest cities in Arizona. The city records a violent crime rate of 0.98 per 1000 people, which means Surprise is 74% safer than other American cities. Surprise has 14 parks and multiple pools and recreation centers alongside playgrounds, hiking trails, picnic areas, skate parks, a wildlife world zoo, an aquarium, a safari park, and more. With 40 lanes of state-of-the-art bowling, billiards, laser tags, video games and much more, The Uptown Alley is a great location for families and friends living in Surprise.
One of the safest cities in Arizona is Lake Havasu City, otherwise known as "Arizona's West Coast." Residents love living in Lake Havasu City for its spectacular waterfront, serene lake, and adventure-seeking culture. Additionally, this city is home to the top industries in tourism, retail and services, education, and health care. Despite being a small town, Lake Havasu's dining and nightlife scene is a huge punch. The city records a violent crime rate of 1.57 per 1000 people, 58% lower than the national average regarding crime and safety.
Lake Havasu City, Arizona
Buckeye is a suburb in Maricopa County (a suburb of Phoenix) that offers its residents a rural feel and is one of the safest cities to live in. Buckeye records a violent crime rate of 1.37 per 1000 people, which is 64% lower than the national average, making Buckeye a safe city to reside in. Additionally, the city boasts a healthy economy, popular parks and recreation centers, affordable housing, and several top school districts. Residents also enjoy affordable housing options and job opportunities readily available. The city has a diverse employment base with many small thriving businesses and large enterprises, making for a strong economy. As for the outdoors, Buckeye has miles of trails arounds the city to be explored by hikers, mountain bikers, and equestrians.
Arizona is a paradise for outdoor enthusiasts and a perfect place for families. These cities in Arizona offer the safest places to reside. While some cities rank high in crime rates and varying levels of safety, this list provides you with the safest options if looking for a new city in Arizona to move to and makes your choice less complicated. Maybe Arizona is not your preferred choice, don't worry. We have curated a list of the safest cities in the US for you to choose from. Are you moving soon? Discover the best movers in Pheonix, AZ! 
Share this article on social media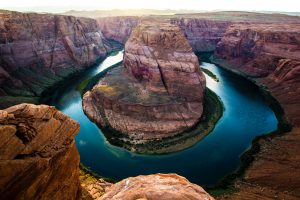 Moving States
Moving from California to Arizona: Everything You Need to Know If you are thinking about moving to Arizona from California but you are not sure if becoming a resident of the Grand Canyon State is the
Read more »
Check out MovingWaldo's free moving platform and find everything you need for your move. No sign up required!