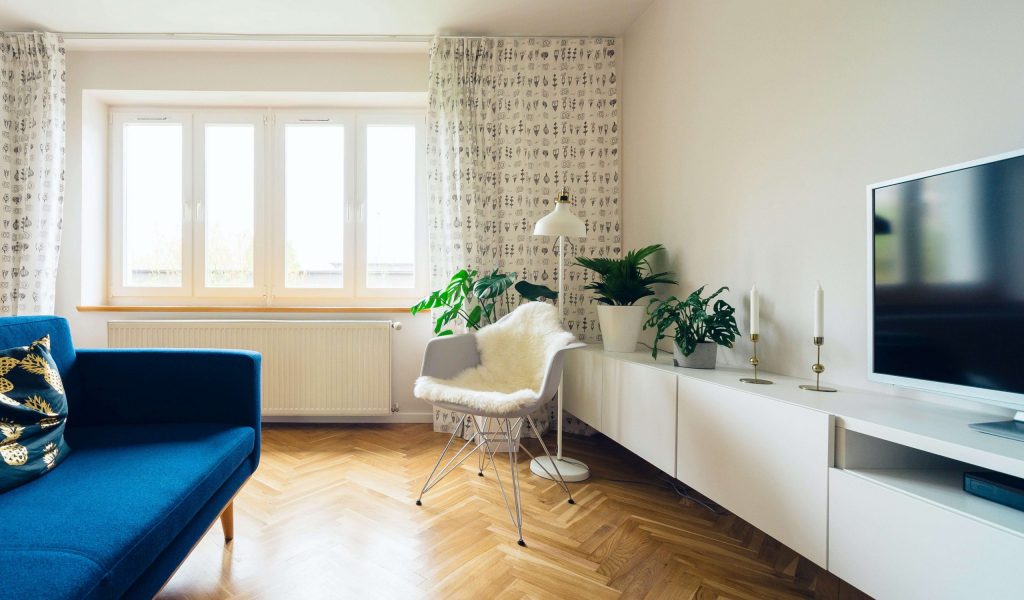 A Guide to Choosing Flooring for Your Home
Your house's flooring has a lot to do more than how it looks. It is a complex yet sensitive matter that needs attention to details and certain pressing factors which need your attention while choosing flooring. You wouldn't want to get stuck installing the wrong flooring and end up spending double the cost. The floor choosing procedure has got strings attached to certain external factors such as weather, humidity, durability and cost. Here is the guide to choosing flooring for your home ranging from classic wood to concrete.
Booking trustworthy movers starts here
Compare multiple moving quotes calculated across the same metrics
What comes to your mind when you think of a house's flooring? The popular answer is wood flooring. However, the building market is full of different materials for flooring. You can navigate through this list and choose the one that suits best your wallet, weather, and lifestyle.
Solid Hardwood flooring is the classic material we have been looking everywhere ever since we know. It is a long-term based flooring that can last for a very long time. But the question is, does it match your preferences? 
The solid wood flooring speaks of good looks in a wide range of varieties. It is durable and pays off every penny you invest in. Its hard nature shows it can withstand a lot of pressure and weight.
Solid hardwood flooring is made up of wood species widely available and known for their strength. Wood from oak, timber, maple, and cherry trees are good for solid wood flooring. 
Wood flooring is known to be expensive as compared to other floorings. The costs are as follows:
The average cost to install wood flooring fits in the window of $4 to $6 (labor inclusive) per square foot if you go for a common kind of wood and $8 to $12 (labor inclusive) per square foot if you use a rare kind of wood. However, the cost can hike up a bit in some cases depending on the species of wood used, how much wood flooring you want and the intricacy of the style chosen. If you want to refinish your old hardwood flooring, then your cost will be around $2.50 per square foot.
Sources: HGTV Canada & The Spruce
As the name suggests, this flooring has material fused together through a lamination process.  The laminate flooring comes in two types: engineered wood and laminated plastic.
Both the types come in a ¼ thick plank shape. The engineered wood is made up of layers perpendicularly fit together, with the top layer being wood. The planks are nailed or glued down in engineered laminated flooring, while plastic laminated flooring has interlocking edges. In contrast, plastic lamination is made up of totally artificial material. The materials used are fiber core board and melamine resin and make it look like wood.
If you are looking for durability on a budget, then plastic laminate wood flooring is a great option. However, if you are someone who is looking for stable wood flooring, then engineered wood lamination is a good idea. The flooring has the ability to withstand pressure and does not dent or damage. The laminate flooring is good for every room in the house ranging from kitchen to living rooms, even when you have pets around. 
The cost inclusive of labor for plastic laminated flooring is $4 to $5 per square foot, whereas engineered wood is $5 to $7 per square foot (inclusive of labor). 
Source: HGTV Canada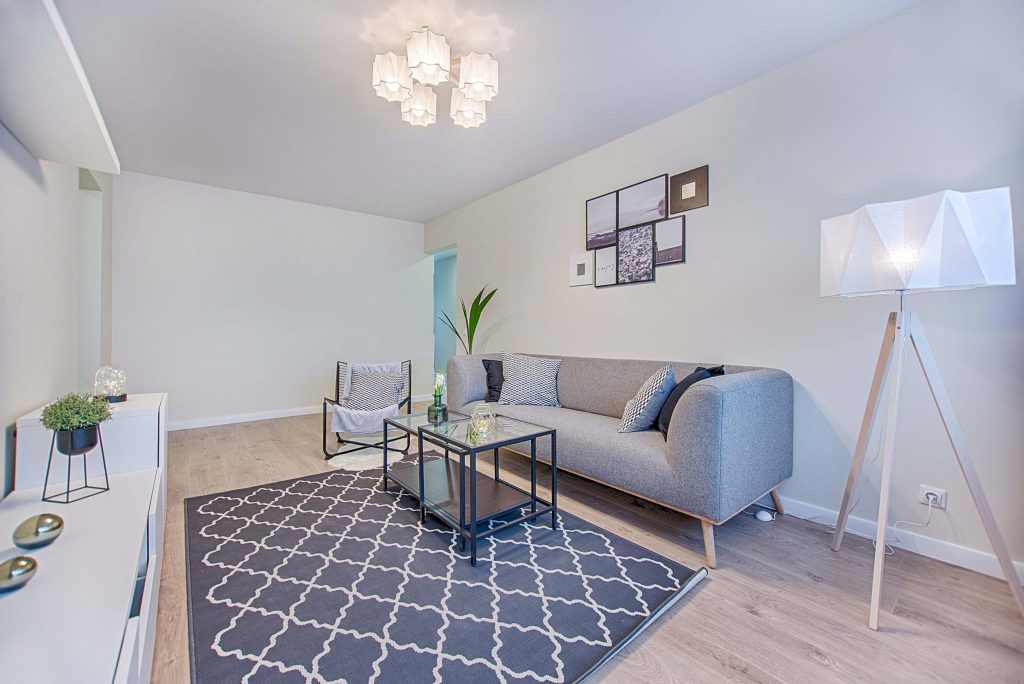 Vinyl plank flooring has grown a popular choice among the floorings for several reasons. It is long strip-like planks with protruding tongue-looking parts that fit one plank into another, ensuring interlock. 
The vinyl plank is super flexible and durable. It gives off a wood-like look on a budget, is fully waterproof, and easy to install. However, it is not that easy to fix a broken vinyl plank. Over time, vinyl flooring has evolved, and some ceramic and marble-looking vinyl plank flooring has surfaced. The vinyl plank flooring is a great option if you have pets around because it can withstand stains and scratches. 
The cost for vinyl plank flooring ranges from $4.8 to $9.8 per square foot (inclusive of labor). However, the installation is quite easy and can be done by yourself. 
Source: The Spruce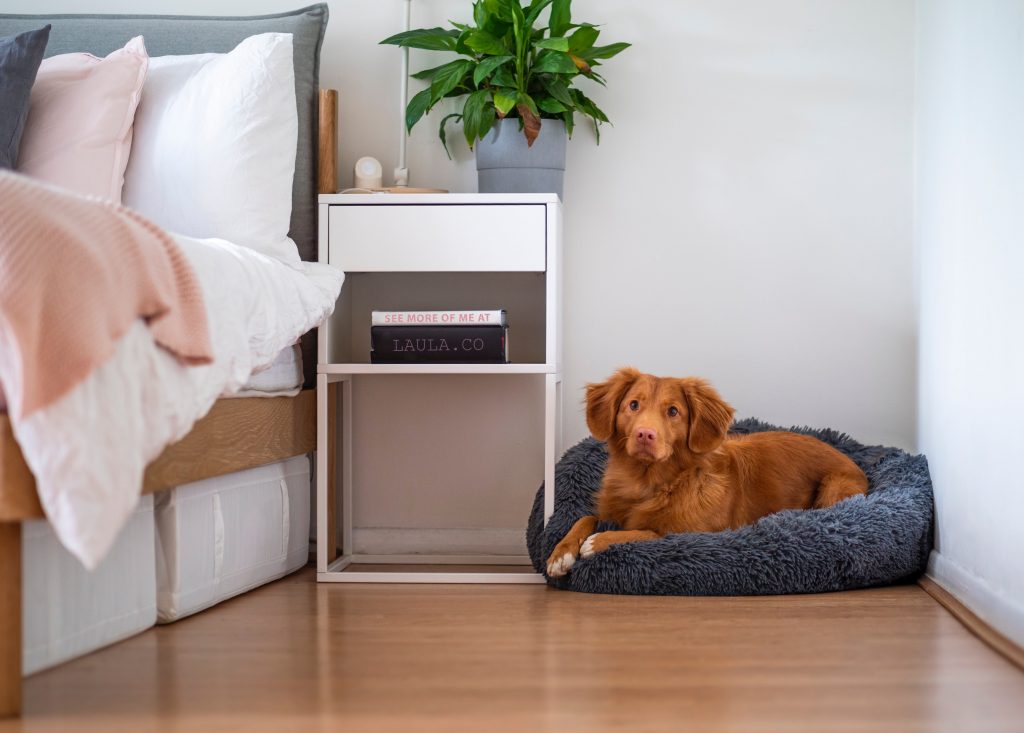 Vinyl sheet flooring is a good option in an area where there is moisture. It is also very practical in terms of costs and installation. It is totally handmade and has no natural materials involved in its making. The vinyl sheet flooring is known as the standard vinyl flooring until date. 
It is made up of PVC plastic backed by fiberglass topped with a waterproof designed layer and is known for its 1/16th thickness. The vinyl sheet flooring comes in 6 and 12-foot rolls and is sold according to the customer's area. It is usually installed by professionals using glue. The vinyl sheet flooring can be good for any part of our home, including the high-traffic areas, and is considered the best floor for pets.
The vinyl sheet flooring costs range from $2.61 to $2.81 per square foot. The costs may vary according to what design, style, and affect you use. 
Source: LVFlooring
The Vinyl Tile Flooring is very similar to vinyl planks and sheets, but it is made in tile shape and is easier to DIY install. The only flaw it has is water can seep through the space between tiles. 
However, it has a lot of customizable designs and patterns available because of the area it covers and can be installed as you desire. Vinyl tiles are the most durable ones as they are made using a hot press. The waterproof and durable nature makes these tiles friendly for your pets and the stains they can cause. Their water-resistance makes them best suited for bathrooms and kitchens.
The vinyl tile flooring costs 3.08$ to 3.69$ per square foot, inclusive of labour. 
Source: The Spruce
Porcelain is what they call the 'ceramic variant.' It has a strong build and absorbs water well. 
Porcelain tiles are made of clays at higher temperatures which create a less porous surface. It has many design options as porcelain tiles can mimic a lot of other materials. However, it becomes hard sometimes in the process and can be brittle too. It is water and stain resistant and needs little to no maintenance. 
They are quite durable and can be used both indoors and outdoors, even in high-traffic areas. They are a good choice for pet owners, as the tiles can endure scratches and are not hard to let them sit on. 
Porcelain tiles range from 18$ to 61$ per square foot, inclusive of labor. They can get quite expensive. 
Source: The Spruce
The ceramic tile flooring is very similar to the porcelain one. But the main difference that draws them apart is that ceramic tiles are less hard than porcelain ones. It is an all-rounder tile flooring on a budget as it can be suited in any part of the house. 
It is best suited for warm climates but is a hard job for DIY installation. As the ceramic tile flooring does not hold any sort of allergy and pollen, it is best suited for pets. 
The costs range from a low $6 to as high as $70, depending on what design and style you choose. 
Source: The Spruce
As long as we have heard the word compound, we have heard the word marble. Everything big and strong was and looked like marble. So does the flooring. 
However, marble tile is a luxury item mostly used on fancy office building walls and is difficult to handle when it comes to flooring. The porous stones allow water to seep in and give dramatically colder feet to places with low temperatures. The elegant touch makes it slippery as a flooring material. 
Although marble has great real estate value, it is not suitable for your pets and places like kitchen and washrooms. It can cause allergies to pets when they are wounded and slippery when they are not completely dry. Moreover, it is trickier to install.
The natural marble is costly, running from $21 to $23 per square foot inclusive of labor.
Source: HGTV Canada
Carpet flooring is something that gives cozy vibes all year round. It is created using closely spaced loops of synthetic fibers backed with different materials.
They come in various types of colors but fewer designs. It created a soft flooring which is a pleasure to walk on. Your pets will also love the softness of the carpet to lie down and cuddle. However, the synthetics in carpets can cause diseases sometimes. Sometimes it gets hard to match the furniture with the carpet and needs a proper solution to fix it in one place.
A carpet costs $3.70 per square foot approximately, exclusive of installation costs. 
Source: The Spruce
The Best Flooring for Bathrooms
You need to consider a lot of factors and pretenses before you choose your bathroom flooring. This includes moisture soaking, slipperiness, dryness, and cleanliness. 
The market is full of materials that are used to build bathrooms. However, we are going to narrow down some of the best and practical options out there.
Porcelain and ceramic-tile flooring
Porcelain and Ceramic Tiles flooring is the best option because of its waterproof nature. They are also cheaper than other materials and can look like expensive ones. So why not? Both of the materials offer endless style and design options to choose from.
Vinyl has got all the three issues covered: waterproof nature, cheaper cost, and easy installation. As we know, bathroom tiles can easily get damaged by water, so if it's vinyl, it is easy to replace and fix. To top it all off, it is durable and can withstand excessive water pressure without damaging it for long.
Your bathroom is the area that withstands endless water pressure and activity throughout the day. Hence, it needs strong material. Concrete is known for its strong nature and is impermeable to water damage.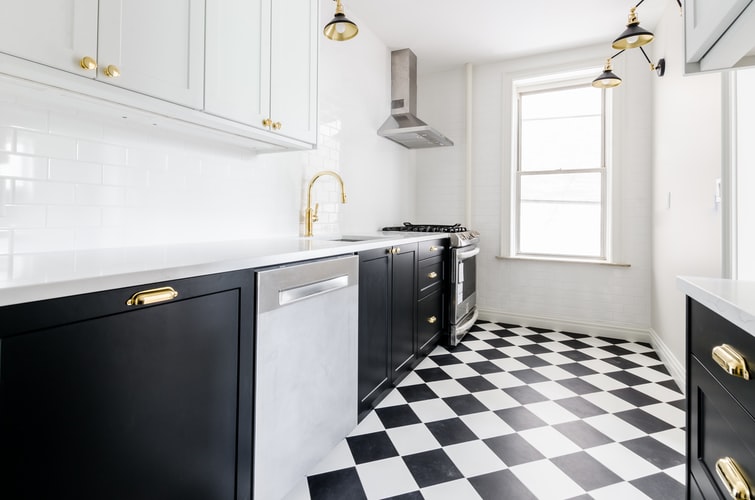 The Best Flooring for Kitchens
The kitchen holds a lot of traffic throughout the day, with some people using it as dining too. Some materials used for it are the following.
Stained concrete can easily look like wood with a sleek and stylish look. It can absorb fluids and stains, which is a plus.
As we say, vinyl is winning hearts everywhere. It does in the kitchen too. That too on a budget. The vinyl flooring is easy to wash off stains from and is absorbing too. It also provides a soft underfoot, which is good for those who work long hours in the kitchen.
The Best Flooring for Bedrooms
Everyone has this comfort zone; they call it their bedroom. However, the flooring to the comfort zone, aka bedroom, needs attention. Some options are as follows:
A carpet makes a room instantly look warm and cozy. It allows you to walk barefoot and even sit on it, keep things, and have your pets along. It also provides thermal insulation and sound dampening.
Hardwood Flooring makes your bedroom look classy. Moreover, almost every kind of furniture matches with it. It is durable and needs very little maintenance.
The Best Flooring for Living Rooms
The living room is the central area of the house. Thus, its flooring needs attention.
Wood in the living room is a tradition. It provides a classic look and is practical. It is good for areas with a colder climate because it gives a warm effect.
Carpet flooring means more accommodation. Carpets in a living room can house more people on a movie night. They are also very comfortable for pets and children.
The Best Flooring for Basements
The basement is the hidden area of your house, yet it is often used for entertainment purposes. It has certain flooring options:
Ceramic is a strong option for a basement that can withstand water and is installed directly to the floor. It also blocks moisture that can be caused in the basement and is tough to withstand pressures and traffic.
Marmoleum is eco-friendly yet tough. It also has a variety of designs and styles to choose from and is friendly for both kids and pets. It has an anti-static ability which makes it repel dust too.
Here is a complete guide on choosing flooring made easier. Now you can learn and find what kind suits you best, running from costs to physical factors involved in installing a flooring. We are confident that you won't be stuck with the wrong flooring now!
FAQ - The Most Frequently Asked Questions About Flooring
How do you clean vinyl floors?
To clean a hardwood floor, it is strongly recommended to use a special product for it with a basic mop.
How do you clean laminate floors?
Laminate can be cleaned using a dust mop to get rid of debris. For deep cleaning, use a laminate floor cleaner with a teaspoon of unscented clear dish soap in a gallon of water.
How do you clean hardwood floors?
To clean a hardwood floor, it is strongly recommended to use a special product for it with a basic mop.
How much does it cost to install laminate flooring?
The cost for plastic laminated flooring is $4 to $7 per square foot (inclusive of labor). 
How much does it cost to install hardwood flooring?
The average cost to install wood flooring fits in the window of $4 to $12 (labor inclusive) per square foot.
Can you paint laminate flooring?
Yes, you can paint laminate flooring.
What is a floating floor?
A floating floor is a floor that is locked using a system like a puzzle without glue or nails.
How much do heated floors cost?
Electric heated floors cost an average of $8 to $12 per square foot.
How much extra flooring should I buy?
It is always a good idea to buy 20% more extra flooring from the initial estimation.
Are vinyl plank floors toxic?
Vinyl plank floors are considered to be somewhat toxic as they are made up of phthalates mixed with additives that can interact with indoor air and water.
Share this article on social media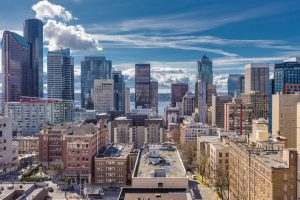 Community post
Low supply and high demand create the perfect conditions for a seller's market, and buyers looking to buy their first home or their next perfect home may find themselves in a bidding war competing against other buyers with the same idea.
Read more »