Tiny Houses in Canada: Designs, Costs, Regulations & More!
The real estate market in Canada has been growing steadily in recent years. In order to acquire a property of their own, Canadians are increasingly interested in more affordable options such as tiny homes. Tiny houses are typically on wheels to adhere to municipal bylaws and are usually between 60 and 600 square feet in size. Not only are tiny homes affordable, they are also environmentally friendly. Despite Canadians' interest in tiny houses, there is a lack of knowledge about their designs, costs and regulations in Canada. Read on to learn more about tiny homes!
Everything you need to know about tiny houses in Canada:
Booking trustworthy movers starts here
Compare multiple moving quotes calculated across the same metrics
7 types of tiny house designs in Canada
A tiny house on wheels is a tiny house installed on a trailer. Many Canadians choose to put their tiny houses on trailers due to the regulations in effect in their municipality. These trailers measure between 60 and 400 square feet. Tiny houses are not yet recognized as legal in most areas of Canada, but RV's are. This is why some people will build their tiny house on a trailer and make it look like a residential house. Some will even hide the wheels of their tiny house when it is parked and equip it with a folding terrace.
Cost of a tiny house on wheels

The cost of a tiny house on wheels depends on several factors such as the cost of materials, the cost of labor and its dimensions.
| | | |
| --- | --- | --- |
| Basic model price | Mid-range price  | High-end price  |
| $8000 – $44 000  | $45 000 – $79 000 | $80 000 – $150 000 + |
(*HomeAdvisor)
2. Shipping container homes
Shipping container homes are made from used shipping containers. It is a recent initiative that allows recycling of the thousands of maritime containers thrown away every year. There are 3 standard sizes of shipping containers: 10 feet, 20 feet and 40 feet. The 20 feet shipping containers are the most commonly used for shipping container homes.
Shipping container homes cost

Step 1 – The purchase of a used shipping container:
A used 20-foot shipping container in good condition usually costs between $3000 – $4500. You can find used shipping containers on sites like Kijiji and Craigslist.
Step 2 –The purchase and installation of the material for the interior structure and the foundation:
Heating, air conditioning, plumbing and electricity: $21 000

Roofing and insulation: $8 500

Doors and windows: $6 000

Flooring: $5 000

Paint and wall finishes: $6 000

Shelves and cupboards: $2 000
Average price for a 20-foot shipping container home: $65 000
(*TargetBox & Hale Trailer)
Micro-houses are larger than typical tiny houses, but smaller than, say, a bungalow in a residential area. They range in size from 700 to 1100 square feet and often resemble simple versions of single-family bungalows. They also resemble mobile homes, but unlike mobile homes, micro homes have a very long lifespan if properly maintained. Micro houses have no basement and are built on a foundation. They often have a modern look and several windows around to enlarge the space.
The price of a micro house ranges from $38 000 to $160 000 and averages at
$76 000.
4. High rise/cube tiny house
High rise tiny houses are small homes that are often shaped like a cube or vertical rectangle. They are very similar to the sheds found in our backyards. High rise tiny houses are often anchored in a foundation and not on wheels due to their height. They are often a replica of a typical family home, but in a smaller size. These small homes typically measure 13.5′ x 13.5′ x 13.5′. They are often used for cottages and short-term rentals such as Airbnbs. High-rise tiny houses typically have a first floor where the kitchen, bathroom and living room are located and the second floor where the bedroom is located.
Price of a high rise/cube tiny house
The Nomad Cube, the latest model from Nomad, is a high rise cube shaped tiny house measuring 13.5′ x 13.5′ x 13.5′ and is available on Amazon for just under $50 000 CAD. This tiny house can be flat packed for worldwide delivery and comes with do-it-yourself assembly instructions.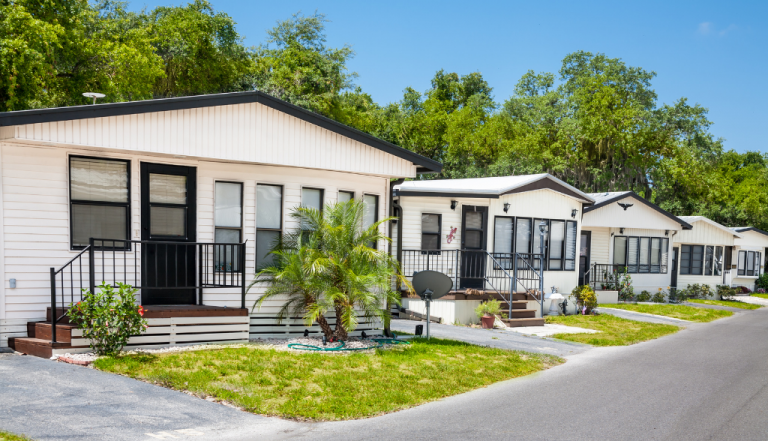 Mobile homes are not a new concept in Canada. For a long time, Canadians associated mobile homes with seniors who were retiring. However, more and more young families are moving into mobile homes in order to save money on the purchase of land. Mobile homes are typically 14 to 18 feet wide and 66 to 80 feet long. The disadvantage of mobile homes is that they have a lifespan of between 30 and 65 years which makes it difficult to resell in the future. Mobile homes are usually located in mobile home parks, but increasingly they are breaking away from these locations to become independent.
The price of a mobile home in Canada starts as low as $10 000 and can go up to $700 000, depending on the size, condition, location and year of construction of the home. On average, most buyers in Canada purchase their mobile home for between $100 000 and $200 000.
(*Realtor.ca)
Originating from native tribes in northern Asia over 3000 years ago, the yurt concept was discovered in North America in the 1960s. A yurt is an easily portable, circular tiny house. It is made of a flexible wooden lattice and is covered with fabric. In Canada, yurts can be easily built by yourself by following a yurt building tutorial, but also purchased from a yurt manufacturer in Canada like Yurta.
| | | |
| --- | --- | --- |
| 20' standard yurt price | 24' standard yurt price | 30' standard yurt price |
| Starting at $9860 | Starting at $ 12 868  | Starting at $19 168  |
*Price may vary depending on types of materials and options chosen.
(*Biome Canada)
7. School bus / camper van conversion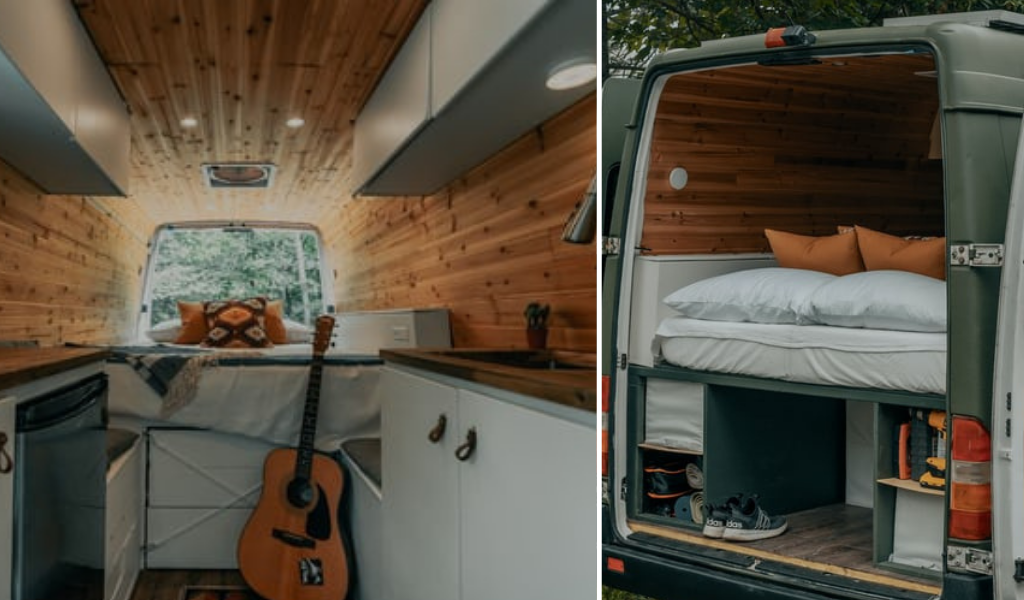 School buses and campers converted into tiny houses on wheels are popular amongst young people who are looking to work on the road and not pay a huge rent for their home. They have a lot of space, but use a lot of fuel and are difficult to park. However, they are inexpensive and can be parked almost anywhere! It's easy to find a used school bus for sale or used camper van for sale online to get started on your project!
Cost of a school bus and camper van conversion
Step 1 – Purchasing the used vehicle:
A used school bus that is about 15 years old costs an average of $6500 while a used bus that is less than 5 years old costs over $40 000. A used camper van that is about 10 years old with a mileage of fewer than 200 000 km costs on average $9000 while a new van can cost over $40 000. You can find used school buses and camper vans on sites like Skoolie Livin and Kijiji. 
Step 2 – Purchasing and installing the material for the interior structure:
Depending on the quality and type of finish of your converted bus or van, the purchase and installation of the interior structure material will vary. Be prepared to spend between $10 000 and $30 000 on materials and installation.
Average price of a school bus converted into a tiny house

*used for about 15 years

Average price of a camper van converted into a tiny house

*used for about 10 years

$26 500

$19 000
(*Skoolie Livin)
Regulations: are tiny houses legal in Canada?
It is important to know that tiny houses in Canada are not allowed everywhere and that there are regulations in place. More and more municipalities in Canada are accepting houses of less than 700 square feet. However, in order for this to be legal, they must be installed in neighborhoods or stretches of land that are exclusively dedicated to them. 
Are container houses legal in Canada?
Container houses are technically legal in Canada. However, the law is not as simple, and extensive research is required before choosing to buy or build one.
General Canadian law classifies shipping containers as buildings. They are therefore held to the same building code standards as normal homes under construction.
Even though they can technically stand without the construction of deep foundations, the law requires that concrete padding be constructed for them to rest on to prevent sinking into generally weaker earth.
Not all parts of the country deem it legal to construct container houses. Therefore, it is necessary to conduct thorough research into the building laws of a town or city before venturing into construction.
Are tiny houses legal in Quebec?
Tiny houses are not entirely legal in Quebec. Not all cities allow for the building or parking of tiny homes. There is currently little legislation on the requirements for a tiny home. It is important to check with local building municipal planning authorities to see if building them is allowed. There are very few places that accept tiny houses in Quebec, one place that does allow them is a neighborhood in Lantier, Quebec. 
Are tiny houses legal in Nova Scotia?
For the most part, tiny houses are not completely legal in Nova Scotia because most local building codes do not cover buildings on wheels. However, some locations like Yarmouth have made allocations in their municipal boundaries and laws to now begin including tiny homes, with the rise in popularity.
Builders & designers of tiny houses in Canada
Teacup Tiny Homes

Rockbox Structures 

LoftyPod

Rewild Homes

DROP Structures

Candlewood Homes

True North Tiny Homes

Tiny House Construction Company 

NOMAD Micro Homes

Sunshine Tiny Homes
Featured tiny house communities and projects across Canada
To help you better decide on the type of tiny house you may need, looking at various tiny house plans can be helpful. There are a multitude of tiny house plans on the internet. Some plans require payment while others are free. Here are the best websites to find tiny house plans: 
Buying a tiny home will save you a lot of money. Whether it is mobile on wheels or installed on a foundation, a tiny house is much cheaper than a regular house. One of the positive points is also the ecological aspect of these houses. We must also admit that the design of some tiny houses are very original. 
In addition to being careful to respect the regulations of your municipality, make sure that this type of housing suits you. Living in a tiny house is a minimalist lifestyle. We suggest that you try sleeping in a tiny house for a few nights. There are many options: you could rent an Airbnb or a cottage.
Share this article on social media
Moving tips
The numbers show it: moving is a source of anxiety for a great amount of Canadians! We rounded up in this article a list of tips and tricks you could use.
Read more »