Investing in Real Estate: How to Get Started?
Have you been saving some money to create a passive income source and generate stable cash flow? Or perhaps diversify your investment portfolio? 
Why not become a landlord of a rental property? Or flip undervalued real estate and enjoy the profits! You may know how to pick the right home for you, but do you know how to pick the right real estate investment? You can adopt tons of different strategies in real estate investing and create an additional income stream. 
Is it that simple? It is but with calculated decisions and a solid long-term strategy. Here's everything you need to know about real estate investment.
How to invest in real estate?
Why you should consider investing in real estate?
The big question, why real estate? Why not bonds, stocks, mutual funds, or cryptocurrency? There is significantly less risk involved in real estate, and the demand will always be there. Moreover, it is a tangible asset that can be controlled and will always have some value, and this is why you should consider investing in real estate!
There are two things guaranteed with real estate investment: cash flow income and appreciation. There is a slight chance that the real estate market will go down. Otherwise, you're always in profit. Wait…what actually is appreciation? The value of your property increases over time…get it? 
It can be due to real estate market changes, inflation, due to renovations and improvements you made, or the land around your property becomes scarcer. But still, real estate appreciation involves risk as the whole scenario is totally unpredictable.
Less risk than stock market
Suppose you put in all your life's savings in stocks. Everything's going great, you're happy, and one fine evening some news pops up that the CEO of the XYZ company was a fraud. Your stocks go down to 0, literally! All your saving down the drain. 
The stock market is volatile—subject to market, economic, and inflation factors. Geopolitical and company-specific events also determine the graph of stocks. They can give you short-term profits, but real estate is the safest option for the long haul. 
The demand will always be there
"The earth will run out of land" sounds strange, right? There will always be demand for real estate, always! 
You buy real estate, renovate it, and put it up on the market. There will always be a buyer willing to pay for it. You become a landlord, and there will always be renters. And guess what, if the economy grows, the demand for real estate drives higher rents. 
It's a win-win.
Yes! You get tons of tax benefits in real estate investment. If you own a property, you can deduct mortgage interest. You also enjoy tax deductions on property taxes, cash flow from investment properties, and operating expenses. 
Still not enough? If you sell real estate investment property, the tax you pay is 15% to 20% lower than your personal tax bracket. This is called capital gains tax. The tax you pay on capital gains varies depending on the established fiscal laws in your area.
As mentioned above, your stocks can go down all the way to $0. Real estate, on the contrary, has a high tangible asset value and will always have some kind of monetary value. 
You have more control, unlike stocks that can go crazy anytime. You can also leverage to capitalize on numerous revenue streams while the price of the whole thing appreciates.
5 ways of investing in real estate:
Ever heard "Buy land. They're not making it anymore."? That's exactly what you're going to do. But the key question is how you'll get on the property ladder? How to invest in real estate? 
There's not one, not two, but countless ways of investing in real estate and move a step towards financial security. You can go for direct homeownership, rental properties, house flipping, and Real Estate Investment Trusts (REITs).
What type of real estate should you go for? You can go from small condos and single-family homes to large complexes and luxury homes. 
Options are limitless; what will you go for?
What to look for in a plex
A plex is a multifamily home designed to house different families. It can be a duplex, triplex or fourplex. A duplex is typically one building split into two separate living units, either side-by-side or on two floors and with different entry points. In contrast, the fourplex and triplex can accommodate three to four separate families, respectively. 
What makes a plex a good investment opportunity? It is a single unit on the outside but can house up to four tenants. The rental income will be used to generate cash flow and build up equity. 
Another great incentive, you get tax benefits! With a plex, you can use rental property depreciation rules to get tax breaks. 
These multifamily homes can be bought with a residential loan rather than a commercial loan. You can use one of the units for yourself and rent out the others.
Less down payment: Down payment can be as low as 3.5% if you opt for FHA owner-occupied multifamily financing.
Rental income: Each tenant will contribute towards paying off the mortgage, maintaining the property, and generating a high cash flow.
Tax benefits: You can get tax reductions on maintenance and upgrades on the units you rent out.
Unrented units: You can only maintain a positive cash flow when the tenant-occupied units generate enough rent to cover the maintenance and mortgage costs. Unrented units can cost you a lot as maintaining a constant supply of renters is difficult.
Maintenance: It's not just your home anymore. You have to look after two to four units that can be costly and time-consuming.
What to look for in a cabin
Remember that old spooky cabin you saw in a horror movie? In reality, investing in a cabin can be extremely profitable overall. Everyone loves to enjoy the rustic feel of a wooden cabin near hiking trails, lakes, ski resorts, and forests. 
A cabin is mostly used for personal stays but can also be rented out for the short term during the vacation season. People also like to retreat to serenity once in a while, and you can cash in on this opportunity. Many families go on a week-long fishing trip, and they need a place to stay. The rental income here is exponentially greater than a plex as there are not so many options near a forest. 
To maximize your profits, make sure you buy a cabin in the right location. It should at least have internet access and cable to attract more customers. 
High rental income: If your cabin is close to the main attraction, you can earn insanely high profits.
Appreciation: Your property will increase in value every year, especially if you invest in a high-demand area.
Your own vacation home: You can use it as a vacation home in the off-season or dedicate some weeks in a year to keep the cabin for yourself.
High maintenance and housekeeping costs: A cabin is mostly made of wood and hence requires extensive maintenance. Termite damage, roof leaks, missing shingles, and many other unexpected issues can arise. You also need someone to help you with restocking and answering the guest's questions and concerns.
Taxes and higher down payment: If you rent your cabin for more than 14 days, you have to pay federal taxes on the rental income. Other taxes include state, local, and property taxes.
What to look for in a condo
It is a private residential unit inside a larger building. Investing in a condo is great if it's in a high-demand neighborhood like a downtown area or a vacation destination. Condos are much cheaper than single-family homes as here you are not paying for the land but for the space inside the condo. 
Low maintenance costs: You pay a monthly condo association fee that covers all the maintenance expenses. Some associations also cover building insurance, cable, garbage collection, and pest control costs.
Higher demand: Demand for condos has sky-rocketed due to urbanization. Single-family and multifamily rentals are in short supply in the majority of the areas.
Financing issues: It is tough to get a mortgage for a condo. The building should have at least 50% owner-occupied condos to convince a lender.
Rental restrictions and high condo association fees: Some condos don't allow rentals, and others might have rental restrictions. Moreover, condo association fees are insanely high and range from $0.48 to $1.06 per square foot.
What to look for in a flip
Buying rental properties, dealing with the tenants and maintenance costs are a headache. Flipping a house means that you buy a house, make upgrades and renovations, and sell it—all this in a matter of months. 
But here's the catch, you need a considerable amount of money and permits for renovation and remodeling. To minimize the extra costs, look for houses in relatively good condition and low price. 
The risks are much greater, as you might spend tons on the renovations but end up earning little to no profits. On the contrary, flipping the right house has the potential to produce the biggest gains. You need expert designers, contractors, attorneys, and accountants on your team to become a successful flipper.
Quick profits: Rental income and real estate appreciation are not favourable in the short run. You can achieve high returns in house flipping in a short time.
No income taxes: If you have lived at the property for at least two of the previous five years, you don't need to pay capital gain taxes. But you do have to pay it otherwise.
Higher risk: The risk factor here is more than any other real estate investment alternate. The renovation costs can go up, the market can crash, or the taxes can increase. You never know what's going to happen.
Holding costs: The longer it takes for you to flip the property, the more money you will lose. You pay the mortgage, taxes, maintenance costs, and whatnot.
Booking trustworthy movers starts here
Compare multiple moving quotes calculated across the same metrics
5. Real Estate Investment Trusts
Investing in Real Estate Investment Trusts (REITs) is the easiest option to get into real estate. You can start with a small amount and with minimum risk. REITs are public or private companies that own and operate real estate. You buy shares of a REIT and earn profits off the real estate ventures. 
In simple words, a REIT takes money from people like you to purchase, develop, and operate a real estate empire. Their portfolio may include hotels, apartment complexes, condos, hospitals, or malls. A significant portion of the gains from these projects are distributed amongst the investors. 
Most of these REITs trade on public stock exchanges. You can buy and sell shares via a brokerage account, making it the most liquid real estate investment on this list. 
What options do you have? You can invest in Office REITs, Retail REITs, Residential REITs, Healthcare REITs, and Mortgage REITs.
High-yield dividends: A REIT is required to pay out 90% of taxable income to shareholders.
Easy investment: Not everyone has the time and money to purchase commercial property and operate it. You can quickly diversify your investment portfolio with minimum risks with REITs.
Share prices fluctuate: Share prices fall if the property depreciates in value. If it's retail REIT, your profits are heavily dependent on the overall retail industry itself—high vacancies result in low profits and vice versa. Moreover, rising interest rates negatively affect profitability.
Taxes: The dividends are taxed as ordinary income, so if you hold REITs in a standard brokerage account, you have to pay hefty taxes.
Whichever option you go for, real estate investment offers high profits in the long run and is not as volatile as the stock market. Being a relatively illiquid asset, it takes time to gain profits, so be patient! Make sure you do your homework before jumping into the real estate wagon. Finding the right real estate agent is also a great way to start. They will help you through the process of finding your perfect nest!
Want to know more about real estate? Check out our article on what to know before buying a new house!
Share this article on social media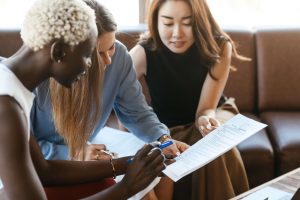 Legal & Insurance
A Guide To Understanding Lease and Rental Agreements in Canada Agreements are the backbone of any professional transaction. When renting an apartment, house or even a workspace, the lease agreement is arguably the most important step
Read more »