7 Unique Ways to Sell Your Furniture When Moving
So you've scoured available real estate listings and have finally found the new perfect home!
Now comes the hard part: moving.
It doesn't matter what city you live in whether  you're in Canada or the United States — this problem is universal: What are you going to do with all your furniture?
The problem becomes even more acute when you're moving cities, like entering the Vancouver real estate market from Winnipeg, or from a large house in the suburbs to a small apartment in the city.
If worst comes to worst, you can just toss your furniture on the curb and give it away for free, but the best case scenario is making a bit of cash off of it.
Here are seven unique ways to sell your furniture when moving:
Hosting a garage or sidewalk sale is probably the easiest way to get rid of your furniture; there are no replying to emails or trying to set up appointments to view. If you have a ton of stuff you want to sell, simply post a free ad online, either on Facebook, Craigslist or Kijiji. Otherwise, for smaller amounts of furniture just mock up a bristol board sign in front of your loot and wait for the customers to roll in.
Facebook now has marketplace features and groups you can join in order to sell furniture (or any other item), meaning you can reach a wider audience than just your friends. Facebook makes it easy: you simply take a picture, write a description and then buyers can comment or private message you. To find these groups simply type "furniture selling marketplace + city."
3. Upselling via Instagram
A less commonly used social media site for selling furniture is Instagram, but they recently added a merchant capability. Now middle-men like BigCommerce and Shopify take care of the transaction details for you. It's already popular for fashion and beauty, but there's no reason it can't extend to furniture.
Flea markets have enjoyed somewhat of a renaissance as people are trying to be more environmentally conscious, and upcycling has become more popular. Just make sure not to spend your profit on the goods in other stalls!
This online bartering site was founded in Toronto six years ago, when Emily Bitze wanted to make city living easier and build community connections. Since rent and property prices are so high for Toronto real estate listings, (check out MLS listings in Calgary for a far more affordable Canadian city!) residents are always looking to save as much moolah as possible. So instead of paying or receiving cash for furniture, everything is traded for a non-monetary value on their easy to use website or app. Kind of like they did in the 5th century…BC.
What would this list be without a mention of this popular online classified ad site? You reach a huge number of people with this site. Just make sure to post high-quality pictures and measurements.
Instead of selling direct to one person, why not sell to a used furniture store? Used furniture stores are especially interested in antiques and mid-century furniture. After appraising the item they may offer store credit instead of cash, giving the opportunity to score something that better fits your new home.
Zoocasa is a full-service brokerage that makes buying and selling your home smarter and faster. Our in-house agents have been recruited for their professional experience and notable track records and will lead you through your purchase or sale, negotiate to get you the best value, and educate you on everything from the transaction process to selecting the right neighbourhood.
Moving is often synonymous of stress, long administrative tasks and a significant waste of time and money. MovingWaldo helps you solve all these problems in just a few clicks! After some shameless self-promotion, we invite you to discover our free moving tools available to all.
Update accounts
Connect Internet, TV and Phone.
Secure home and auto insurance
Find resources, checklists and more.
We bring together more than 700 organizations across Canada with a single and simplified form.
Share this article on social media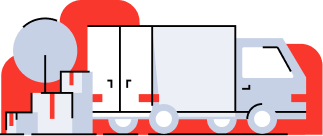 Compare the Best Moving Services available at your address!
Related questions from the community
Have a question about your move? Ask our community.
Moving tips
No matter where or how you live, you inevitably have some heavy furniture that you'll need to carry when moving out of a home and moving into a new one. If you do, this article will show you the right technique.
Read more »
Check out MovingWaldo's free moving app that will save you up to 10 hours of paperwork. And it's free.