Best Moving Companies Lethbridge - Find the perfect moving company near me.
Looking for the best moving companies in Lethridge ? Here's how we help. We've built a list of curated movers that you can trust, based on consumer reviews from around the web. Trust us to find you the best movers near you in Lethridge. From home moves to apartments, condos, townhouses, and high-rises – those moving companies have experience to meet all of your requirements.
MovingWaldo's list of the 3 best movers in Lethbridge
MovingWaldo is Canada's #1 Free Moving Concierge Service. Since 2016, we help millions of Canadians tackle moving tasks in minutes. We care to take the stress away from moving by offering free tools, tips and tricks and referral of service providers that you can trust. MovingWaldo is everything moving under the same roof!
How are moving companies selected?
Our network of movers you can trust is carefully built based on professionalism, years of experience, accreditation, awards and social proofs from customers. We care to help you through the maze of information the web provides about this unique industry. You can trust the movers listed here to guide you and your family safely into moving day!
Are you a good moving company?
4.6 stars based on 150 reviews from around the web
Large moving and storage container company with numerous locations
BigSteelBox is a Canadian-owned and operated container moving and storage company that makes moving and storage feel better! They can move you across town, or across Canada. Their local moving price includes the 1-month rental of a 20′ BigSteelBox, so you can pack at your pace, and all movements of the container. Plus, if you need storage in between homes that's no problem because storage is built right into their moving service and easy to add on.
From their storage facility in Lethbridge, they're able to provide moving services and portable storage container rentals and sales to residential and business customers in Lethbridge, Coaldale, and surrounding area. Whether you need secure storage at home or on the job site, or you're moving to a new home, BigSteelBox can help.
Services offered in Lethbridge
Local Moving

Long Distance Moving


Commercial Moving &

Storage

Container Moving

Storage at Your Home


Storage at Our 

Location

Boxes and Packing Supplies

Packing Services


Free Quotes
Is a Moving Container the right choice for my move ?
I have an available parking space or equivalent to put the Moving Container for at least a few days at each location.

I am aware that a BigSteelBox is best for single-family homes.

I understand it will offer me the flexibility to pack and load at my pace and leisure.
If yes, a Moving Container is a great option for you!
* Price includes the 1-month rental of a 20′ BigSteelBox, empty delivery, movement of the container to your new home, and empty pick up. Price is subject to change without notice and does not include taxes. Price is based on moves within the local service area of this city only. Additional charges may apply to frieght for customers outside the local service area.
Lethbridge, Port Coquitlam and the surrounding area
Multiple locations


Storage in between homes

Extremely secure containers

Take your time packing
Limited service for condo/apartment buildings*
Packing/loading service an additional cost
Insurance coverage is not offered during transport nor storage. Contact your insurance company for more information.
*Unless you have space for the container for at least one month. 
Why do we recommend BigSteelBox for your move in Lethbridge?
As a moving and storage container company, BigSteelBox is unique in its kind! They believe it's their job to own your moving problem, reduce your effort, and care more than you expect. They genuinely care about giving their customers a great experience because they want you to feel better about moving.
With locations across Canada, backed by a Canadian call centre, BigSteelBox can help make your local or long distance moving experience feel seamless. When you move with a BigSteelBox moving container you'll enjoy predictable pricing, extra time and flexibility to pack and unpack, and the built-in option of secure storage in between homes. Their caring staff will answer all your questions and do everything they can to put your mind at ease throughout the moving process.
10 Broxburn Way, Lethbridge, AB T1J 4P4
3.8 stars based on 35 reviews from around the web
2 Burley Men Moving is a moving company that offers a plethora of moving services in and around the local area. It has been in operation since 2007, earning an impressive 4.9 rating on Google from +1600 reviews, which when combined with its A+ BBB rating, ensures that it is a local mover that you can trust in the city of Lethridge and the area.
Services offered in Lethbridge
Local moving
Long distance moving
Storage
Boxes & moving supplies
Cleaning
From $100 to $130/hour for 2 men and a truck
Lethbridge and the surrounding area
4.4 stars based on 35 reviews from around the web

Two Small Men with Big Hearts was originally founded in Victoria and has since grown into one of Canada's largest moving companies. The size and scale of the company makes them a good choice for people who want to be absolutely secure in the knowledge that their move will be handled professionally, and everything will be done by the book.
Services offered in Lethbridge
Moving homes
Moving offices
Senior moving
Local and long-distance moves
Special item and vehicle transport
Storage services
Packing and moving supplies
Upsizing/downsizing services
Lethbridge, Duncan, Canada and international moves
140-2251 No 5 Rd, Richmond, BC V6X 2S8
Moving is often synonymous of stress, long administrative tasks and a significant waste of time and money. MovingWaldo helps you solve all these problems in just a few clicks! After some shameless self-promotion, we invite you to discover our free moving tools available to all.
Update your address on all your accounts

Connect the Internet, TV and phone.

Secure home and auto insurance

Find resources, checklists and more.
We bring together more than 700 organizations across Canada with a single and simplified form.
Other Moving Companies in Alberta
Visit our shop for

moving supplies
Frequently Asked Questions about Moving
When is the cheapest time to move?
In general, it is cheaper to move in the middle of the week, in the middle of the month, and during the winter.  
Moving prices change a lot throughout the year. Like Uber, the more demand there is, the higher the prices are. The general rules to get a discounted rate are:
It is usually cheaper to move during the week than during the weekend. For instance, some companies will have a different hourly rate on Wednesday than on Saturday. This is likely due to the fact that people avoid taking time off from work to move, hence, there is more demand on weekends.

Moving in the middle of the month is likely to be cheaper than moving on the last or first day of the month. This is due to the fact that most leases are renewed on the first day of the month, hence, there is more demand on this day.

Moving during the winter is usually cheaper. December, January or February are most likely less expensive months. April to September is often more expensive since it coincides with the end and the beginning of the school year.
Note: Are you moving in Quebec? The moving rates over the weekend of Canada Day can go as high as three times the normal rate. How's that possible you say? Most of Quebec's lease agreements end on July 1rst. Quebecers call it Moving Day. 
How many movers will I need?
Usually, a moving company will provide 2 or 3 movers. The number will depend on the company politics as well as the size of the move.
For instance, if you are moving from a one or two-bedroom apartment without large appliances, two movers will likely do it. On the contrary, if you are moving a house, 3 movers will be a better option.
If the moving company charge by the hour, the total hourly rate will be higher if there are 3 movers. This said, your move could also take less time, and the movers are less likely to accidentally scratch some furniture out of tiredness.
How many hours should I plan for my move?
For a same city move, the minimum will be 3 to 4 hours, but it is likely to be more than this. A two-bedroom apartment can take 4 to 6 hours, and a complete home could go up to 10 hours. Keep in mind that many things can influence the number of hours a move will take:
The number of movers, usually 2 or 3.

The number of boxes and furniture. Boxes are fast to move around, but appliances, sofas and specialty items can take a while. If a piece of furniture does not fit the stairs, for instance, you can count up to an hour to take it out through the balcony.

On what level is your home located? Moving from the tenth floor will take more time.

How long will it take for the movers to drive from their office, to your current home, then to your new home, and finally go back to the office? Most movers charge from door to door.
Try to evaluate how many trips will the movers need to load and unload everything, then estimate the time for each run. Finally, add the travel time and you should have a first approximation.
How much does it cost to hire a moving company?
Moving services rate are usually around 60$ to 80$ per hour per man. For instance, at $60 per hour, a 6 hours – 2 men move would cost 720$. You would then need to add gas, insurance, and tip.
Here is some sample data. Please make sure to get a proper quote to budget your move, as every move is different!
Two-bedroom townhouse between $870 and $1,015

Two-bedroom apartment with an elevator between $870 and $1,160

Three-bedroom house around $1,600

Four-bedroom home around $2,300.
Read our full article on the cost of moving.
What should I consider when choosing a moving company?
Selecting a mover is always a tricky thing to do. Since you do not move every year, you usually never had experience with the mover we end up selecting. There are rarely very poor decision, but here are a few things to consider that will help you make an appropriate choice:
Make sure the moving company offers insurance for your belongings.

Look for the

BBB Rating

. A BBB rating is a measure of customer satisfaction. The highest, the better. Note that not all companies use this rating.

Look for the Canadian Association of Movers (CAM) accreditation. Again, not all companies participate, but it can be a good source of credibility.

How long have they been in business? It is often a great thing when a company is in business for 50 years. We are not saying that young companies are not good, but harder to evaluate.

Where are they located? The closest to you and your new home, the cheaper it will be.

Do they hire full-time employees, or work with contractors? Full-time employees will often give you a guarantee that the reviews are relevant to the team.

Look for reviews from friends and family or turn to online reviews. Take the time to read the reviews and understand it.

Make sure you get more than one moving company quote!
How much should I tip movers?
First, let's settle it. Yes, you should tip movers, especially if they did a great job and were respectful of you and your furniture. Moving is not an easy job!
For an average or small size move of 3 to 4 hours, a reasonable tip would be

$25 per mover

.

For a larger move, or if it is a very hot day for instance, do not hesitate to go up to $

50 per mover

.

In addition to tips, movers are likely to appreciate non-alcoholic beverages, such as water or Gatorade, or small snacks during the course of the move.

It is usually recommended to tip at the end when paying the final bill.

Final note: Reviews. The moving industry is not easy, and online reviews are very important for these companies and also for other families that will be seeking their services later on. Share your experience!
For more information, ready our full post here on how much to tip movers.
Should I hire professional movers or rent a moving truck?
There are a number of things to consider before deciding to hire professional movers or moving by yourself, but the quick answer is: hiring movers is definitely a simpler choice, but will often be more expensive. Here are the things to consider:
What are you moving? Do you only have a few boxes to move, or are you moving a full-size home with a piano and pool table? Try imagining yourself moving the largest piece of furniture, could you do it?

To the first point, how is your physical health? Moving is hard on the body, and you surely do not want to break your back over the cost of moving. Hire movers if you think the effort could be too much.

Are you on a tight schedule, are can you move furniture over a week or a month? The more time you have, the easier it is to do it yourself.

Do you have specialty items, such as a pool table, a spa or a piano? These are expensive and need technical skills to be moved without properly. Make sure to get professional movers.
What are 5 tips for a perfect move in Lethbridge?
Plan your move. The more planning, the better.

Take measurement at your current and new address. Make sure everything fits.

Create a Google Drive with all reservations, quotes, lists, insurance, and documents related to your move.

Label your boxes!

Always double confirm every reservation.
For MovingWaldo's ultimate printable moving checklist, click here!
Share this article on social media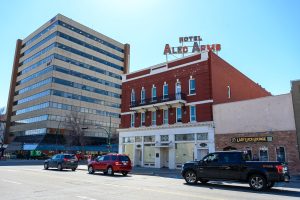 Internet Service Providers
5 Best Lethbridge Internet Providers People that are moving out of their homes to a new location should always be aware of the things that they need to handle when they move. One of the everyday
Read more »
Check out MovingWaldo's free moving platform and find everything you need for your move. No sign up required!