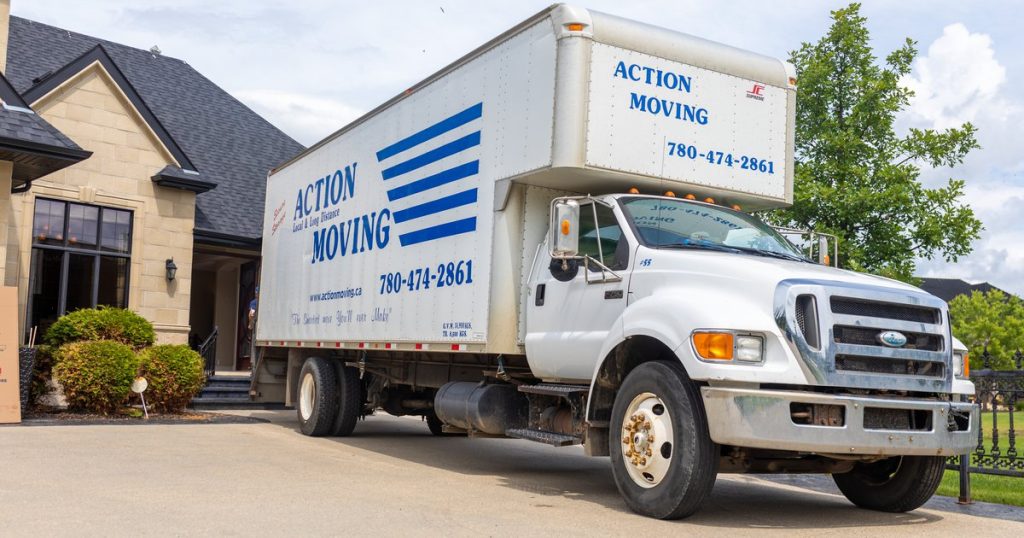 Action Moving: Reviews, Pricing, Services & More!
Action Moving and Storage is a professional, reliable, and affordable moving and storage company in Edmonton. Since 1988, Action Moving and Storage has served clients across Western Canada, helping with all their moving and storage needs even to and from British Columbia and Saskatchewan. With over 30 years of experience in local and long-distance moves, commercial moves, packing, and storage services, they understand the peculiarity of the moving process and have solutions to all the problems you can think of. Action Moving believes that moving is more about building relationships with their customers than just the move itself. So they take pride in fulfilling all your moving needs to their full potential, paying close attention to detail, and treating your property as though it were theirs. Let's go deeper into their reviews, pricing, services, and more.
Review of Action Moving and Storage
Booking trustworthy movers starts here
Compare multiple moving quotes calculated across the same metrics
Action Moving and Storage's service locations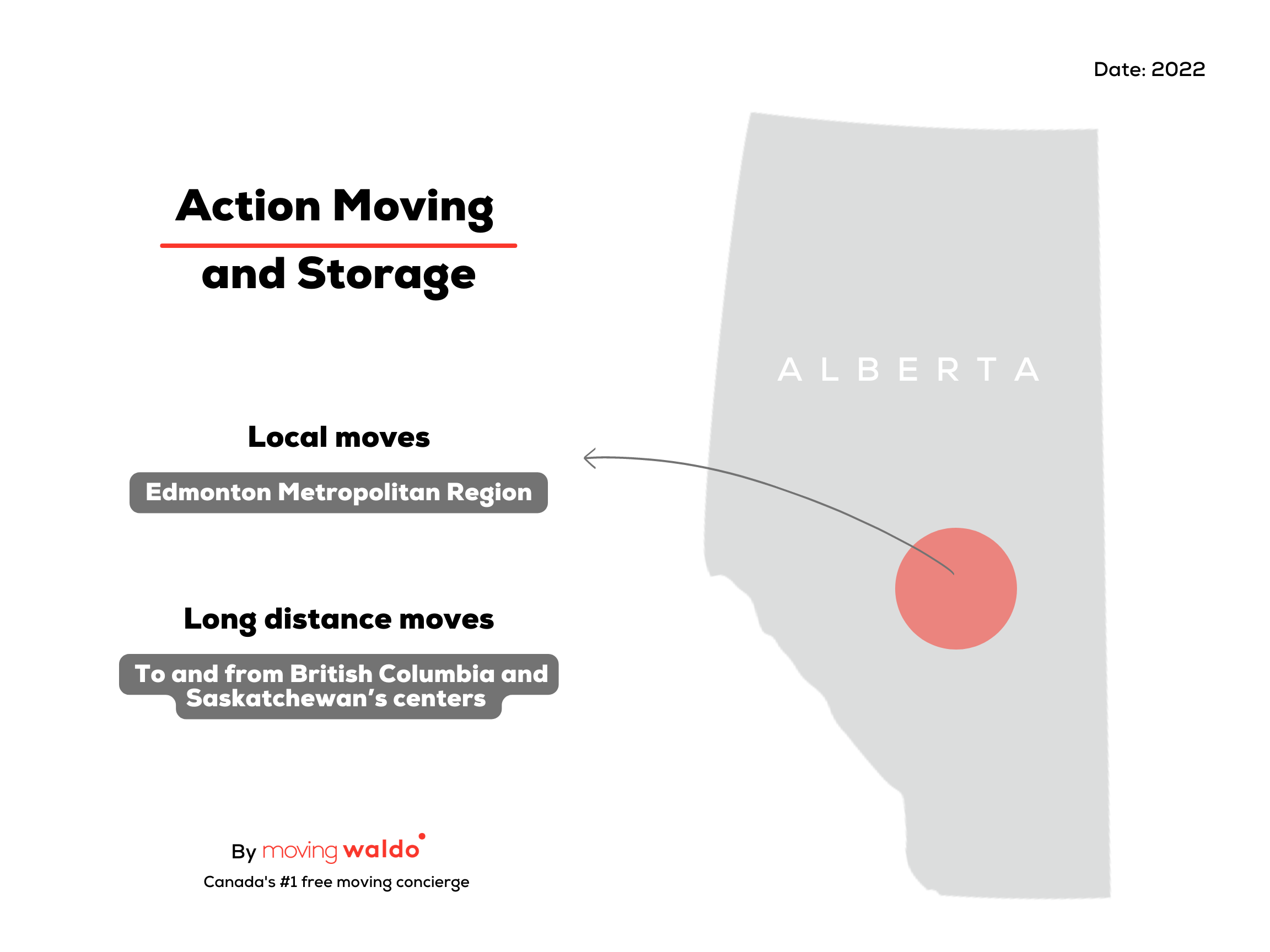 Action Moving mainly provides local residential and commercial moving and storage services in the Edmonton Metropolitan Region. Action Moving also provides long-distance moves to and from British Columbia and Saskatchewan's centers.
Action Moving and Storage's popular routes
Some of Action Moving's popular routes include: 
Edmonton to Milton

Edmonton to Waterloo

Sherwood Park to Vancouver

Gibbons to Regina
Action Moving's reviews from the web
4.5/5 based on over 500 reviews from the web
More than 30 years of experience
Website

Reviews

Google 

(4.7/5 out of 372 reviews)

"On time and fast. They are very careful with our stuff and never had any damage on the furniture and not a scratch on the wall in the new place. Thank you so much to the movers. These guys definitely know what they are doing. I highly recommend this company. If you want to ease in moving, Action Moving and Storage is the only way."

Facebook 

(4/5 out of 37 reviews)

"We hired Action Moving for our move from Spruce Grove to Sherwood Park, and they are awesome!  The movers were very efficient, hard-working, respectful of our stuff, and made our move stress free. I HIGHLY recommend them for your next move. Keep up the great service you provide!"

NiceLocal 

(4.8/5 out of 129 reviews)

"Our move was a few days ago, and I have not stopped praising the three men that moved us. They could not have been any more helpful, kind, and fun. I was very nervous about hiring movers because I've heard so many horror stories, but they were amazing!! They never walked out of the house without having both arms full, they worked so well together, none of my stuff was damaged. Great experience."

YellowPages 

(4.4/5 out of 6 reviews)

"I have used Action Moving and Storage recently and have found their service to be top-notch. The guys who did our move were punctual, handled our items with good care, worked hard and fast without even taking a break. I would definitely recommend them to anyone for all their moving and storage needs."
Action Moving and Storage's pricing
Action Moving's prices vary based on location, distance, the number of items moved, types of things moved, and more. To get an estimate of what your move or storage will cost, you can get a free quote by clicking the button below. However, if you want to speak directly to a representative first, simply call them at the number listed below. Additionally, Action Moving understands that there are many costs involved with moving. They work hard to make your life easier, offering amazing discounts and coupons to their clients. For example, you get one month of free storage when you book a move that accompanies a storage contract of three months or longer.
Action Moving and Storage's services
Moving services offered by Action Moving
Action Moving provides these moving services to their customers: residential local moving, commercial moving, long distance moving, packing and unpacking, and storage units for rent.
Student moving
Moving to college or university can be a challenging and daunting process. It involves leaving the home you grew up in. Whether you are a parent or a young adult, the experience is often physically, emotionally, and financially challenging. Action Moving understands the stress this process can have on families, and they are more than willing to help ease any burden through their cost-effective Student Promotion. All university and college students receive a 10% discount on their moving and storage fees.
Office moving
Change is inevitable. Office moving is more common than many people think. Whether you are changing cities, buildings, or floors in the same building, you will need to move stuff one day. It could even be as simple as expanding within the same space, and you'll need to move heavy equipment. There will be a significant loss in business hours and manpower if you let employees handle this task. These moves require in-depth preparation and execution of the right plan. Fortunately, you don't have to do any of these tasks. Action Moving and Storage can complete a plan for your company at a competitive price and quality that exemplifies a wise and worthy business investment. This way, you save time and energy spent on moving and focus on business continuity.
Why MovingWaldo recommends Action Moving and Storage
MovingWaldo recommends Action Moving and Storage because of the years of experience and established track record. With over 30 years of experience, Action Moving has provided professional moving and storage services to Edmonton and areas in Alberta, winning one of the 3 Best Rated Awards for Movers for 2018. Their services are second to none, and they are ranked as one of the best moving companies in Edmonton. They are detail-oriented, and you can rest assured that none of your properties will be damaged or lost during the move. With over 20 years as an A+ BBB accredited business, Action Moving has hundreds of positive reviews from satisfied customers.
Pros & cons of Action Moving
Over 30 years of experience

Detail-oriented movers

Transparent pricing. No hidden fees

Premium service with affordable pricing.

Coupons and discounts 

Secure and convenient services

Award-winning company

A+ BBB Accredited moving company for 20+ years 

Friendly and reliable team
Don't operate on Sundays

No online moving supply shop 

No international moves
Frequently asked questions about Action Moving and Storage
What type of insurance policy does Action Moving and Storage offer?
While they have an impeccable safety record, things can still go wrong in the world of moving. And so, to cover damages to property, the Action Moving and Storage team comes equipped with full WCB insurance. Additionally, all of their moves are covered by insurance. Once you sign on to their service, every single one of the possessions you plan on moving will be fully covered, so you don't lose sleep while they do the heavy lifting.
How long will my move take with Action Moving?
This is a complicated question that many people ask quite often, and there's no one straightforward answer. For example, suppose you are a piano collector who owns a packed multi-bedroom mansion. In that case, you are looking at a significantly longer moving time than a regular apartment owner. However, as a typical example of timelines, a three-bedroom house generally takes Action Moving's team approximately 4 to 7 hours to complete a move. A large percentage of the time is spent packaging, transporting and protecting your items. Once you factor in the actual driving distance, the move can take anywhere from a few hours to several days.
What awards have Action Moving and Storage won?
Action Moving and Storage has won one of the 3 Best Rated Awards for Movers for 2018.
Share this article on social media
Long distance moving
Situated on the North Saskatchewan River, there is the beautiful metropolitan city of Edmonton. It is the capital of the province of Alberta, bearing a population of 1,461,000. The city has an area of over 684 Km2 and stands as Alberta's second-largest, and Canada's fifth-largest municipality. The city is recognized as an educational, cultural, and governmental center. The city holds a year-round slate of festivals which has dubbed it the nickname of 'The Festival City of Canada'.
Read more »