Top 10 Most LGBT Friendly Cities in Canada - 2022
Canada is among one of the 30 countries in the world that recognize same-sex marriage. Over the course of the years, the Government of Canada has expanded their knowledge, resources, education, and acceptance of the LGBTQ community creating a sanctuary for citizens to truly be themselves. Regional organizations, Equal Rights Coalition and refugee protections for LGBT groups are among examples of ways Canada has shown its support towards the community. Upon Canada's legalization of same-sex marriage, since 2005, Canadian cities have created their own neighborhoods, parades, festivities, resources, and communities to raise awareness for the LGBT community. In this way, to make your decision for your next move that much easier, we have created a list of the top 10 most LGBT friendly cities in Canada.
As written on the Government of Canada official website, Canada declares the protection and awareness of human rights for the LGBTQ+ community and in doing so promotes a safe environment for all. Canada actively promotes LGBTQ+ human rights with diverse forums, being members of Core Groups as well as refugee protection within the community. 
With that being said, it is fair to say Canada has actively taken part in protecting and comforting the LGBTQ+ community providing thousands of homes for the masses.  
In no particular order, we've consequently built our ranking of the top 10 LGBT friendly cities in Canada by evaluating criteria using information provided by Canada's LGBT+ Chamber of Commerce (CGLCC), Royal Canadian Mounted Police, the Gay Pride Calendar meanwhile using Zumper.com and Numbeo.com to support these rankings, who considered the following criteria: community support, affordability, safety, and pride-readiness (pride festivals, gay bars and clubs, LGBT-friendly accommodations). 
MovingWaldo's list of the 10 most LGBT friendly cities in Canada - 2022
Best for: Single individuals or couples 
Toronto, Ontario is best known for being Canada's largest gay community, making it one of the most LGBT friendly cities in Canada. Not to mention Toronto's crime and safety index pose as a reflection of this statement with a score of 41.70 and a high safety of 58.30. The Church and Wellesley Village is a part of Toronto's most vibrant and populated LGBT friendly neighborhoods. The neighborhood acts as a safe space including community support and resources like the 519 Community Center or the Shelbourne Health Center. The Shelbourne Center helps the LGBT community by responding to any of their health needs including seeking information about health. 
In regard to affordability, according to Zumper.com, The 6ix offers its residence a median rent of $1,973 per month. Toronto Pride is known worldwide for its grand celebrations and festivities celebrating the unity and acceptance of the LGBT community. If you are planning on moving to Toronto, you will be welcomed with extravagant nightlife and busy city-living making it perfect for single individuals or couples. 
(*Sherbourne Center, 519 Center, Numbeo.com & Pride Toronto)
Montreal has long been an advocate for the LGBT community with the Montreal Pride, the "Gay Village" and its abundant selection of same-sex bars and clubs. The Village on Rue Saint-Catherine is the hub for a strong vibrant neighborhood surrounded by pedestrian-only walkways to the Montreal Metro (known as the STM), bars, bakeries, apartments, antique shops, restaurants, and grocery stores. Since 1988, Montreal has been hosting the LGBTQ film festival which offers education, knowledge, and awareness about the community on health, resistance, history, and acceptance. Montreal also offers its residents a number of helplines for gender identity like Interligne and resource centres listed on The Montreal LGBTQ+ Community Centre website. 
Generally speaking, Montreal is known for its grand parks such as Mont-Royal where you can gather the family for a picnic and watch the sunset. Montreal is the place for you if you are looking to find your soulmate and settle down – the dating scene is intriguing! In addition, the safety index is among the highest with a score of 69.01 and a low crime rate of 30.99! Moreover, the average rent for a 1-bedroom apartment is $1,450 per month. An important element to note before moving to Montreal is how the city speaks both French and English, however French being the primary language – make sure to brush up on your languages before moving! 
Best for: Luxurious lifestyle
Located around Davie Street and Commercial Drive in Grandview is the majority of Vancouver's LGBT community. Vancouver is known to be an inclusive and accepting city with many amenities to offer such as safety. According to Numbeo.com, the crime index is at a low of 38.25 and the safety index is at a high of 61.75. Moreover, Davie Street is home to the Qmunity also known as the Center which provides youth and senior programs, Trans ID clinic, employment support and counseling programs.
Vancouver also offers residence LGBT friendly beaches like Wreck Beach, grand parks like Queen Elizabeth Park, the Downtown Strict which includes shopping and restaurants or if you fancy a night out you can find all the famous bars on Granville Street in the Entertainment District. In regard to affordability, Vancouver is renowned for being expensive, so budgeting is an essential tool as the average rent for a 1-bedroom apartment is $2,500 per month. 
The Canadian Capital, otherwise known as Ottawa is one of the most LGBT friendly cities in Canada. Ottawa is known for its music festivals, ice-skating rinks and hiking trails. If you are looking for an extremely safe place to live and raise a family, Ottawa is the place for you. The crime index score is at an extreme low of 27.27 and the safety index stands at an impressive 72.73! 
The most vibrant neighborhood to reside in would be Ottawa's Gay Village, a few blocks away from Parliament Hill, where 40% of the population identifies as LGBT. The average price for a 1-bedroom apartment is $1,635 per month. Not to mention, just like Montreal and Toronto, Ottawa also holds an annual Pride celebration featuring a parade, festival, and amenities throughout Pride Week. 
(*Zumper.com, Ottawa Front Runners & Numbeo.com)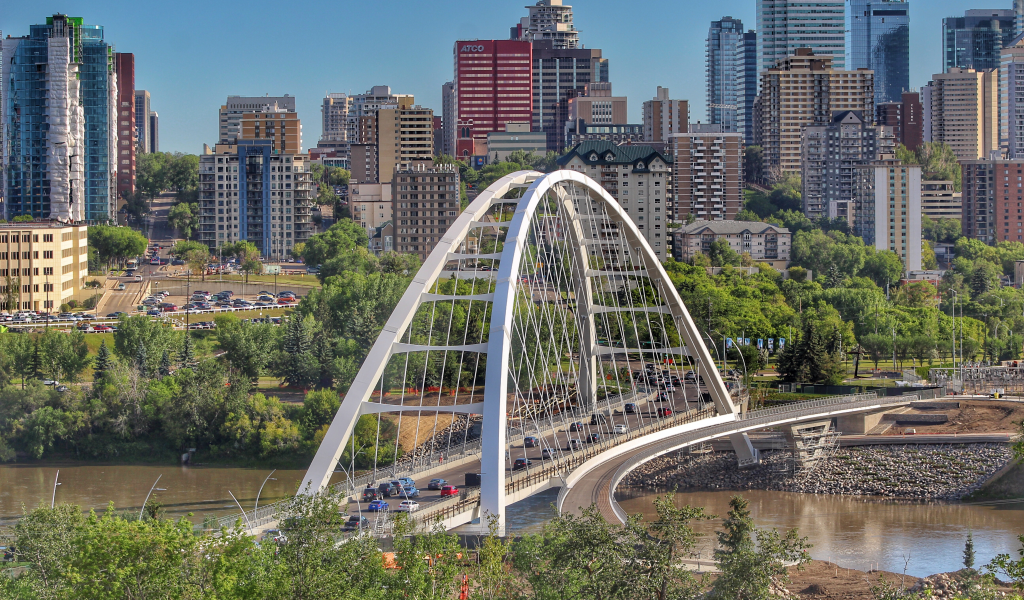 Best for: University students
Canada's Festival City otherwise known as Edmonton, Alberta, is one of the most LGBT friendly cities in Canada. Edmonton's community support and pride readiness comes to play with the Pride Centre of Edmonton – a welcome space for all LGBTQ+ members to provide resources, opportunities, and counseling. If you are looking to move to a one-of-a-kind neighborhood, you should consider joining Edmonton's Jasper Avenue – where you will find a plethora of businesses run by LGBT members, same-sex bars and clubs and other Pride festivities. In Edmonton, the average cost for a 1-bedroom apartment is $999 per month. 
As for the safety and crime index, Edmonton carries a low crime index at 44.56 with a safety index of 55.44. Edmonton also has some of the most acclaimed schools in Canada like Mount Pleasant School and Windsor Park School making it perfect to raise a family. 
Winnipeg has a history since 1998 when it comes to LGBT recognition as being one of the first North American cities to elect an openly gay major. Winnipeg shows its community support by having resource groups for specific audiences including Rainbow Resource Centre, Queer People of Color (QPOC) and the Manitoba LGBT+ Chamber of Commerce, to name a few.
In regard to affordability, a 1-bedroom apartment averages at $1,125 per month making it budget-friendly for residents. Winnipeg has a slightly higher crime rate than other cities at 58.93 and a safety index of 41.07. As for pride-readiness, Winnipeg also holds a Pride parade along with festivities including their first in-person Pride Parade of 2022 since the pandemic. Moving to Winnipeg would mean skyline views and city-living with the population coming in at over 1.5 million people. 
(*Numbeo.com, Zumper.com, Pride Winnipeg & Gay Pride Calendar)
With the glorious biking and hiking trails Calgary has to offer, it is no wondering Canadians love this city! Although there isn't one specific place for the LGBT scene, there are, however, streets dedicated to the LGBT community. More specifically in the Beltline Area between 14th and 13th Avenue where you can find a 1-bedroom apartment can cost you $1,464 per month. 
Calgary is one of the safest places for families with a safety index at a skyrocketing rate of 63.18 and an immensely low crime rate of 36.82. In regard to community support, Calgary offers a wide range of centers like Center of Sexuality and Calgary Outlink to provide education, encouragement and referrals to the community. 
(*Numbeo.com, Zumper.com & CMHA.ca) 
St John's is one of the most LGBT friendly cities in Canada with its unique colorful buildings and elderly streets as well as its awareness towards the LGBT community. Affordability is one of St John's advantages with the average cost of a 1-bedroom apartment being anywhere between $835. As for the safety and crime rates, the safety rate is at a median of 53.01 and the crime index is ranked 46.99. 
In regard to pride readiness, St John raises awareness for the LGBT community by hosting a grand Pride Parade, having their own St. John's Gay Men Chorus, groups for Parents of Trans & Gender Diverse Kids including inclusive sports teams like the Odds & Ends LGBT+ Curling team. Above all they expose their citizens to resources for individuals within the community like the MUN LGBTQ+ Resource Centre and the MUN Intersections Resource Centre. St Johns is the perfect opportunity to start a family with amenities of the greater Canadian community, rich history, and community support. 
Besides its historical charm, community spirit, fantastic seafood and natural landscapes, Halifax is also known for its LGBT-friendly atmosphere. Since 2004, Halifax has openly and actively accepted same-sex marriage making it the sixth canadian authority to do so. Moving to Halifax would entail a plethora of job opportunities, an energetic environment, walkability, and amazing educational institutions. 
As for affordability and safety, the average rent for a 1-bedroom apartment in Halifax is $1,650 per month. On top of this, the safety index is at a great height of 58.84 with a low crime rate of 41.16. The North End of Halifax is home to many members of the LGBT community along with artists and multi-colorful homes for all to enjoy. As previously mentioned, Halifax residents prefer to walk or bike as a main source of transportation with the walk score being 63 and the bike score being 59. 
(*Numbeo.com, Walk Score, Zumper.com & Canada's LGBT+ Chamber of Commerce (CGLCC)
Moving to Nelson British, Columbia will entail stunning mountains and lakes for all to enjoy. Nelson has ranked behind Vancouver in regards to livable; consequently, the price of a 1-bedroom apartment averages at $924 per month. If you are looking to move to a small-town atmosphere where everyone knows their neighbors – Nelson is the place for you. 
They have one resource center for the LGBT community known as the LGBT Resource Center including counseling support. Just like all the cities mentioned above, for over 20 years, Nelson has organized its own Pride parade, and instead of celebrating for a single day, they extend the celebrations for an entire weekend known as the Kootenay Pride Weekend. Nelson is also home many same-sex clubs, bars, restaurants, and shopping malls for its residence to enjoy. However, you will typically see Nelson residence enjoying a hike and taking in the sun surrounded by nature. 
(*Nelson Kootenay) 
Share this article on social media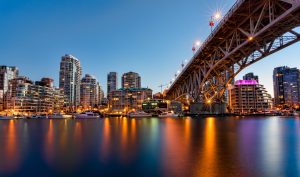 Daily Living
Top 10 Most Expensive Cities in Canada Like every other typical market, the real estate market in Canada depends on factors such as the economy of the country and the interest rates. Due to this, the
Read more »
Check out MovingWaldo's free moving platform and find everything you need for your move. No sign up required!