The 8 Best Neighborhoods in Los Angeles in 2022
Los Angeles remains the center of the entertainment industry, fame, and fortune. It is one of the best places to live in California. People find countless reasons to live there, the vibrant neighborhoods, world-class amenities, cultural diversity, and high quality of life. Los Angeles is serious about its education. There are over 106 colleges within 50 miles of LA. As such, this city is the perfect place if you're moving to Los Angeles to embark on undergraduate studies or pursue your passion in a graduate program. Los Angeles is a city of dreams, sun, surf, sand, and Hollywood. The largest city in California and the second-largest urban area in the United States remains a destination for many people worldwide. They come to visit, stay, and learn what life in Los Angeles is all about. If you are planning to move to this exciting and vibrant city, here are the 8 best neighborhoods in Los Angeles.
With many neighborhoods across Los Angeles, the city has something for everyone. Whether you're a young professional, a student, a head of a family, or a retiree, our list of the 8 best neighborhoods in Philadelphia will help you decide. We've built our ranking of the best neighborhoods based on a study from niche.com, who considered the following criteria: education, affordability, public transit, and safety.

 We've also considered the population and the vibe of the neighborhood.
MovingWaldo's list of the 8 best neighborhoods in Los Angeles - 2022
Best for university students
Population: 55,858
Westwood is an upscale commercial and residential neighborhood in LA. It's a pedestrian-friendly neighborhood. There are many excellent schools within the community. Westwood is home to one of the best universities known as the University of California, Los Angeles. UCLA is one of the leading research institutions making career opportunities endless for students. The area is also home to many retirees who enjoy the more suburban side of Westwood. With spacious homes that draw in people looking for tranquility . For families with children, the area offers many options for schools, from private to charter to public schools. 
(*Niche & Walk Score)
Best for young professionals
Population: 38,913
Culver City is in Los Angeles County where there are a lot of bars, buzzing restaurants, coffee shops, and parks. Many young professionals live there. The public schools in Culver City are highly rated. Culver City would take the crown if there were a competition for the hottest LA neighborhood of the moment with its moviemaking history. Culver City is also known for its lively nightlife and reasonable rent of $2,071 per month for a 1-bedroom apartment. The community's real estate market is also widely in-demand. It has its excellent school and sports district; it's a family-friendly place you can expand into.
(*Niche)
Best for families with young children
Population: 44,772
Living in Echo Park offers residents an urban-suburban mixed feel, and most residents rent their homes. This neighborhood has an authentic lifestyle, and big-city amenities are drawn to the area. Choosing a location with good school rating consistency is essential, and the place you're looking at right now has excellent elementary schools for your young children.  If you have children and desire a consistent school experience as they grow up, this neighborhood may be an ideal place to plant long-term roots more specifically Girls Academic Leadership Academy: Dr. Michelle King School for STEM which was ranked the top public school in Echo Park by Niche.com. If you are looking to move in a child-friendly yet relaxing neighborhood, Echo Park offers these amenities including its multiple parks, lakes and central location. 
(*Niche)
Best for LGBTQ+ community
Population: 35,506
West Hollywood is one of the most vibrant and exciting parts of Los Angeles. Its creative energy is tangible throughout the entire neighborhood, which has become a destination for street art. It is the hippest neighborhood we know. Interestingly, most of these dining options are pet-friendly dining areas; hence, you will meet as many friendly dogs as pedestrians here. The rent for a 1-bedroom apartment is averaged at $1,744 per month. This is one of the few cities in the United States where LGBTQ+ community would make up the majority of the population, so if you are a part of the community, this area would be ideal for you. West Hollywood, better known as WeHo, provides a range of restaurants, nightlife and entertainment but it still holds its relaxing charm with calm areas and nearby hiking trails.  
(*Niche)
West Hollywood, Los Angeles
Population: 32,557
Los Feliz is one of the best places to live in Los Angeles as it feels secluded from the rest of the busy L.A. scenery. Residents enjoy an urban feel, and most of them rent their homes. The public schools there are above average and the median rent is around $1,740 per month. Los Feliz is a perfect mix of trendiness and coziness. There is a lot of diversity surrounded by incredible restaurants, eclectic shops, and lively nightlife. It is an enjoyable walkable area with a Walk Score of 78 out of 100, that boasts some great entertainment options just a few steps from wherever you are with high Public Transit. In addition, you can also enjoy its quick access to Downtown Los Angeles, Hollywood, iconic beaches and the Valleys.
(*Niche & Walk Score)
Best for single individuals or couples
Population: 35,873
Alongside Venice Beach, there are a lot of bars, restaurants, coffee shops, gyms, skate parks and parks. Many young professionals and couples live in Venice, and residents tend to be liberal. It's also highly walkable with a walk score of 90, so those commuting elsewhere during the week can stroll to everything they might want or need here on the weekend. Venice is also the center of LA's "Silicon Beach" tech scene. The neighborhood is home to several tech companies, such as Google and Snapchat. Venice is also known to be the art and creative center of Los Angeles with its streets filled with colors from past artists. 
(*Niche & Walk Score)
Best for central neighborhood
Population: 49,468
Wilshire Center offers its residents incredible food, public transportation and amazing public schools. The public schools are known to be high-quality schools and are known to receive quality, individualized attention. Foodies will enjoy it here because this neighborhood is known for its fantastic and diverse menu including Greek, Korean, Italian, French cuisine and more. If you are looking to move to a central neighborhood, Wilshire Center is the place for you. It is located three miles from Downtown LA and ten minutes from Hollywood. Wilshire Center offers city buses, Metro lines and three subway stations to allow residents transit in their day-to-day. 
(*Niche)
Wilshire Center, Los Angeles
Best for lively urban lifestyle
Population: 70,298
Downtown Los Angeles is one of the best neighborhoods to reside in; it has magnificent places to eat, breweries, and a great art scene. Whether you're relocating alone or with a family, the central district's numerous amenities will cover anything you might need. It has an excellent public transportation system, plenty of restaurants and cafes, and a vibrant nightlife that won't leave anyone indifferent. The nightlife scene makes it one of the best places to live in Los Angeles for both single and young adults. Living in Downtown LA with a family also provides many opportunities, bringing you closer to several excellent schools, outdoor spaces, and child-friendly activities.
(*Niche)
Los Angeles remains the center of the entertainment industry, fame, and fortune. Prized for its cultural diversity, people from all over the country and the world are moving to Los Angeles with the hopes of making their dreams come true. With a pure natural landscape, fantastic weather, never-ending opportunities, and an abundance of things to do, it is no surprise why Los Angeles is as famous as it is. If you're measuring the best neighborhoods to live in Los Angeles, where you can enjoy the true beauty of Los Angeles and where everyone wants to live, this is an accurate list.Are you moving soon? Find out the best Los Angeles movers!
Share this article on social media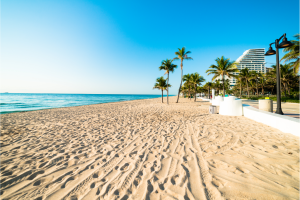 Moving States
Safest Cities in Florida with the Best Quality of Life – 2022 According to the FBI, the United States of America recently registered an average rate of 308 violent crimes per 100,000 people and a property
Read more »
Check out MovingWaldo's free moving platform and find everything you need for your move. No sign up required!