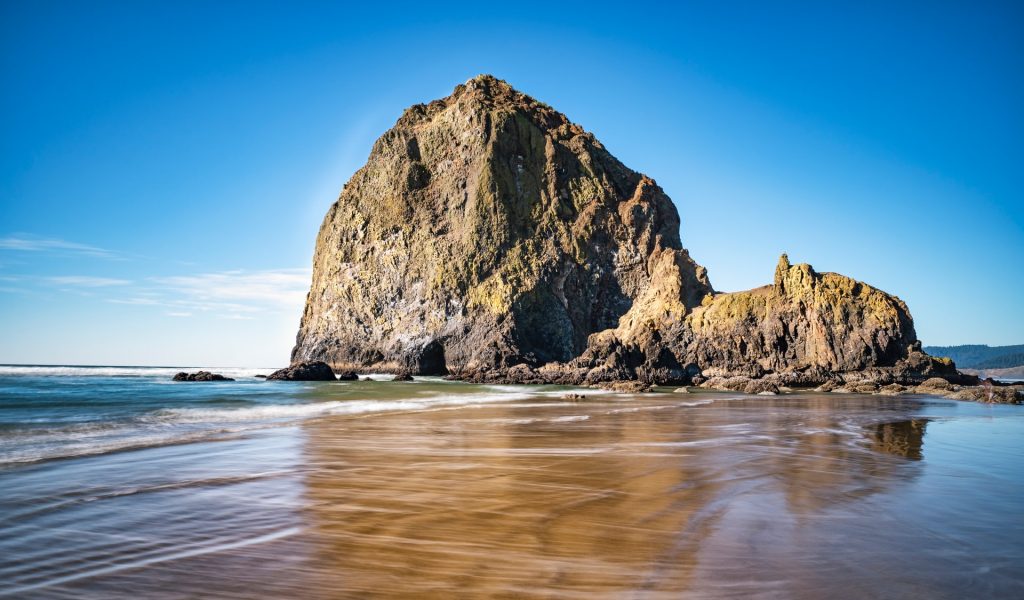 Moving from California to Oregon: Everything You Need to Know
Are you planning to move out of California? Looking for a place where life is simple, peaceful, and affordable? Hoping to get as far away from smog as possible? If that's the case, then moving to Oregon is the right choice for you.
In this article, we have covered everything you need to know before moving from California to Oregon. Oregon is the perfect mix of pleasant weather, green forests, magnificent mountains, beautiful valleys, vast deserts, and rich history.
Are you moving and wish you had some help? Check out our free interactive checklist.
Tackle Your Move in Minutes.
1. Save time with every task
2. Access exclusive deals
3. Track your progress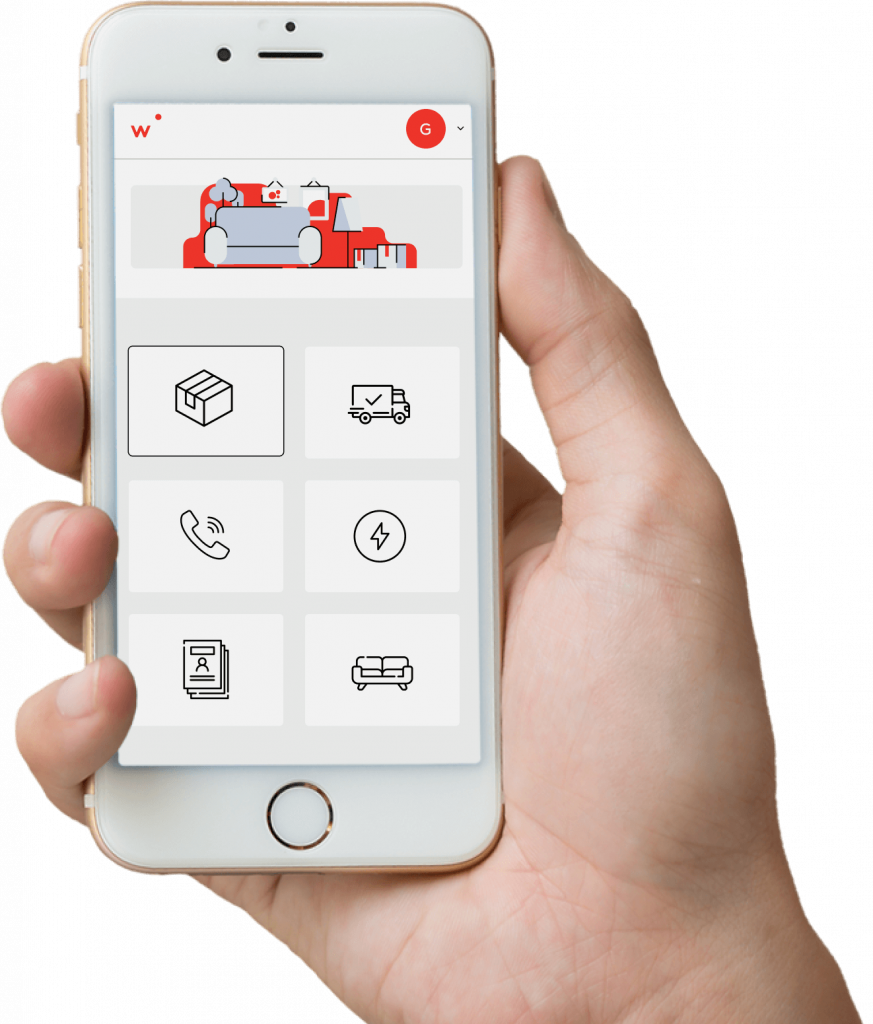 Why Californians Are Moving to Oregon?
People are moving from California to Oregon for affordable living, smog-free weather, and a better quality of life. Here we have listed some common reasons why Californians are moving to Oregon:
Low cost of living in Oregon
The decision that attracts the people of California to move to Oregon is the cost of living. The real estate and taxes in Oregon are quite lower than in California. Also, food, clothes, and childcare are easy to afford in Oregon. 
Efficient public transportation system
Oregon is known for its well established public transportation system. Portland is ranked among the best transit cities in the country. Moreover, the state encourages riding bicycles and for that, they have around 350 lanes.
Many Californians are moving to Oregon because of its Mediterranean climate-style. Even though Oregon is relatively cooler than California and winters and falls in Oregon involve rainy clouds, the state experiences all 4 seasons.
(*California Movers Usa)
How Many People Move to Oregon Every Day?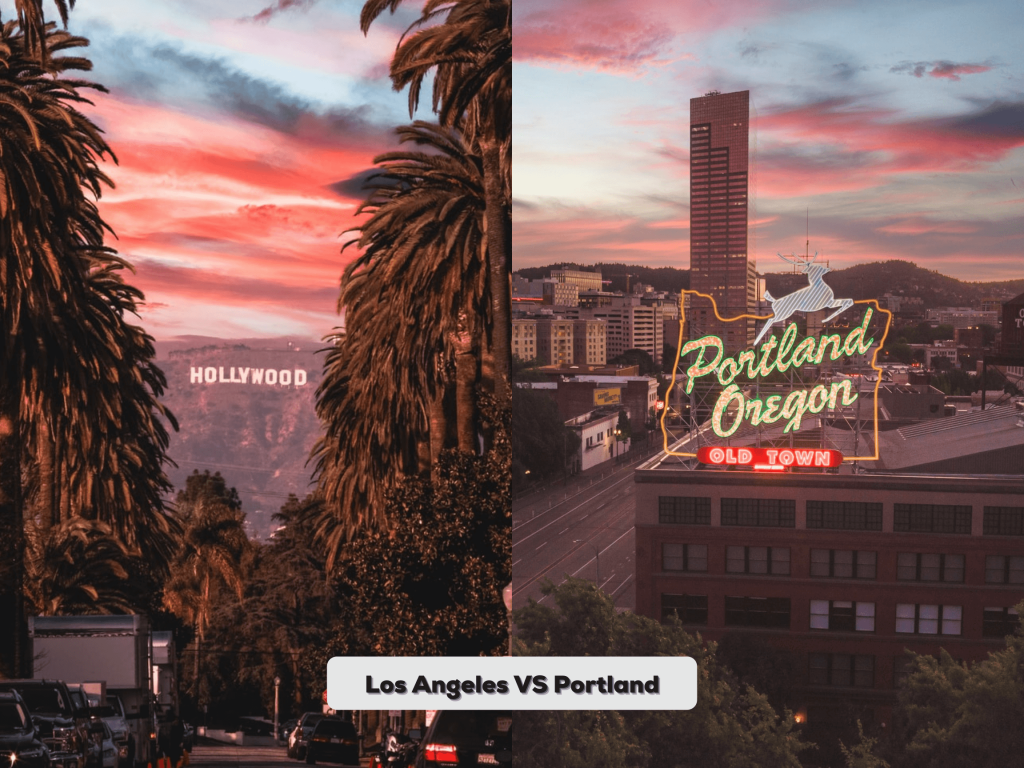 Los Angeles is one of the most densely populated cities in the United States. The city's total population is more than 17 million, making it the second most populated city in the country after New York. One the other hand, Portland, Oregon, the city of roses, is quite affordable compared to other big cities in the United States. The total population of the city is around 2,174,000.
Cost of Living in Los Angeles, California vs Portland, Oregon
The average cost of living in Portland, Oregon for a couple is $2725 per month whereas the average cost in Los Angeles,California is $3930. It is, therefore, cheaper to live in Oregon than in California.
| | | |
| --- | --- | --- |
| Expenses | Portland, OR | Los Angeles, CA |
| Rent – House | $1450 | $2300 |
| Average cost of utilities  | $300 | $330 |
| Groceries | $575 | $830 |
| Entertainment  | $200 | $300 |
| Other (transportation, material goods) | $200 | $170 |
| Total | $2725 | $3930 |
(*Numbeo 2, Numbeo 2, Insurify, Valuepenguin & Ehealthinsurance)
How Much is a House in Oregon?
A house in Oregon typically costs around $450 000.
(*Fool)
How Much is Rent in Oregon?
A 2-bedroom apartment in Oregon typically rents for $1800.
(*HomeSnacks)
What is the Sales Tax in Oregon vs California?
Oregon doesn't have a sales tax whereas in California it is 7.25%.
(*Oregon.gov & CDTFA)
How Much is the Property Tax in Oregon?
The property tax in Oregon averages at 0.90% whereas in California it is 0.73%.
California VS Oregon Weather
Oregon mostly has cloudy and rainy weather year-round. But its incredible landscape definitely compensates for the gloomy weather. On average, there are 175 sunny days per year in Oregon. The average temperature in the summers is 68°F and the Winter low is 34°F. Oregon averages 13 inches of snow per year and 41 inches of rain per year.
In contrast, the sun is always shining brightly in California. Nevertheless, the ocean breeze helps in cooling the temperature during the day. 
(*Visit Oregon)
How much does local transportation cost? (Portland VS Los Angeles)
On average, the transportation cost (for a monthly bus pass) in Portland is $100 per month, whereas the cost of transportation in LA is $75 per month.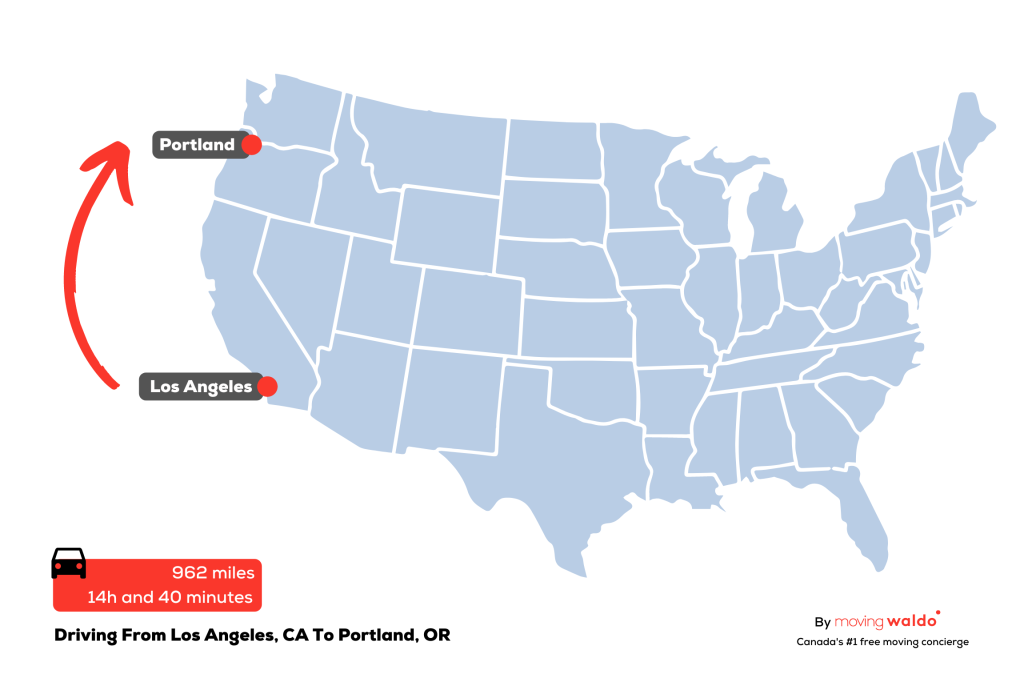 Transportation from Los Angeles to Portland
The total driving time from Los Angeles, California to Portland, Oregon is 14 hours and 40 minutes.
How far is Portland from Los Angeles?
Oregon is 962 miles away from California, with an equivalent time zone.
What is the cost to drive from Los Angeles to Portland?
In 2022, $166.73 is the estimated cost to drive from Los Angeles to Portland. The fuel cost per gallon is estimated to be $4.19.
(*travelmath)
What is the most efficient route to drive from California to Oregon?
We recommend the following route while moving from California to Oregon:
| | | |
| --- | --- | --- |
| Route | Distance | Driving time |
| Via I-5 (fastest route) | 960 miles | 15 hours |
| Pacific Coast Highway | 1,260 miles | 28 hours |
| Desert Route (through Death Valley and Nevada | 1,150 miles | 19 hours |
What is the best scenic route to drive from California to Oregon?
We recommend the following scenic route to drive from California to Oregon:
Start your trip from Santa Monica 

Reach Santa Barbara via Ventura highways 1 and 101. 

From Santa Barbara, take the road leading to the CA-154 shortcut past Cachuma Lake and continue driving to Santa Maria and San Luis Obispo. 

Pass through Morro Bay and have fun driving on the way to Big Sur. Enjoy the breathtaking sight of Carmel by the sea. 

Take the straight road through Santa Cruz and reach San Francisco, moving towards highway 1. Enjoy your trip by passing through Point Reyes National Seashore and along Tomales Bay.

Cross the Russian River and pass Salt Point State Park while enjoying the scenic town of Mendocino. Continue the journey on the highway and enjoy the Pacific coastline on one side and the magnificent forest on the other. 

Pass the Rogue River-Siskiyou and Siuslaw National Forests and reach Cannon Beach leading to Highway 26, taking you to Portland.
How long is a flight from California to Oregon?
The flight from California to Oregon is 2 hours and 26 minutes long.
What is the cheapest time to fly to Oregon from California?
September is the cheapest month to fly to Oregon from California. Ticket pricing typically drops under 100$ in September.
How much is a plane ticket from California to Oregon?
The plane ticket from California to Oregon starts from $228 – $338.  
If you're taking a flight for your move from California to Oregon and don't know how to transport your belongings, check out the best long-distance moving companies below. 
(*Forbes, lazytrips, farecompare & Cheapflights)
The Best Long Distance Moving Companies to Oregon
The best long-distance moving companies to Oregon will have good reviews, insurance, great customer service, and a straightforward booking procedure. Here are the 5 best long-distance moving companies for your move from California to Oregon:
Cost of Car and Boat Shipping from California to Oregon
You will always have plenty of options to ship a car or a boat from one city to another without driving. You can ship your car or boat via freight train, shipping container, ship, or even by airplane. However, the most used and famous option to transport a car or a boat is through a car transporter. 
Below is the cost of car and boat shipping from California to Oregon through a car transporter:
Cost to Ship a Boat from California to Oregon
The average cost to ship a boat from California to Oregon ranges between $600 – $1000.
Cost to Ship Car from California to Oregon
To ship a car from California to Oregon, the average cost ranges between $530 – $840. The estimated transit time is 3-4 days. The cost may vary depending on the size of your car, dropping off the vehicle at the closest terminal, and the weather.
(*Forbes)
The Best Places to Live in Oregon
Portland is a city for people with a free spirit. The city is all about fun and adventure. People here are interested in arts and support bike culture instead of cars. The stunning views, restaurants, art galleries, and malls keep citizens busy the entire weekend. The city of roses has a total population of 2,174,000 with an average Household income of $53,230.
Locals and tourists admire the stunning views of Willamette Valley. The city has excellent outdoor activity opportunities such as kayaking, rafting, and cycling. It also offers good job opportunities for professionally skilled individuals. 
The breweries in the city are an attraction for tourists and locals as well. Not only that, Eugene  has good health services along with malls and pubs. The city's total population is 168,302, with an average household income of around $49,029.
Salem is Oregon's capital state. It is the epicenter of agriculture. The city has stunning fields of orchards, grapes, roses, and beautiful vineyards that offer wine tasting. They have a well-established education and healthcare system. The total population of the city is 169,259. The average household income is $55,920.
Best School District in Oregon
Lake Oswego School District
It is ranked as the best school system in Oregon. The entire district has six elementary schools and two middle and high schools. The school has a graduation rate of 93.1%. The teachers are supportive, and the environment is safe.

Sherwood School District
Sherwood school district comprises  seven schools, including elementary, middle, and high school. The school offers the best English and mathematics courses to the students. The school has a safe environment for the students.

Corvallis School District


This school district is made up of 13 schools and is regularly ranked among the top three schools in Oregon. The student-teacher ratio is 19 to 1. According to state test scores, 49% of students are at least proficient in math and 62% in reading.
McMinnville School District


It has six elementary, two middle, and one high school. 6800 students are enrolled in this school. Students of MSD graduate at a rate eight points higher than the state average.
Ashland School District


It is one of the best schools in Oregon. The school maintains a good reputation in terms of education and safety for its students.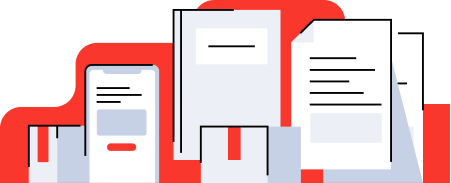 Driver's License & Vehicle Registration When Moving to Oregon (DMV)
Procedure for New Driver's License and Vehicle Registration in Oregon
When moving from California to Oregon, you must transfer your out-of-state driver's license to the state. You'll need to visit your local DMV office, surrender your current driver's license and provide the required documents.  You'll need an Oregon driver's license if you're now officially a resident of the state i.e. if you're located in Oregon for 6 months or more every year. If you've just moved to Oregon, you'll have 30 days to title and register your out-of-state vehicle with the DMV from the time you become a resident in Oregon. You can visit the DMV website to check out all the documentation requirements and details.
Documents Needed for Oregon Driver License and Vehicle Registration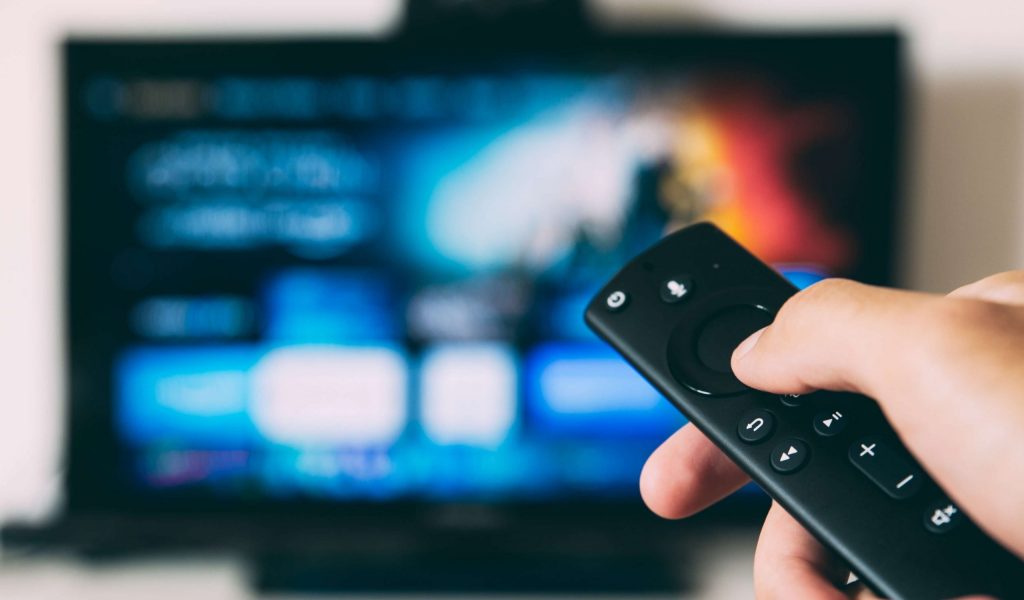 Electricity, Water, and Gas in Oregon
The electricity in Oregon comes from sources like hydro, coal, wind, and even nuclear. The most dominant energy source is hydroelectricity, making it very eco-friendly. In terms of costs, electricity is very similar to the average US electricity bill. To find your water, gas, and electricity provider in Oregon, visit the state of Oregon's Find Your Utility service.
Internet and Cell Phone in Oregon
The state of Oregon has a total of 92 internet providers available. It is the 13th most connected state, having access to broadband speeds of 25 Mbps or more. There are a wide variety of options such as cable, DSL, fiber, and satellite in many areas. The best internet providers in Oregon will have bundling options, various speeds, and multiple package options at reasonable prices.
Car Insurance in Oregon VS California
California has the most expensive car insurance in the entire country. The annual insurance cost for a full coverage car is almost $2,065 or $172 per month. And the annual insurance cost for minimum coverage is around $773. 
Whereas in Oregon, the cost for the minimum coverage insurance is $83 per month and for full coverage, the insurance cost is $153 per month. The average annual auto insurance rate in Oregon is $439 cheaper than in California. 
Health Insurance in Oregon
Consider getting home insurance in Oregon
Getting a home insurance plan is a great idea when you move to Oregon to protect your home and belongings and to cover for damages caused by natural disasters. Some common natural disasters in Oregon include floods, landslides, tsunamis, earthquakes, coastal erosion, and mudslides.
Pros and Cons of Living in Oregon
No sales tax

The most environmentally friendly state in the U.S.

There are many outdoor activities for the residents

Among the best wines of the U.S. according to Wine Spectator

Bike-friendly place (over 350 bike lanes)

A hospitable culture, people in oregon are known for their kindness

Many farmer's markets, so you can easily find fresh and tasty food
High housing and rental costs due to shortage of homes and apartments (aren't built fast enough)

Property and violent crime rates significantly higher than most other states according to the FBI

The sky is often gray and the sun is barely sighted in the city

Oregon's income tax burden is one of the highest in the U.S.
(*Embrace Someplace & Vittana)
Why Some People Regret Moving to Oregon?
While Oregon is much more affordable, clean, and green, still, some people regret moving there for the following reasons:
Regret #1
In Portland, the sun is rarely visible in fall and winter. Some people do not get used to the sky being almost always gray. Plus, many complain about continuous drizzling throughout the day that causes floods in the basement area of the buildings.
Regret #2
Portland was formerly desired for its affordability. However, during the last ten years, the housing cost has increased at a rate that makes affording your own house a dream. 
Regret #3
The traffic of Oregon is problematic. Residents sometimes regret moving to Oregon and consider that it is unbearable to drive during rush hour, especially in Portland. Moreover, the speed limit is lower on highways in the state (65 miles/hour).
(*Quora)
Below are some Fun Facts about Oregon:
Fun Fact #1
The flag of Oregon's state does not have the same design on each side. The flag features a figure of a beaver on one side and the other side has the design of an escutcheon from the state seal.
Fun fact #2
Formed 65,000 years ago, Carter Lake is the deepest lake in the US. Tourists from all over the world admire its crystal blue water.
Fun Fact #3
Oregon was the first state in the US to ban the usage of non-returnable bottles and cans. 
(*That Oregon Life)
Don't Forget to Change Your Address Before Moving to Oregon!
Changing your address is a crucial step when moving to a new place. Mail forwarding is a simple and easy process. You can either change your address before moving to Oregon online or in person. Besides, you will need to change your address with many other organizations (SSA, DMV, home services, etc.). To make sure you don't forget a place to notify, check out this complete change of address checklist that includes every single place where you need to change your address when moving.
Moving is often synonymous of stress, long administrative tasks and a significant waste of time and money. MovingWaldo helps you solve all these problems in just a few clicks! After some shameless self-promotion, we invite you to discover our free moving tools available to all.
Discover Top-Rated Movers
Update accounts
Connect Internet, TV and Phone.
Secure home and auto insurance
Find resources, checklists and more.
We bring together more than 1,000 organizations across the country with a single and simplified form.
Share this article on social media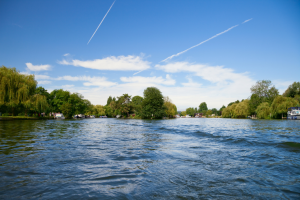 Address Change
Thames Water Change of Address: Online & By Phone How to change your address with Thames Water When looking to change your address with Thames Water, you have 2 options to pick from: Online on the
Read more »