The Top 10 Cheapest Places to Live in London with the Best Quality of Life - 2023
London is a great place to live, and it's easy to see why. If you're looking for a vibrant city with a diverse population, good career opportunities, and an abundance of entertainment options, London is the place to be. If you're thinking about moving to London, then you might consider finding the cheapest borough to live in. This can be challenging since London is known for having high housing costs. These boroughs may not be the largest or most populous, but they were picked for their excellent quality of life. Here are the 10 cheapest places to live in London, from the least costly to the most:
To support our ranking of the cheapest places to live in London, we thought it would be relevant to compare the statistics of the boroughs concerned with the rates of London. According to the Greater London Authority and GOV.UK, the average price to buy a property in London is £830,376, while the average rental price is £1400. We used the two-bedroom rental average, which was the most common borough rental.
We've used this data to rank the 10 cheapest places to live in London while also considering their quality of life (health, pollution, recreation, climate, education, and employment opportunities)
MovingWaldo's list of the 10 cheapest places in London - 2023
East London is home to the London Borough of Barking and Dagenham. This area consistently ranks as one of the happiest in London boroughs. Moreover, Barking Town Square has been renovated extensively and is now the focal point. It has a wide variety of both well-known chain retailers and locally owned, unique businesses. Besides, Barking Park covers an area of just under 30 hectares to the east of Barking town centre. On top of it all, housing costs in Barking and Dagenham make this borough the cheapest place to live in London! You can buy a property in Barking and Dagenham for £342,083 and rent a two-bedroom property for £1200 per month.
(*BarkingandDagenhamPost.co.uk)
The London Borough of Bexley is a part of Outer London that is in the south-east of the city. Some people call it Bexley Village or Old Bexley to distinguish it from the rest of the borough. Bexley is one of the greenest parts of London because it has more than 100 parks. This leafy south-eastern part of London is also one of the safest places to live in London. It is a great place for families and retired couples looking for a quiet place to settle down. Bexley is a good "option" for people who are looking for a cheap place to live in London. A property in Bexley costs about £395,012, and it's approximately £1200 per month to rent a two-bedroom home. 
(*One Dome)
Best for easy access to the city centre
Croydon is the second largest of London's boroughs. It is also one of the biggest business districts in Greater London. Croydon is known for its cocktail bars and restaurants. In the town centre, there are several pubs and clubs. It has affordable housing and easy access to the city centre, nearby Surrey, and the South Coast. You'll be able to start house hunting in the £416,641 range or settle in a two-bedroom rental for about £1250/month.
Sutton is the largest settlement within the London Borough of Sutton in the southwestern section of London. Local governance for the Outer London borough is housed in this area, at the foot of the North Downs. You can buy a property for about £437,192 and rent a flat with two bedrooms that costs £1175 per month, which makes it one of the cheapest places to live in London. Sutton is not only home to stunning landscapes and rich historical sites, but also to some of the finest educational institutions. 
Best for young professionals
As a result of the London Government Act of 1963, the London Borough of Newham was established in 1965. Newham is quickly becoming a mecca for young creative professionals drawn to the area's low housing costs and authentic East End vibe. The cost of purchasing a property in Newham is £414,586, and the going rate for renting a residence with two bedrooms is £1600 a month. 
Best for excellent shopping facilities & green spaces
Havering is located in the section of Outer London, East London. Havering is known for its wide variety of stores available, from well-known national chains to local mom-and-pop shops. Havering is also considered one of the cheapest places to live in London. Buying a property in Havering will cost you an average of £428,989, while renting a two-bedroom will set you back £1400 a month.
Rich in history and culture
The London Borough of Greenwich sits on the beauty of the Thames River. The Old Royal Naval College and the Cutty Sark, a rebuilt ship from the 19th century, as well as the massive National Nautical Museum, contribute to the city's reputation as a maritime hub. Greenwich is a popular South London borough because of its proximity to several royal houses. Greenwich is well-known for its greenery and its proximity to the sea and the military. This beautiful and historically rich area of London provides two-bedroom apartments for £1300 per month and an average housing price of £440,375.
Hounslow is a large borough in West London. Great access to roads, trains, and airports makes this a prime location from which to explore the rest of London and further afield Its proximity to Heathrow makes it one of the best linked areas in all of Europe, and as a result, the area is receiving a great deal of investment. It will cost you about £441,269 to buy a property, while the average monthly rent of an apartment is £1,300.
Enfield is known in Greater London and Middlesex, England's ceremonial, and historic counties, respectively. The abundance of green space in Enfield gives the impression that you have left London altogether. In case you're looking for a cheap place to live in London, Enfield might be for you. This borough has a median home price of £453,552 and a median rent of £1325 per month.
Rising commercial borough 
Lewisham, a borough in south-east London, is located in the central region of the city. By 2027, Lewisham will be one of London's fastest-growing areas thanks to its investment readiness and its confirmed pipeline of infrastructure, housing, and commercial delivery. A place for you and your family to live would cost £455,005, and if you rented a two-bedroom apartment in the region, it would cost you £1350 per month, for a total of £16,200 per year.
It's common knowledge that the cost of living is one of the most important factors to consider when moving to London, as the city is known to be expensive. However, you'll be able to find an affordable borough to live in the capital with our ranking of the 10 cheapest places to live in London!
It's also important to consider other factors aside from just the cost of rent or mortgage payments. Factors like commute time and proximity to work or school can be just as important as housing costs when determining which place is right for you when relocating to London. So, make sure you do your research before making any final decision.
Share this article on social media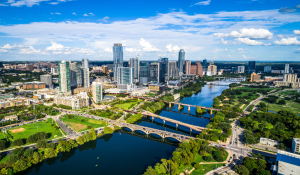 Daily Living
The 8 Best Neighborhoods in Austin in 2022 When moving to a particular location, you must make specific considerations to ensure you have a peaceful and comfortable place to call home. Austin is consistently ranked as
Read more »
Check out MovingWaldo's free moving platform and find everything you need for your move. No sign up required!