A Guide to Choosing a Tree Cutting Service (Arborists) For Your Backyard
Trees are wonderful and majestic pieces of nature. They are useful for a lot of reasons including, adding beauty to our environment, giving us oxygen, storing carbon, and being excellent for shade on a hot summer day.
People grow trees in their homes for a variety of reasons, be it for comfort and the homey vibe they bring, or the fruits some bare; having trees can prove to be a real blessing and sometimes a curse.
If you're moving in or just moved into a new place where there is a tree(s) present, chances are that you're okay with it. That might be the reason you choose there, to begin with.
Others, however, may not share the same sentiment with you and may decide that the trees need to be either cut down, trimmed, or pruned. This could be for a lot of reasons.
Whether you desire to cut down a tree or trim it, it is highly advisable that you have a professional do it. The task of cutting down a tree completely or partially is very challenging, not to mention dangerous for just anyone to do.
How would you know the right tree cutting services to employ, though? This is a practical guide to choosing a tree cutting service (arborist) that is right for you.
Booking trustworthy movers starts here
Compare multiple moving quotes calculated across the same metrics
General Contractors vs Tree Cutting Services/Arborists
As mentioned earlier, tree cutting requires a degree of expertise and experience. If not careful, you may hire the wrong kind of service to get the job done for you.
What is the difference between a general contractor and a tree cutting service (arborist)?
Generally speaking, a general contractor is a supervisor of everything that goes on in a construction site. They enter a prime contract with the property owner.
A contractor does not engage in any job themselves. They often hire individuals to do the job under the contract with the property owner. 
There are pros and cons to getting a contractor to cut down your tree.
It's less expensive.

They can work within a deadline without causing you too much of a hassle.
You can't control exactly how the work is done.

They won't be as passionate about the job as an arborist

will.
Tree cutting services/arborists
Tree cutting services/arborists are experts in trimming, cutting, and removal of trees. They have a vast knowledge of tree care, so they can also assist in the planting and maintenance of trees.
Arborists can find out whether or not a tree should be removed, and they have the skill set and equipment to do so safely and efficiently.
They are fully equipped for the task.

They will ensure the area they have worked is well kept afterward.

They do their work safely, so the risk of accidents and injuries is reduced to the bare minimum.
They can be quite pricey, depending on the type of services provided.
It is recommended to hire a tree cutting specialist/arborist because they will do the work safer and more efficiently than general contractors. This type of job require a specific expertise that only arborists master.
Things to consider before hiring a tree cutting company
Here are some things to consider before choosing a tree cutting service/arborist.
1. Make Sure They Have Insurance
This is a very important aspect to consider before deciding on any tree-cutting service. 
The task of cutting, trimming, pruning, and removing a tree is quite challenging and dangerous. Although the company may be experts, accidents could occur, causing damage to your property or injury to anyone.
If something like this were to occur, and the company does not have insurance, you will most likely have to foot the bill for any damage or injury that happens during the job from your pocket.
2. Check the Clients Feedback
When choosing a tree cutting service, it will be wise not to hire the very first one you come across on the internet or in your area.
Not all are professionals, and some will do more harm than good when on the job. It is smart to do your research and find out how reputable they are among their clientele.
Doing this will help you know if they're cut out for the job and if their customer service is top-notch. Google, Yelp, Facebook, etc., can be of great assistance.
3. Look at Their Social Media Presence
Everyone knows that one of the best ways to get to know people is through their social media, or in this case, a website.
Spending a good amount of time on the company's website and or social media platforms will give you a pretty good idea about what they're about.
The amount and type of content they upload can let you know much about their work ethic, history, and reputation.
If there are a lot of engagements on their site and social media, this could be a good sign.
Also, keep an eye out for reviews; they could very well point you in the right direction.
4. Find Out How Many Years of Experience They Have
This should not come as a surprise. In this day and age, a company or business can sincerely thrive only if they're good at what they do.
Experience is the best teacher, and the more experience a company has, the more guarantee you have that they will do their job right with minimal problems.
This does not mean, though, that a new company with less experience is a no-go. Again, research is a powerful tool to figure out which company is the right fit for you, experience and all.
5. Ask About Certification
As with any other service you require, it is of utmost importance to know where the company stands legally. 
Inquiring about the certification of a company will let you know just how qualified and trustworthy they are to do the job.
This will save you from doing business with an underhanded and shady company not capable of doing the job well. 
If the company has got good certification and proper credentials, it will reassure you that you will not be having any surprise run-ins with the law during or after the job's conclusion.
If an arborist is certified, you will be able to know their specialties; all types and sizes of trees, just branches, etc.
6. Find Out What Is Included and Excluded in Their Services
Inquiring about the services of the company will go a long way in helping you cut costs.
Aside from cutting or tree removal, will they pick up the debris? Will they remove the stumps or grind them? Will they be sure to clear the land of any hazard when they're done working?
Considering all these factors will greatly assist you in choosing the right tree cutting service that is devoted to their work.
FAQ: The Most Frequently Asked Questions About Tree Cutting
How Much Does It Cost To Cut Down A Tree?
Several factors determine how expensive or not removing a tree would be, such as the size, height, condition, and how challenging it will be for the tree cutter.
There is no fixed or standard cost, but on average, a homeowner should expect to pay a price ranging from $100 to $1,995.
The type of tree could also affect the cost of its removal.
Pine trees –

these trees can grow as tall as 80 feet and can be dangerous to cut down or removed. The price of removal ranges from $200 to almost $2000.

Oak trees –

these trees are revered for their massive size and impressive height. They are not easy to take down, and tree cutters will require heavy-duty equipment to get the job done. It'll cost approximately $264 to $1,300 on average to fell a 60 ft oak tree.

Fallen trees –

it is a lot cheaper to remove a fallen tree because the majority of the work has already been taken care of by nature, or whatever else the case may be. Removing a fallen tree will cost you from $99 to $198, depending on the size and type of tree.
How Much Does It Cost To Cut Down Tree Branches?
The cost varies depending on the species of the tree, its size, the number of trees/branches, and how much work and time will go into trimming or pruning.
Tree trimming costs about $290, ranging from $80 to $500 on average.
Tree pruning costs $423 on average, ranging from $75 for a palm prune up to $1,200 for a very large tree.
A tall tree as tall as a story building costs between $250 to $350.
A medium tree as tall as 2 stories costs between $350 to $550.
A large tree as tall as 3 to 5 stories costs between $600 to $1000
An extra-large tree as tall as 6+ stories cost between $900 to $1800.
Should Dead Trees Be Cut Down?
If you are certain that your tree is absolutely dead, then take it down quickly. This is because if the tree were to come down on its own, it could do a lot of damage depending on its size.
To avoid the risk of someone getting hurt, or your home being wrecked, in curing unnecessary expenses, cut down that tree ASAP!
Can I Cut Down A Tree On My Property?
This depends on the rules and regulations set by your state. In many countries, you are entitled to cut down any tree on your property.
In Canada, you require a permit that grants you permission to cut down a tree of considerable size on your property.
Can I Cut My Cedar Tree In Half?
Experts do not recommend ever pruning cedar trees. But if you wish to do so, extreme caution is advised. If you prune too deeply into the branches of the cedars, they might die.
Can I Cut The Top Of My Cedar Tree?
If not done properly, the tree is likely to die. Here are some tips to help you top your cedar tree successfully.
Be sure of the type of cedar tree you have, as this will determine how you'll top the tree.
Prune your tree in the spring before it creates new growth. 
Don't take the green off of your tree branches, so it can grow out efficiently.
Maintain your cedar by pruning it regularly, one or three times a year, between June and July.
Trees are a true gift of nature that should be handled with utmost care.
Cutting down, trimming, or pruning a tree is a huge job that should not be taken lightly.
Rather than do it yourself, hire a trusted tree cutting service/arborist who will take extra care to make sure the job is done efficiently and safely. 
These steps are guaranteed to help you make the best decision:
Make Sure They Have Insurance.
Look At Their Social Media Presence.
Find Out What Is Included And Excluded In Their Services.
Your next backyard project is to make a garden? Check out our article explaining everything you need to know about gardening.
Share this article on social media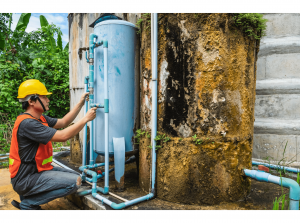 Renovation & Maintenance
A Guide to Choosing the Best Plumber Today, with tons of videos and articles about how to do plumbing, when buying a new home that needs some plumbing work done, we sometimes cut the costs of
Read more »