Office Moving Checklist: How to prepare for a Business Move in Canada?
Depending on the size of your business, moving will require a certain level of organization. Indeed, it can be very stressful as well as super exciting at the same time. But the most important part is to minimize the impact of your move on your business productivity. So, if you are planning to relocate your business, we provide you an efficacious plan to move your business effortlessly and efficiently. This article shall lead you in making your business move as smooth as possible. 
Step 1: What to consider before moving your Office?
Questions to ask yourself before moving your business
 Is your new business location convenient?

Are the location and facility affordable?

Is it accessible to your vendors, customers, and employees?

Will you attract the right talents at the chosen location?
Announce the decision to move the office
You must not overlook the comfort of your employees, as they play a role in making your business successful. You have to announce your office relocation decision at least a few months beforehand. Proper communication with your staff is essential.
Review your Commercial Lease
Complicated commercial leases can be confusing. Still, you need to review it to know the terms and conditions. At the end of the day, you do not want any bad surprises with your new commercial lease.
Step 2: Plan the organization and the logistics
Start creating an organized plan as early as possible. Draft a plan for making minimal disruptions to your business operations on the moving day. Sit and talk with core team members, and create to-do lists. Outline the key points that need to be organized, harmonized, and physically moved.
Understand and analyse how much you can afford for making a business move.
Establish your budget for moving services.
Investigate and Identify whether you can save money by buying packing supplies yourself or buying through a moving company.
Ensure to have a buffer in your estimated budget to deal with unforeseen costs with hired services.
Avoid or reduce the downtime costs. Yes, always focus on completing your move within one business day.
Create a visual inventory
Initiate your planning process by taking a visual inventory and writing it down. Quick start the process by physically moving via the space and consider visually on stock of everything that requires to be moved into new business place.
Identify how much inventory and product require to move.
Consider the huge office equipment and furniture, and decide which items need to be moved first.
Make sure to take important file folders, manuals, and content information about individual workstations.
Reassembling of the cubicle panel may be required to be done your new office.
Plan strategically about what to do with the electronic equipment at the office like computers, wall monitors, projectors, telephone equipment, etc.
Notifying the public, customers, and suppliers
Always try to bring out a professional signage of your business at the old location.
Let your customers and clients know how to find and what to expect from you after the business move.
Get professional banners and sign boards printed swiftly and cost effectively.
Send the address change cards to your esteemed suppliers, clients and customers.
Create innovative new business cards, premade templates to connect with old and new niche, and add your business move information on your company's website.
Step 3: Packing and preparing the move
Choose to replace old with the new
You also need to strategically plan what you do not want to move from your old office to the new office. Making a move is an opportunity to expand business, and focus of moving less volume to save time and money.
Make your move to be innovative and upgrade your existing business reach.
Replace old office furniture like chairs and desks.
Buying new furniture might not be more expensive when compared to moving older furniture.
Old office equipment may need extra maintenance, repair work, and so opt for new featured models.
Use spreadsheets for tracking move inventory
Rely on using a spreadsheet or creating a list to track down your move inventory. Focus on noting down everything that you plan to move. Keeping a thorough list is very much essential.
A spreadsheet helps you to get everything organized before you make a move.
You will be capable of judging what types of and how many packing materials need to be moved.
Finally, you can identify how large vehicle you need to arrange and how much time it will take.
Do packing in advance (Recommended)
If possible, plan to pack everything in advance to save time on your moving day. If you have things that are not required for a while like old files, sheets, and others that can fit into boxes, start packing them immediately. Spread out the work among groups to make packing early.
Establish a timeline and scheduled move
Always establish a realistic timeline to schedule your move without any difficulty. Consider the following:
How much time and tasks you have prior to your moving out from the old office.
Announce the move to the employees, customers, and let them know what and what the move is happening.
Make a clear information on this on your business website.
Accomplish a specific timeline for your move and avoid moving if it is your busiest sales period.
Schedule tasks and assign to employees, wherever it is possible.
Advice moving companies and other service providers to transfer utilities in advance. (Usually 1-2 weeks before.)
Confirm your business insurance won't over lapses during the relocation.
Get packing supplies precisely
Getting the right packing supplies is mandated. So, the actual packing process should include specific supplies that let you get the job done efficiently.
Number of different sized boxes for multiple packing purposes.
Packing paper, rolls of bubble wrap
Dispensers, packing tape
Sharpie pens, labels
Furniture sliders and movers
Get to know about different quotes and references of commercial moving companies.
Reduce moving stress by hiring the best moving company.
Book a truck in advance to transfer needy office items.
Make sure you have a backup plan for your moving day.
Protect your valuable by carefully packing up right things. Replacing valuables can be expensive.
Use bubble roll, paper wraps and packing peanuts to provide actual protection to your valuable items.
Using readily available boxes lets the unpacking process easier and faster.
Purchase small, medium, and large sized boxes to pack things, and easy to carry.
Custom color coded labels to know the packed essentials and where they need to place in the new location.
Packing paper also is an economical option to do.
Make use of different sized boxes, like using heavy-duty boxes to pack heavy items and breakable.
Bubble Wrap the electronics like monitors, LEDs, computers or laptops, and other electronic equipment.
Make use of a packing tape to seal and label the box fillings.
Make use of moving blankets as well as stretched-wrapping to avoid dust and dings.
Coordinate your move with networks and communication systems
Plans to switch over your networks and communications systems along with the physical equipment move.
Plan on minimizing the downtime by coordinating everything smartly before you move.
Contact your service providers for the company network, Internet/Intranet connectivity, installing CCTV, and the intercom system.
Get installed with the time clocks, security systems, and card entry systems before you make a move to your new office.
Hire an Office Cleaning Service
Office cleaning services will not only clean the offices you are leaving, but they will also make sure that your new offices are spotless. They will remove the mess and keep everything organized. In fact, they will make your office ready for use within the shortest time. After unloading and unpacking your items, you also need a recurring office cleaning service weekly (more or less, depending on the size of your office). They will keep the place tidy and create the best work environment in your new office.
Step 4: The Office Moving Day
Some companies plan to make a move over the weekend to avoid "Moving-day" disruption.
Make a clear checklist of all the packing supplies required (if you are buying supplies yourself) like all-sized boxes, tapes, labels, markers, etc.
Make sure you have planned your moving day in prior when you have no busiest sales period or any offshore client meeting.
Make sure to plan to move at feasible hours if you are relocating on a regular busy day.
Ensure your phone system is staffed on the moving day to assist during regular business hours.
Step 5: Things to consider after your move
Like we said many times, moving offices is not a small process. After a successful move, here are some things to remind: 
Celebrate your office relocation with your employees. You can give thanks to your employees for their cooperation in the relocation process.

Double-check the old lease termination.  It is essential to go through the lease terms before moving to a new office.

Collect keycards, keys, and passes for the old premises.

Install the IT systems. Your movers have technical engineers to install these systems. If not, they will direct you to the right company.

Update your business website with new information. It is important that your move is known within your stakeholders.
You must have now gained how moving your business needs to consider a lot of things in prior. Proper planning and communication are the key considerations to ensure your move goes smoothly. Follow dedicated timelines and spreadsheets to make a schedule move effortlessly and efficiently. Again, the most important part is that minimize the impact on your business productivity!
Share this article on social media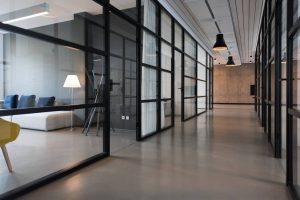 Office Movers
Moving an office to a different location is stressful and not simple. Fortunately, there are great office movers in Oakville to make the process organized and safe. The most reliable office moving company will take the ultimate
Read more »
Check out MovingWaldo's free moving app that will save you up to 10 hours of paperwork. And it's free.