How to Find the Best Moving Company in Toronto
If you are ready to pay for your belongings to be shipped, you have gone to great lengths to carefully select what is important enough to bring to your next home or self storage unit. Finding a reputable and affordable moving company can be a difficult situation, especially with the variety of choice out there. You will need to find a well-organized moving company that meets and exceeds your needs. 
Follow these steps and you will always make the right decision on which moving company works best for you!
Tips to find the right Toronto relocation company
Booking trustworthy movers starts here
Compare multiple moving quotes calculated across the same metrics
1. Family and friend recommendations
It is tempting to just search online for moving companies and select the one that gives the best rate but taking the time to ask people for recommendations can be a lifesaver. No fancy website or tempting quote beats recommendations from people you know and trust. Make sure you are asking about their experience with them, were items damaged, did they show up late, did it cost more than they thought? All important questions that could save you headaches!
2. Beware of companies operating under multiple business names
If the company advertises under one name and answers the phone or signs their emails using another, run the other way!  Using multiple names is a common tactic businesses use to try to shake a bad reputation and get away from negative reviews, online and otherwise.  A good way to find out how many names a company is using is to google their number and see what business names show up in the results. Sometimes companies will have multiple names based on their service area, such as adding: Toronto, North York, Mississauga, or Richmond Hill. These are fine, and it also means that they are a stable and growing company.
3. Reviews are your biggest tools!
Checking reviews is one of your most important steps. If something doesn't sound right, or look right, it probably isn't! When people get scammed or ripped off, one of the first things they do is write a review on the internet. Use the tips from above to find out if the company operates under multiple names and check sites like Google review and Facebook. Look for evidence of fake reviews such as generic feedback and praising general aspects of the company such as customer service.  Reviews that tout no hidden fees and good delivery times with details are likely legitimate. Don't just check the most popular places for reviews, you can also find moving companies on local listings. These are often small, and do not allow reviews to be taken down.
If you called around and everyone is roughly the same, except for one, it is likely too good to be true! Once they have your belongings, there is nothing stopping them from charging you much more than what they quoted before they drop the shipment. Compare quotes from sources that are independent of each other and choose the most realistic. Talk to a real human being on the phone about additional charges for taking boxes down hallways and staircases and how exactly your belongings should be packed to avoid packing fees on moving day. 
There are many dishonest moving companies, but there are many great ones as well, especially in The Greater Toronto Area. With due diligence, you can find the right moving company to get your stuff into your next home or storage unit and have a stress-free experience. Are you looking for a moving company in Toronto? Find the best Toronto movers.
Share this article on social media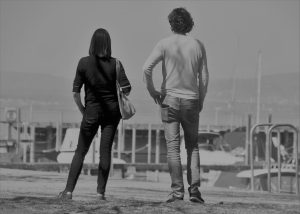 Moving tips
Getting separate affects many aspect of your life like division of the property, taking child custody, and financial stresses. This is why our defined divorce checklist will guide you on how to do everything in an organized manner.
Read more »