Best Places to Rent Plastic Moving Boxes in Toronto
Moving can be tough, no matter how big or small the job is. Even if you think you can do it all yourself, you may still need to rent plastic moving boxes to transport everything. There are a number of great plastic moving box companies in Toronto, helping you to solve this problem. These businesses provide empty plastic boxes for you to fill so that you can move all of your possessions, and then they come and pick the boxes up when you are finished with them. There is no waste or leftover boxes to deal with, and you still get to move independently and in full control of all of your belongings.
If hiring plastic moving boxes sounds like a good idea for you, read on. We have gathered the best plastic moving boxes companies in Toronto, to help you find a company you like, and that you can trust.
These are companies you can trust for moving bins rental in Toronto and the GTA.
All of the moving boxes rental companies listed below are evaluated based on professionalism, years of experience, accreditation, awards and social proofs from customers.
MovingWaldo is Canada's #1 Free Moving Concierge Service. Since 2016, we help millions of Canadians tackle moving tasks in minutes. We care to take the stress away from moving by offering free tools, tips and tricks and referral of service providers that you can trust. MovingWaldo is everything moving under the same roof!
How are Plastic Moving Box companies selected?
Our network of plastic moving box you can trust is carefully built based off professionalism, years of experience, accreditation, awards and social proofs from customers. We care to help you through the maze of information the web provides about this unique industry. You can trust the companies listed here to provide quality plastic boxes for your move.
Are you a remarkable moving box rental company?
Not many reviews available online
Box't Packing Solutions is a Canadian company based in Toronto. To make their clients' moving experience as easy as possible, they offer eco-friendly, sustainable and reusable moving boxes delivered and picked up for your convenience. Their mission is to help drive ESG mandates for individuals and businesses and reduce everyone's carbon footprint.

Moving boxes delivery and pick-up

$4.75 per box per month (with a minimum order of 50 boxes)
The GTA and surrounding areas
Pre-assembled boxes

They pick-up empty boxes after your move

Eco-friendly

Easily schedule the date and location for drop-off and pick-up
Minimum order of 50 boxes
Why choose this company to buy moving boxes?
Box't Packing Solutions is the ideal company when it's time to order boxes for your move. For your convenience, they offer pre-assembled boxes delivered right to your door and they pick them up once you're done with them. Their boxes are sturdy and easy to carry to make your move more efficient. The hard-shell plastic also allows you to stack them without worrying about them tipping over or breaking the boxes below. They are also numbered for your convenience so you can keep an easy record of what is in each box. Moreover, Box't has an easy scheduling process, whether it's for drop-off or pick-up!
5 stars based on 164 reviews from around the web

Founded in 2008 in Canada, FrogBox is a one-stop-shop for moving supplies for residential and commercial moves. The company not only cares about making their client's move easy and economical, but also cares about the environment, since they offer the convenient alternative of renting their recyclable, reusable and eco-friendly plastic moving boxes. Every time a client chooses to use Frogbox plastic boxes, they are helping to reduce the number of trees that are being cut down. FrogBox offers this affordable, and sustainable rental alternative of plastic moving boxes, as well as other moving supplies you need, in addition to offering you the peace of mind of being able to pack all your belongings at your own pace.
Frogbox offers its services in a range of different locations throughout Canada, even some in the United States. A list of all of the cities/locations that are serviced can be found on the website, and clicking on the location closest to you can provide you with more detailed location information.
Ontario
Toronto-Ottawa
Durham Region
Hamilton-Oakville
Kitchener-Waterloo
London-Mississauga
British Columbia
Abbotsford-Langley
Kelowna-Penticton
Surrey-Delta
Vancouver-Victoria
Manitoba
Winnipeg
Alberta
Calgary
Edmonton
Lethbridge
$5/box for the first week

$1/box for additional weeks
*Volume discounts available
Available in some cities across Canada such as Calgary, Edmonton, Vancouver, Victoria, Halifax, Whitby, Hamilton, Mississauga, Ottawa, Toronto, Lethbridge, Kelowna, Kitchener-Waterloo, Surrey-Delta, and in the US in Boise.
+5M Frogboxes delivered
Low environmental impact moving supply solution
Frogbox plastic boxes are thoroughly cleaned after each use
Frogbox boxes are stackable, sturdy, roomy, weatherproof
Frogbox boxes don't require any assembly
Free local delivery and pick-up
Free labels
Online prices and orders
Mobile payment terminals upon delivery
Availability of extension of rental and rescheduling
Special long-term pricing for box rental
Volume discounts for larger bundles
Professional and friendly workers
Excellent online reviews
There are delivery fees for some areas
Only 2 sizes of Frogboxes
Do not offer wardrobes or dollies for inter city moves
Why choose this company to rent plastic moving boxes?
Frogbox has provided more than 5 million rented boxes, which means that the same number of cardboard boxes has stopped being produced, helping with the negative impact on the environment. Being able to pack at your own pace, Frogbox offers you the possibility of ordering the plastic boxes online and paying for them when you receive them with no shipping or pick-up charges. Frogbox boxes, while reusable, are carefully cleaned for their next use, are waterproof, and do not need to be assembled. Frogbox offers you special prices based on the rental time and the volume of rented boxes, as well as the possibility of requesting an extension to your rental time or rescheduling the date. Through all these benefits and their awesome team, Frogbox displays excellent online reviews.
4.5 stars based on 17 457 reviews from around the web

About U-Haul Ready-To-Go Boxes
U-Haul is perhaps one of the most well-known moving companies in the world. It was first established in 1945 in America but has since branched out into Canada. Their Ready-To-Go boxes are their plastic moving boxes that are available to rent, helping to make your moving process easy and eco-friendly, with no waste.
Locations of U-Haul Ready-To-Go Boxes
U-Haul has a wide range of locations throughout Canada, including many in the Greater Toronto area. Although the company is so widespread not all locations may carry the Ready-To-Go boxes. In order to make sure that U-Haul can accommodate your move with their plastic box rental services, you are encouraged to type in your postal code, in order to find out whether or not there are Ready-To-Go boxes near you.
| | | | | | |
| --- | --- | --- | --- | --- | --- |
| Size (number of boxes) | 1 week | 2  weeks | 3 weeks | 4 weeks | Every additional week |
| 12 | $30 | $48 | $66 | $84 | $1.50 per box ($18 per week) |
| 24 | $60 | $96 | $132 | $168 | $1.50 per box ($36 per week) |
| 36 | $90 | $144 | $198 | $252 | $1.50 per box ($54 per week) |
| 48 | $120 | $192 | $264 | $336 | $1.50 per box ($72 per week) |
| 60 | $150 | $240 | $330 | $420 | $1.50 per box ($90 per week) |
U-Haul also offers its customers the opportunity to hire a specific number of bins according to their needs. This custom offer fits the same cost pattern as all of the other package options: The first week costs $2.50 per box (so if you hired 15 boxes for one week it would cost $$37.50), and then $1.50 for each additional week (15 boxes for 2 weeks = $60).
There are a large number of U-Haul locations across the country
The boxes can also be hired for international moves to the United States
They offer plastic box packages (and customized options) for moves of all sizes
U-Haul also offers a range of other moving services if you require them
Very cheap compared to some alternatives
The plastic boxes only come in one size
Why choose this company to rent plastic moving boxes?
U-Haul is perhaps one of the best well-known companies that offer a variety of services related to moving, including plastic moving box rental. This company is a great choice if you are also looking into hiring other moving services as well. Consolidating all of your moving services into a single company will make the process so much more efficient, and you can be certain that things will all run smoothly. U-Haul has numerous locations all over Canada, meaning that no matter where you are going, there is likely to be a branch nearby.
Another great benefit of choosing U-Haul is the fact that it can accommodate the needs of any size. Their customizable option means that you can rent a single box for moving or as many as you need. This way, you are only ever paying for the boxes that you use.
4. Canadian Tire (Plastic Storage Bins, Containers & Totes)
Not many reviews available online

Unlike some of the other companies listed here, Canadian Tire does not offer plastic moving boxes for short-term (or long-term) rent. Instead, they have bins and containers of various sizes for sale. Canadian Tire was founded in 1922 and was created to help Canadians out in their everyday lives, which is why the company offers such a broad range of products and services. At almost 100 years old, this company has the experience to help you find exactly what you need.
There are numerous Canadian Tire locations throughout the Greater Toronto area, making it easy to visit one of their stores, no matter where you are. Because their plastic bins are for sale and not just for hire, you can purchase these online and have them delivered directly to your home, regardless of your location.
If you do wish to purchase the bins yourself, simply select the one that you want online. At the bottom of that page, the Canadian Tire website will show you a list of stores in your region where that particular bin or container is in stock so that you know it will be there when you arrive.
| | |
| --- | --- |
| Size (in liters)** | Price (to buy) |
| 6 | $2.99 |
| 15 | $8.99 |
| 25 | $11.99 |
| 30 | $11.99 |
| 40 | $6.49 |
| 50 | $17.99 |
| 60 | $19.99 |
| 72 | $17.99 |
| 104 | $24.99 |
| 151 | $29.99 |
| 189 | $34.99 |
*These prices are not garanteed and may change in time. It represents the market price from June 2020.
**Canadian Tire stocks a range of brands, at slightly different price points. These are some examples of the bins for sale, but you may find different prices from different brands. This is why some of the smaller bins may appear to cost more than some that are slightly larger.
***This is only a sample of the various bin sizes that are available from Canadian Tire. There are many other sizes that you might find more convenient, listed on their website.
These bins are for purchase, so you can keep them and reuse them
There are a large number of Canadian Tire locations throughout the country
You can also buy these bins online and have them delivered to your house
This is not an ideal choice if you do not want to keep the bins after you have moved
Why choose this company to buy moving boxes?
Canadian Tire is a great choice for those who want to keep their storage containers after. The cost of purchasing high-quality bins is relatively low, and you can then use them for whatever storage needs you have. Conversely, this would not be a good choice if you did not require large amounts of plastic storage units.
Canadian Tire offers plastic bins and containers that come in a wide range of sizes so that you can find options to fit your specific needs. Whether it is larger bins for bigger groups of items or smaller bins for one or two things, Canadian Tire has you covered.
3 stars based on 75 reviews from around the web

ULINE is a proud family-owned business, which began in the United States but has since expanded into Canada and Mexico as well. This company does not offer rental services, but rather they sell packing and shipping materials, including plastic moving boxes. The company has over 40 years of experience in the industry, and their massive catalog of products is able to meet almost every single need.
ULINE is actually an American business that have a location in Toronto and Edmonton. 
This should not be a problem for customers who live outside of this area, because ULINE ships all of their products to you, and they can deliver your goods to you no matter where in the country you are. Products are purchased online and delivered to you, a convenient method that does not require you to be in any specific location at all.
| | | |
| --- | --- | --- |
| Size (in QTS.) | Cost for one carton | Cost for 3+ cartons |
| 18 | $58 (the carton contains 6 boxes) | $54 |
| 30 | $73 (the carton contains 6 boxes) | $69 |
| 70 | $89 (the carton contains 4 boxes) | $84 |
| 118 | $143 (the carton contains 4 boxes) | $139 |
*These prices are not garanteed and may change in time. It represents the market price from June 2020.
**The pricing for this specific product is done based on cartons, not the individual boxes. Each carton contains a varying number of boxes, from 4 to 6. The cost of cartons becomes cheaper when you purchase more than 3 at a time.
It should be noted that this is only an example of the size and pricing of one kind of plastic storage box that ULINE has available. They have a wide range of plastic containers suited for moving needs, which may be different sizes and prices in comparison to this option.
Toronto  & Edmonton but ship everywhere in Canada.
These bins are for purchase, so you can keep them and reuse them
The bins can be conveniently purchased online and shipped to your house
The cost-per-unit gets cheaper when you buy in bulk
ULINE also offers a range of other products that can be used for shipping/moving
This is not an ideal choice if you do not want to keep the bins after you have moved
The range of sizes is relatively small compared to some other companies
Why choose this company to buy plastic moving boxes?
ULINE Canada is another great choice who need storage not just for moving, but for afterward as well. Purchasing plastic storage from this company is relatively cheap, and then you can do whatever you need with it. ULINE offers a range of plastic containers and totes in various sizes, allowing you to easily find a solution that matches your needs. All of their products are sturdy and long-lasting, meaning you will be set for years to come.
ULINE offers great savings for customers who buy in bulk (the cost-per-unit decreases after you buy a certain amount). This makes it a great choice for commercial customers, who may need to transport large amounts of goods.
Share this article on social media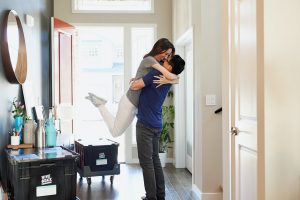 Moving tips
Best Places to Rent Moving Boxes in Canada. Moving can be tough, no matter how big or small the job is. Even if you think you can do it all yourself, you may still need to
Read more »