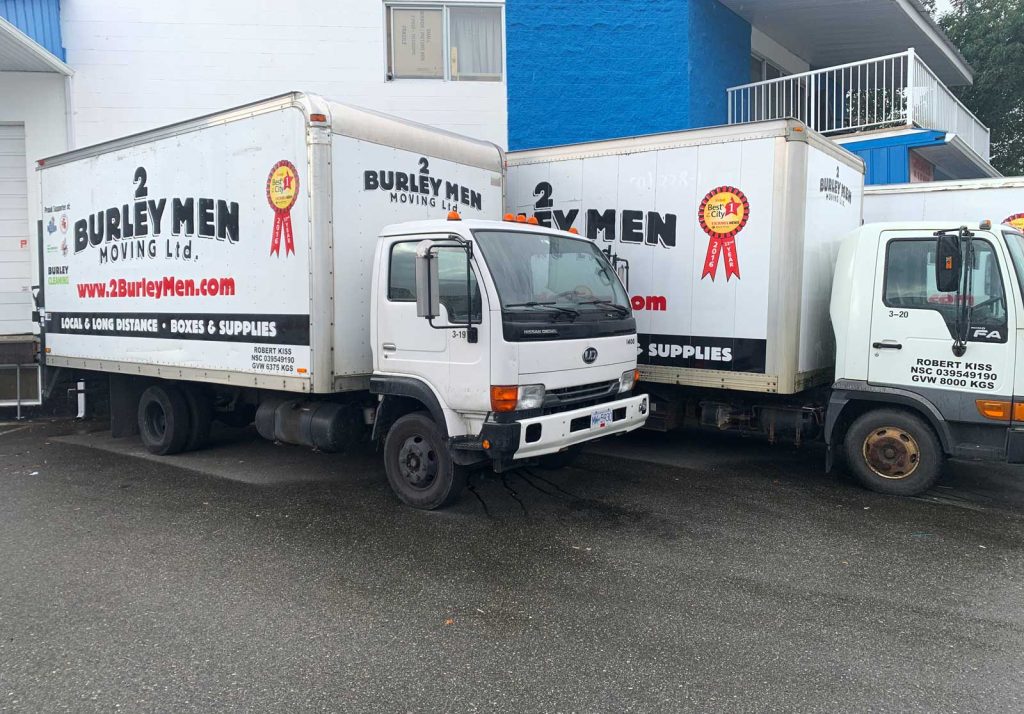 2 Burley Men: Reviews, Pricing, Services & More!
Scott Burley and his son Josh launched 2 Burley Men Moving in 2009. They are a BC-based moving company providing local and long-distance moves, along with moving supplies and storage services. Since the process caters to moving valuables, the company carries industry-standard insurance and assures well-trained and insured movers through the Workers' Compensation Board (WCB). Also, all vehicles undergo regular maintenance to avoid any car breakdown during the move. Its fleet is constantly upgraded in 3, 5, and 7-ton trucks. Keep reading to know more about 2 Burley Men Moving.
Review of 2 Burley Men Moving
2 Burley Men's Service Locations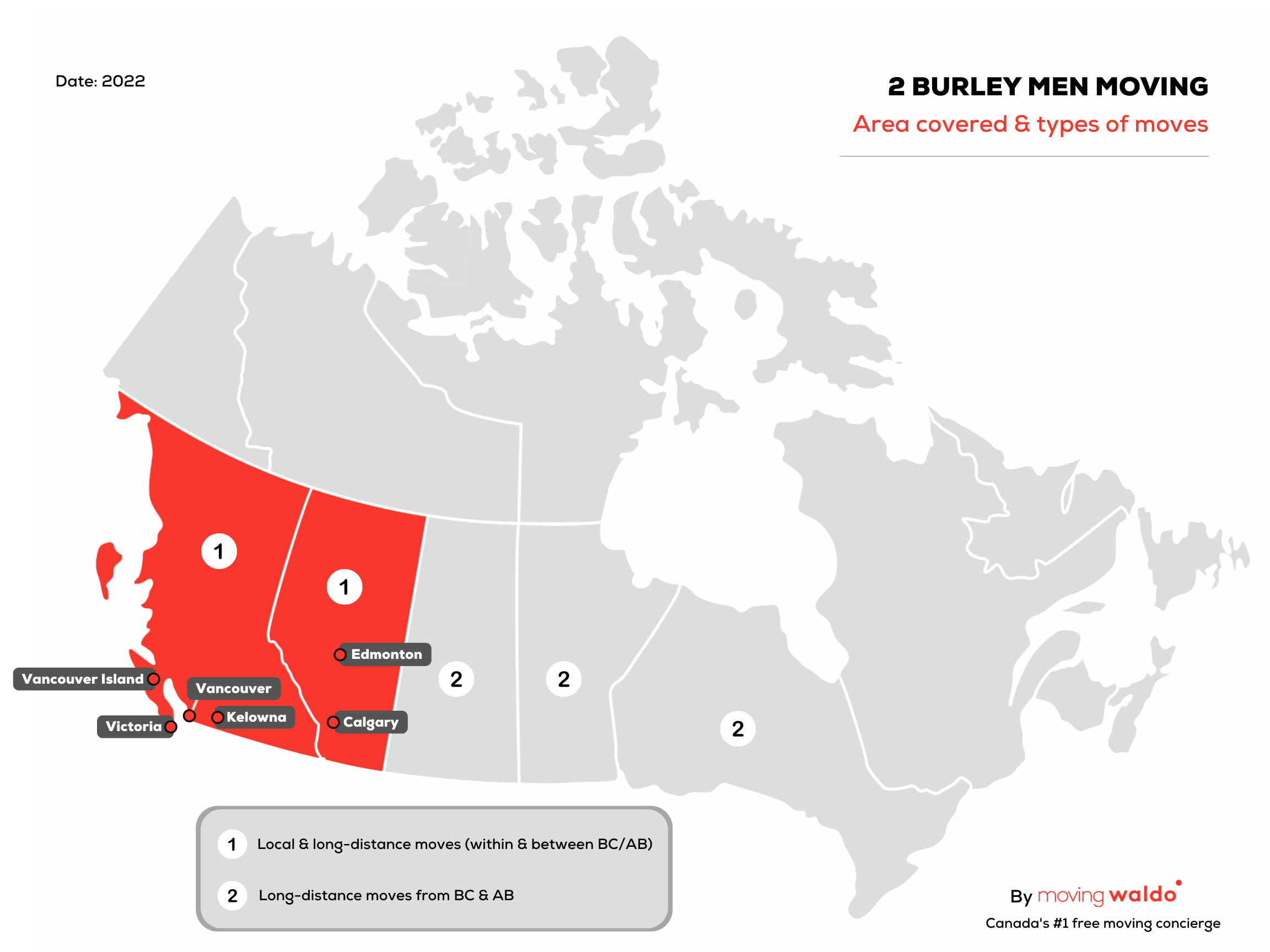 While 2 Burley Men also service smaller communities in BC and Alberta they mainly provide local moving services throughout BC (Victoria, Vancouver, Vancouver Island, Kelowna and surrounding areas) and Alberta (Calgary, Edmonton, and surrounding areas). 
2 Burley Men also provide long-distance moves between BC and Alberta, and even extend their long-distance moving services from BC and Alberta to Saskatchewan, Manitoba, and Ontario. 
Find out if 2 Burley Men service your area for local or long-distance moves.
2 Burley Men's Popular Routes
Beyond local moves in various communities within Alberta and BC, 2 Burley Men also offer various routes including:  
2 Burley Men's Reviews from the Web
3.9 stars based on 2300+ reviews from around the web
Productive and efficient team
2 Burley Men movers' professionalism and efficiency have gotten the company to where it is now since it started in 2009. Their clients continue to show their satisfaction through their online reviews.
Website

Reviews

Google 

(4.1/5 out of 2, 037 reviews)

"2 Burley Men did a small move for us and I have to applaud them for their attention to detail and cleanliness.  They used runners to protect our carpets and were very polite and professional.  I was also pleasantly pleased by their charges – very good value for the service they provide.  I would definitely recommend them."

MyMovingReviews

(3.1/5 out of 142 reviews)

"I was moving items to prepare for an estate sale gathering furniture from 4 locations. The movers were amazing. Very professional, efficient and handled antiques with great care. They were also very respectful to my elderly father who was struggling with the whole process of letting go—fair pricing and efficiency. I will definitely use them again for future moving needs."

Yellow Pages 

(4/5 out of 115 reviews)

"The two gentlemen who helped us move were great. Both were easy going with us giving them instructions as to what we wanted. They were quick and knew exactly how to dismantle our different types of furniture. I didn't feel judged when they would take out furniture and there would be lots of dust and random things that had fallen behind. Would hire them again!"

Nicelocal

(3.9/5 out of 133 reviews)

"The fellows that came to move us were wonderful. Polite, knew how to move things in a timely manner and asked us where we wanted everything to go. Would use these guys anytime. Great service."
2 Burley Men's pricing ensures full disclosure of all the fees when they provide cost estimates to customers. The cost of 2 Burley Men Moving's services depend on several factors, including:
Location

Truck size

The type of moving service

The time of the year
You can get a quote from 2 Burley Men Moving by filling out their estimate form. A representative from 2 Burley Men will contact you back to complete the process.


Moving Services offered by 2 Burley Men 
Along with local moves and long-distance moves within BC, Alberta and beyond, 2 Burley Men Moving also offer moving supplies and storage services.
Moving supplies
2 Burley Men offer moving supplies, from moving boxes, packing paper, tape dispensers, packing tape, and more. If you live in the Victoria area, these moving supplies will directly be delivered to your home. Otherwise, you can drop by their office at 858 Esquimalt Road to gather all the supplies you need for your move. 
Storage
You have decided to move out, but your new home is not ready for occupancy yet. 2 Burley Men offer some of the best storage rates and ensure to load up all your valuables, transport and store them in professional, secure, and safe storage facilities. They offer storage services in local communities across Alberta and BC.
Why MovingWaldo Recommends 2 Burley Men
MovingWaldo recommends 2 Burley Men as they continuously provide the best possible service in the moving industry. With over a decade of experience catering to various clients daily, they assure to accommodate any demands from customers. Their 95% referral rate is a testament to how they have gained customers' trust over the years. 2 Burley Men have also proven their worth and expertise in the industry through their awards like the best mover in Victoria recognition they received from the annual Victoria News consumer survey.
Pros & Cons of 2 Burley Men
As good as a moving provider is, you still need to weigh your options and see what other people say about a service. Below is a quick 2 Burley Men review. 
95% customer referral rate

Free quotes by phone and email

Recognized as the best mover in Victoria 

Great reviews from reliable websites

Carries industry standard insurance

All vehicles are constantly up for regular maintenance and upgrading

Trusted and highly experienced

Offers additional services like packing materials and storage options
No live chat support

Limited number of services 

Do not offer long distance moves to Quebec and the Maritimes

Do not offer cross-border moves
FAQ - The Most Frequently Asked Questions About 2 Burley Men
What type of insurance policy do 2 Burley Men offer?
Basic coverage of $0.60 per lb. per article is included in all 2 Burley Men's moving rates. This gives customers peace of mind during their move, especially if it involves antique, expensive, and fragile items.
Accidents are unpredictable. In the case of such, customers can submit their claims in writing within 14 days after the move is completed. Remember that 2 Burley Men apply a $50 deductible fee to all claims.
How many successful moves have 2 Burley Men completed?
During their 13 years in business, 2 Burley Men have successfully completed thousands of moves. The company continues to serve about 1000 clients every month on average for local and long-distance moves.
What awards have 2 Burley Men won?
2 Burley Men were awarded as the Best Mover in Victoria in 2014 based on data collected from the Victoria News consumer survey. This award is a testament to their dedication to professional service to all their clients. More importantly, it raises the company's status to be one of the best in the industry based on real client surveys.
2 Burley Men is on top in the storage industry, hence helpful reviews from clients. When choosing a self-storage, what other people say about a service can always come in handy, but it will still depend on your preference and the services you'll need.
Share this article on social media
Local storage
Self-Storage Companies: Q&A with Storage Experts Many people turn to self-storage facilities when moving or simply running out of space. Figuring out which are the best storage units to place your belongings in is not easy.
Read more »
Check out MovingWaldo's free moving platform and find everything you need for your move. No sign up required!