5 Movers in Kitchener that you can trust
Few things in life are as stressful as moving – whether it is a residential home, an office or a storage locker, packing everything you own in a logical, safe and organised way is always difficult (and that's if everything goes to plan). A good moving company who offers a fair price, treats your belongings with care and respect and works efficiently is absolutely essential to your move being successful. But, how do you find one of these? The internet contains a labyrinth of review sites all providing conflicting reports on the quality or lack of quality for the various moving companies, making it very difficult to separate the good from the bad. At MovingWaldo we wanted to help guide people through this maze, which is why we collated information about the five best moving companies in the Kitchener – presenting an easy comparison that allows you to see clearly.  
Wrong location? Find curated movers for your area here.
Metropolitan Movers has been operational since 2010, growing their business with every passing year. They have an excellent referral rate and countless repeat clients. They specialize in commercial and residential moving services. Whether you require packing, moving or storage, Metropolitan Movers will accomodate all their clients needs with a smile and professionalism to its highest standard.
Price – Available on demand
Areas Covered – Kitchener, Waterloo and all surrounding areas
Better Business Bureau rating – A+
Member of CAM – Yes
In business since – 2010
Provides industrial, commercial and residential moving, packing and storage solutions

Assembly and Disassembly of furniture and workstations

Packing supplies

Special item handling such as Piano / Pool table
Do not offer portable storage

Do not offer international shipping

End month dates fill up fast

Do not accept personal cheques
Reviews of Metropolitan Movers
Google reviews: 4.0 stars based on 36 reviews for the Kitchener branch
Services offered by Metropolitan Movers
Moving and deliveries

Apartments and condo moving

Disassembly and Assembly

Packing / Unpacking

Delivery of packing materials

Storage of various sizes

Piano/ Pool table moving

Commercial and residential services
BigSteelBox is a Canadian-owned and operated container moving and storage company that makes moving and storage feel better! They can move you across town, or across Canada. Their local moving price includes the 1-month rental of a 20′ BigSteelBox, so you can pack at your pace, and all movements of the container. Plus, if you need storage in between homes that's no problem because storage is built right into their moving service and easy to add on.
From their storage facility in Ayr, ON, they're able to provide moving services and portable storage container rentals and sales to residential and business customers in Kitchener-Waterloo, and several cities and towns in southwestern Ontario. Whether you need secure storage at home or on the job site, or you're moving to a new home, BigSteelBox can help.
Pricing – $404*
Areas Covered –Kitchener-Waterloo and the surrounding area
Better Business Bureau rating – A+ What is this?
Member of CAM – No What is this?
In business since – 1999
* Price includes the 1-month rental of a 20′ BigSteelBox, empty delivery, movement of the container to your new home, and empty pick up. Price is subject to change without notice and does not include taxes. Price is based on moves within the local service area of this city only. Additional charges may apply to frieght for customers outside the local service area.
Multiple locations


Storage in between homes

Extremely secure containers

Take your time packing
Limited service for condo/apartment buildings*
Packing/loading service an additional cost
*Unless you have space for the container for at least one month. 
Reviews of BigSteelBox Moving & Storage
Google reviews: 4.7 stars based on 53 Reviews
Services offered by BigSteelBox Moving & Storage
Local Moving
Long Distance Moving
Commercial Moving & Storage Container
Moving Storage at Your Home
Storage at Our Location
Boxes and Packing Supplies
Packing Services
Free Quotes
For more than 10 years, High Level Movers have been offering relocation services. Thus, they understand the stress of moving, but also that no move is the same. Because of this, they take it to heart to offer you services that you can customize according to your needs. Whether you just need help transporting your belongings from point A to point B, or you need packing, cleaning and storage services, their moving professionals will customize your moving services according to your needs. Finally, High Level Movers have strong customer reviews demonstrating their experience and the quality of their services.
Pricing – Available on demand
Areas Covered –

Toronto area, Ottawa area, Vancouver area and Canada

Better Business Bureau rating –

Not accredited

In business since – 2009
Reviews of High Level Movers
Google reviews: 4.8 stars based on 21 reviews
Services offered by High Level Movers
Local moving

Long distance moving

Residential moving

Storage services

Commercial moving

Garbage removal

Cleaning services

Packing supplies
Online moving cost calculator.

Strong customer reviews.

Offer many services (packing, local and long distance, commercial and residential, storage, piano, etc.)

Their movers receive bonuses when customers are satisfied with the service provided. Therefore, their movers make sure they offer the best, without pushing your time.

Insurances are included.
Cancellation fees are charged when the move is delayed or cancelled within 72 hours of the scheduled date.
Why Should I choose High Level Movers?
If you need moving services in the Kitchener area, High Level Movers is a great solution. With the help of their specialists, you can customize your service to perfectly meet your needs. They can also help you prepare your moving budget. This can be useful, especially if your move is last minute.
They are available in many locations for local moves, and can also do long distance moves in Canada. With their moving services, you will be able to move stress-free and smoothly.
Number 1 Movers isn't just a name, it's a state of mind! This is a young company with an experienced team (up to 15 years in the sector) and very good reviews from customers. They are doing their best to give you the highest quality moving service at the lowest price. Professionalism and friendliness, two words that describe perfectly No. 1 Movers. Contact them directly, you'll see!
Pricing – $119/h
Areas Covered – Local Moving Locations: The Greater Toronto Area
Long Distance Moving: Ontario
Better Business Bureau rating – A+ – What is this?
Member of CAM – No What is this?
In business since – 1998
Reviews of Number 1 Movers
Google reviews: 4.6 stars based on 124 reviews 
HomeStars reviews: 9.2 out of 10 based on 24+ reviews
Services offered by Number 1 Movers
Local moving
Long distance moving
Packing services
Moving boxes
Stallion Movers is a moving company based in Waterloo Region. They started in 2015 as a delivery company but transitioned to a full moving company after finding that there was a need for Seniors specialized moving. With a caring approach and an experienced team, they are able to meet the unique needs of a variety of individuals at different life stages. They can do everything from retirement focused moves and moving items within homes, right down to loading storage containers or local moves for anybody interested. The best part about Stallion Movers is that their top priority is customer experience; they make sure that they beat everyone when it comes to professional communication, beginning with the first time you talk to them on the phone. They help you to worry less about your move by getting the job done right the first time. Their tagline says it all: "Let us be your work horses and carry your worries away!"
Price

– Available on demand

Areas Covered –

Kitchener, Waterloo, Cambridge, & Guelph and Surrounding Areas

Better Business Bureau rating –

A+

Member of CAM 
In business since –

2015
Member of the Living Wage Company
Member of KW Chamber of Commerce
Seniors moving specialists
Best for smaller moves (studio, up to 3 bedrooms)
In-home Moving
Dump Runs/Junk removal
Pick-up/Drop-off (stores, Kijiji, Facebook, Auctions, Etc.)
Do not offer long distance moving
Limited service for large homes (5+ bedrooms)
Reviews of Stallion Movers
Google reviews: 5 stars 
Facebook reviews: 4.9 stars
Services offered by Stallion Movers
Local Moving

Senior Moving

Moving Supplies

Un-boxing, Set-up, Install

Labeling

Packing

Dump Runs / Junk Removal

Donation Drop-off

Furniture Assembly

Moving Supply Sales w/Free Delivery

In-Home Moving

Pick-up and/or Drop-off  (Stores, Kijiji, Facebook, Auctions, etc.)
Prices, availability, ratings and reviews may all vary over time. MovingWaldo does its best to provide accurate data and information, but cannot be held responsible for any information regarding the companies featured in this article. Unless noted otherwise, MovingWaldo is not taking part in any partnership with the above companies. 
What's the BBB? BBB stands for Better Business Bureau and is a North-American organisation whose mission is to help buyers and sellers trust each other. Its rating is based on the number of complaints that a company may receive and how the company handles these complaints. We try to always recommend companies that have A- or higher ratings. 
What's CAM?  CAM stands for Canadian Association of Movers. It's Canada's only trade association for movers whose goal is to help its members evolve in the industry, while setting a standard of ethics and practices for moving companies. While it is a great way to gain credibility, not all moving companies are part of CAM.
Other Moving Companies in Ontario
Visit our shop for moving supplies
Share this article on social media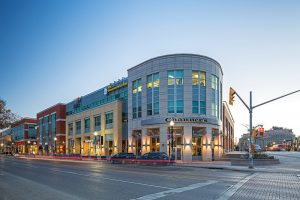 Local storage
Best Self Storage in Kitchener – Find the perfect storage solution near you. Looking for affordable and professional self storage in Kitchener ? Here's how we help. We've built a list of curated storage units that
Read more »
Check out MovingWaldo's free moving platform and find everything your need for your move. No sign up required!