The micro USB port allows you to expand the 16GB storage that comes with the cube by connecting an external storage source.

Alexa voice commands can replace remote control usage.
No HDMI cable is provided; you'll need to buy your own.

Alexa voice application cannot answer more complex queries, requiring you to return to remote control use.
The Apple TV 4K is easy to set up with account syncing.

This is one of few streaming devices

compatibility for Xbox and PlayStation controllers.
No 4K HDMI cable; you will have to purchase your own separately.
Android operating systems means access to thousands of apps that can be installed.

Support for a wide range of streaming services, from Netflix to HBO, Spotify, and so many more.

Easy to set up, just plug and play.
Low storage space at only 8GB

Its Live TV feature is only available to YouTube TV, an expensive service with a monthly subscription of $64.99/ month.
Private listening feature accessible through the Roku mobile app allows you to listen to your TV through your headphones.

The voice control feature allows for easier navigation.

The latest Wi-Fi technology built into the stick allows for the best connectivity.

Its small size doesn't clutter up your space.
The Roku Streaming Stick does not have an Ethernet port, so the only connection to it is via Wi-Fi.
A strong processor means better performance.

USB ports allow for more expandable storage space.
The NVidia Shield TV Pro is one of the more expensive streaming devices on our list, retailing at $199.
It does not come with an HDMI cable; you will have to buy one for yourself.
Related questions from the community
Have a question about your move? Ask our community.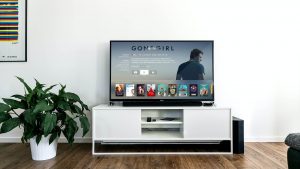 Daily Living
5 Best Streaming Services Alternatives to Netflix Today, streaming services are undeniably the main outlet when it comes to home entertainment. Having access to top-quality TV series and films has become a top priority for most
Read more »
Check out MovingWaldo's free moving platform and find everything you need for your move. No sign up required!