Quebec Students: How to change your address with Student Financial Assistance (Aide Financière aux études - AFE)?
In Quebec, over a 150,000 students receive financial assistance (loans or grants) under the Loans and Bursaries Program. For many students, financial support is an indispensable asset to pursue vocational, college or university studies full-time.
Do not forget to notify the Financial Assistance (AFE) of your new address, before your move or within 30 days following it. Whether you live on your own or with your parents, failing to notify AFE of your new address could have an impact on the financial assistance awarded (suspension of payments, ineligibility to the Loans and Bursaries Program…).
To successfully change your address with the AFE, two options are available to you:
By visiting the Student Financial Assistance (AFE) website,  you can access all required information concerning your change of address. You'll also be able to see information required to notify the AFE of other types of changes such as:
Change of marital status
Change in family situation (i.e birth of a child)
Expenses for drugs and medication or chiropractic care
Change in income or financial resources
Allocation request for training support material
Moving is often synonymous of stress, long administrative tasks and a significant waste of time and money. MovingWaldo helps you solve all these problems in just a few clicks! After some shameless self-promotion, we invite you to discover our free moving tools available to all.
Update accounts
Connect Internet, TV and Phone.
Move Hydro-Quebec
Secure home and auto insurance
Find resources, checklists and more.
We bring together more than 700 organizations across Canada with a single and simplified form.
Share this article on social media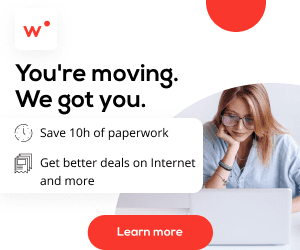 Related questions from the community
Have a question about your move? Ask our community.
Moving tips
Most of us move because an important change occurs in our lives. Any significant change is considered by your insurance company to calculate your risk and, in the process, could increase the cost of your premium. Don't panic…
Read more »
Check out MovingWaldo's free moving app that will save you up to 10 hours of paperwork. And it's free.