The 8 Best Neighborhoods in Miami in 2022
Moving to a new location can be rigorous because apart from moving all your properties to a new city or country, you must find the right neighborhood that meets your needs. Ranked as one of the best places to live in Florida, Miami, otherwise known as Magic City, is one of the world's most famous cities, with diverse cultures, world-class dining, stunning beaches, and vast neighborhoods. Miami has something for everyone, and you'll see it in many neighborhoods across the city. Therefore, to help you find the perfect area to reside, here are the 8 best neighborhoods in Miami!
With many neighborhoods across Miami, the city has something for everyone. Whether you're a young professional, student or a retiree, our list of the 8 best neighborhoods in Miami will help you make a decision! We've built our ranking of the best neighborhoods based on a study from Niche.com, who considered the following criteria: education, affordability, public transit, and safety. We've also taken into account the population and neighborhood vibe.
MovingWaldo's list of the 8 best neighborhoods in Miami - 2022
Population: 35,591
Located just south of Downtown Miami, Brickell is a dense upscale neighborhood with young professionals living in high-rise apartment towers. This neighborhood is home to Miami's Financial District and the country's second-largest international banking center. This neighborhood provides all of the amenities needed by its residents as most of them enjoy access to so many bars, restaurants, and shops around every corner alongside parks. Plus, you'll find gardens all over the neighborhood, as well as cultural activities and exhibits. Brickell is also a walkable neighborhood, and most residents enjoy their day-to-day activities without a vehicle. They prefer to walk or take public transportation to get around.
(*Niche)
Population: 26,815
Coconut Grove, otherwise known as "The Grove," by locals, is located just south of the busy Downtown Miami and Brickell locations. Coconut Grove is an established upscale area offering a sense of tranquility throughout its shaded streets, making it a perfect neighborhood for residents longing to be close to the bustle of big cities yet enjoy the laid-back vibes of small towns. This neighborhood has a strong sense of community and is a walkable neighborhood with many parks, beaches, and natural gathering spots. The neighborhood is especially known for its lush green landscape as well as the beautiful blue waters of Biscayne Bay.
Best for young professionals
Population: 16,060
Edgewater is nestled on the shores of Biscayne Bay. As its name indicates, Edgewater is a small coastal slice of mainland Miami, with a neighborhood ideal for young professionals, especially those starting their careers. Edgewater is a quiet, residential, and high-density urban neighborhood with a vibrant social scene. Schools in Edgewater are generally above average, and most fun activities here center around the eight-acre Margaret Pace Park, which has volleyball, tennis, and basketball courts. With an outstanding Walk Score of 87, Edgewater is one of the most walkable neighborhoods in Miami.
Best for tranquility & luxurious lifestyle
Population: 2,865
Along the northern tip of Miami Beach sits Bal Harbour, a luxurious oceanfront neighborhood that attracts a diverse set of residents hailing from around the world. Bal Harbour is a small, affluent town featuring beautiful green spaces, tree-lined sidewalks, and a well-planned village setting that focuses on peace, tranquility, and privacy. This neighborhood is home to a pristine and uncrowded beach with rural streets, making it an ideal location to walk, swim, bike, or relax. There is a collection of upscale, world-renowned boutiques and restaurants alongside an exclusive, idyllic enclave for its residents. Additionally, Bal Harbour boasts some of the most exclusive real estate in the country, surrounded by gorgeous landscaping.
(*Niche & World Population Review)
Population: 12,600
Key Biscayne is known as one of the safest cities in Florida. The violent crime rate in Key Biscayne is 0.4 per 1000 people, which is 89% below Florida's average violent crime rate. Key Biscayne offers its residents an urban feel with many amenities. Families living in Key Biscayne can enjoy a nice picnic under the shade in the summer months or walk along the trail for a weekend activity with the kids.
Population: 35,936
Little Havana, otherwise known as the heart of Miami's Cuban diaspora, is located west of Downtown Miami's high-rises and cultural institutions. Little Havana is a dynamic cultural neighborhood with affordable and unique housing ranging from Mediterranean stucco cottages to limestone buildings. This neighborhood comprises Latin-inspired restaurants, bakeries, fruit stands, cigar shops, rum bars, art galleries, and music venues, making it one of the best neighborhoods in Miami. Additionally, there is unique and vibrant art, and cultural scene as Little Havana is widely known for its cultural happenings, such as the Three Kings Parade and Viernes Culturales (Cultural Fridays). Residents here enjoy access to tropical fruits, veggies, and ethnic markets.
(*Niche)
Best for cultural activities
Population: 9,291
Ranked as one of the best places to live in Miami, Wynwood is renowned as Miami's entertainment and cultural center. Wynwood is a compact district between Edgewater and Allapattah. This neighborhood welcomes its residents with its art and cultural scene, which features colorful building murals and other large-scale works by well-known street artists. Wynwood is home to many tech companies and collaborative developments for entrepreneurship and innovation, making it an ideal zone for creatives and entrepreneurs in Miami. This neighborhood is tightly packed with old warehouses and businesses now splashed with vibrant murals and eclectic art around every corner.
(*Niche)
Best for families & ideal location
Population: 49,937
Coral Gables is highly appreciated by its residents because of its proximity to Miami International Airport, the Port of Miami, and downtown Miami. This neighborhood provides an old-world charm as one of the most iconic neighborhoods in the city. Coral Gables is also a peaceful city of beautiful tree-lined streets where residents enjoy walking, jogging, and cycling through their city. Coral Gables is a diverse neighborhood with diverse residents as well. Here, there is a mix of ancient and modern amenities, which makes it one of the best places to live in Miami. Many families desire Coral Gables because of the great private schools. This neighborhood is also home to a thriving art and culture scene with various collections of shopping and dining, as well as a thriving financial hub.
(*Niche)
The best neighborhood is the one you call home, and this has to satisfy your interests and needs. Every neighborhood in Miami has its personality to meet your needs depending on your definition of the perfect neighborhood, your family status, and your ideal lifestyle. With this guide, whether you're moving to Miami for its beaches, or you want to work in the thriving part of Miami, you can choose from the best neighborhoods in Miami.
Are you moving soon? Find out the best Miami movers or rent a truck near you!
Share this article on social media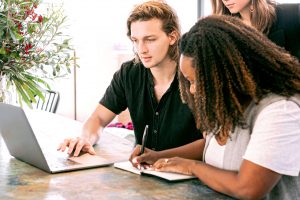 Moving tips
The Complete Change of Address Checklist: Who to Notify When You Move Moving comes with a ton of time-consuming tasks that it can be hard to remember them all. Changing your address when moving is crucial,
Read more »
Check out MovingWaldo's free moving platform and find everything you need for your move. No sign up required!