The ultimate guide to decorating your rental and making it feel like home
When coming home after a long day of work or school, we all just want to kick back, relax and feel as comfortable as possible. Like a wise man once said "home is where the pants aren't." When it comes to rentals however, it can be hard to make them feel like home, since they are someone else's property which you are bound to eventually move out of. 
But no worries though, as always, MovingWaldo has got you covered with this article in which we round up 20 tips, both practical and emotional, you can use to make your rental feel like home–like a place where you can take your pants off in peace.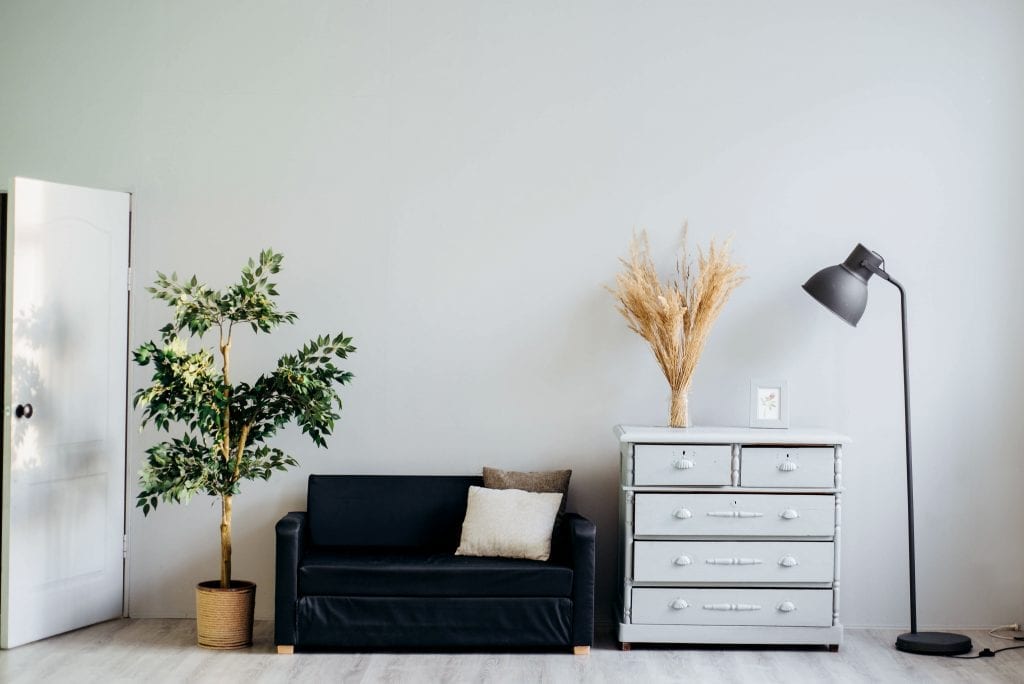 1. Ask yourself what is it that you want to do
Before embarking on the great journey of decorating your rental, you need to ask yourself what is it exactly that you want to accomplish and what do you want your space to look like. Here are four questions to help you get started:
Is there a theme you want to go for? If so, what is it?

What parts of your rental do you like the most?

What parts of your rental give you the most dread?

How much money are you willing to spend on decorating your rental?
Once you've established the answers to these questions, you can start decorating accordingly. For example, you can find creative ways to hide or conceal the parts that give you the most dread and to highlight the parts you like the most.
If you are interested in making any major changes, you should inquire with your landlord beforehand to know what you are allowed or not allowed to do. Depending on the rentals, you may or may not be allowed to repaint the walls, for example.
Your address change in 5 minutes.
Change your address with up to 500 service providers and government agencies. It's free!
3. Decide of your own layout
Obviously some furniture pieces have specific places where they belong and placing them anywhere else wouldn't make sense. However, we advise against using the space's layout the exact same way the previous tenants did or like the previous model unit. So before placing anything, figure out how you want to use and layout the space. By determining your own layout, you will be putting your own stamp on a place that isn't yours, thus effectively making it feel more like home.
4. Put furniture in the right place
I know this one sounds obvious…of course you're going to place your couch in the living room and not in the bathroom. But here, we're talking about all the small items that will increase practicality on the daily. For example, placing a small container where you can put your keys in at the entrance  is a small detail that ultimately facilitates your life in the long run–it will help you avoid putting your keys in random places and then losing them. This will also help you set up your regular routines.
Speaking of routines, they can make a space feel more personal and memorable. You can create different spaces in your rental where you will be able to carry out your routines–basically the places where you will do the things you regularly do. Setting up these routines more quickly will in turn allow you to feel at home more quickly. For example, you can set up a mirror, which will become the designated place where you get prepared in the morning. Or, like we mentioned in the previous section, the small container to put your keys in will become a small routine in and of itself.
6. Avoid matching furniture
Don't be afraid to buy furniture with different finishes or different tones. By mix and matching a  varieties of metals or materials, it will create a gathered-over-time look, even if you actually picked everything out at once. Plus, buying everything matchy-matchy will make your rental look like a room from an Ikea catalogue. And as much as we all love Ikea, this will create a very impersonal and cold vibe for your apartment.
7. Choose a color palette
Even though we said that you can mix and match furniture, you still want to choose a specific color palette and stick with it to make sure your rental doesn't end up looking like a clown funhouse. Your color palette will mostly show through your curtains, your bed sheets, and pillows/pillowcases, so buy some that fit your color palette accordingly.
8. Play with different heights
Putting furniture all in the same level will gives your space a boxy feel. So try to place your furniture at different heights: a pendant lamp above a table, a tall floor lamp placed next to a low coffee table, or a long mirror. This will give your home a modern look, on top of making it appear larger.
9. Decorate the walls, but not too much
Rentals usually come with white walls, giving you a blank canvas you can use to put up all the things you want. You can mix it up by putting up photos, art prints & wall hangings. Hanging photographs of loved ones or of your favorite places is an old one in the book of decorating, but you can always try to be creative and DIY something more out of the ordinary. If DIY-ing is not your forte, simply placing framed pictures on shelves, the coffee table, in the kitchen, etc. will do the trick and create a lived-in feeling. Putting a colorful print, on the other hand, is an easy way to add color to your rental. And to avoid destroying the walls of your rental, hang them using command hooks or washi tape. These are not only great ways to personalize your space, they are also great talking points for your future house guests!
But be careful: don't put too much! Hanging things to the point that not one speck of whiteness is left will make your space look smaller and cramped–especially if your rental is already small. White walls open up a small space and give it a clean, fresh feel, on top of giving it a minimalistic vibe.
For bathrooms, add a sprinkle of personality by picking boldly patterned shower curtains and towels. And it's okay to contrast! That will actually make the space more modern, interesting, and personal.
10. Unpack all of your stuff
Having unfinished boxes lying around in your house will give the impression that you are moving again soon. Unpacking everything will help you really settle into your new space.
11. Create familiar sounds and sights
You can do so by placing objects that remind you of your previous home, or of your childhood. Bring small, easy-to-pack items like photos, books, and/or special mugs. These objects will imbue your new space with touches of home.  
12. Improve the air with plants
Plants are a great way to not only personalize your rental, but to also purify it and give it a clean look. There are numerous air-cleaning plants that are easy to take care of and won't take up a lot of time to keep alive–because dead plants would end up giving the opposite effect. You can also create an indoor herb garden, since rentals usually are low in outdoor spaces.
We can't emphasize enough how important lighting is to make your apartment feel like home. Invest in a few floor and desk lamps to illuminate your space with softer light, rather than relying entirely on overhead lights, which can be a bit harsh and sometimes give the impression that you're under a spotlight in an interrogation room. Also, adding different levels of lighting helps create the mood you are going for. You can do so by putting fairy lights, for example.
Windows are also an effective way to illuminate your space. You can read this article we made on how to make your home more luminous.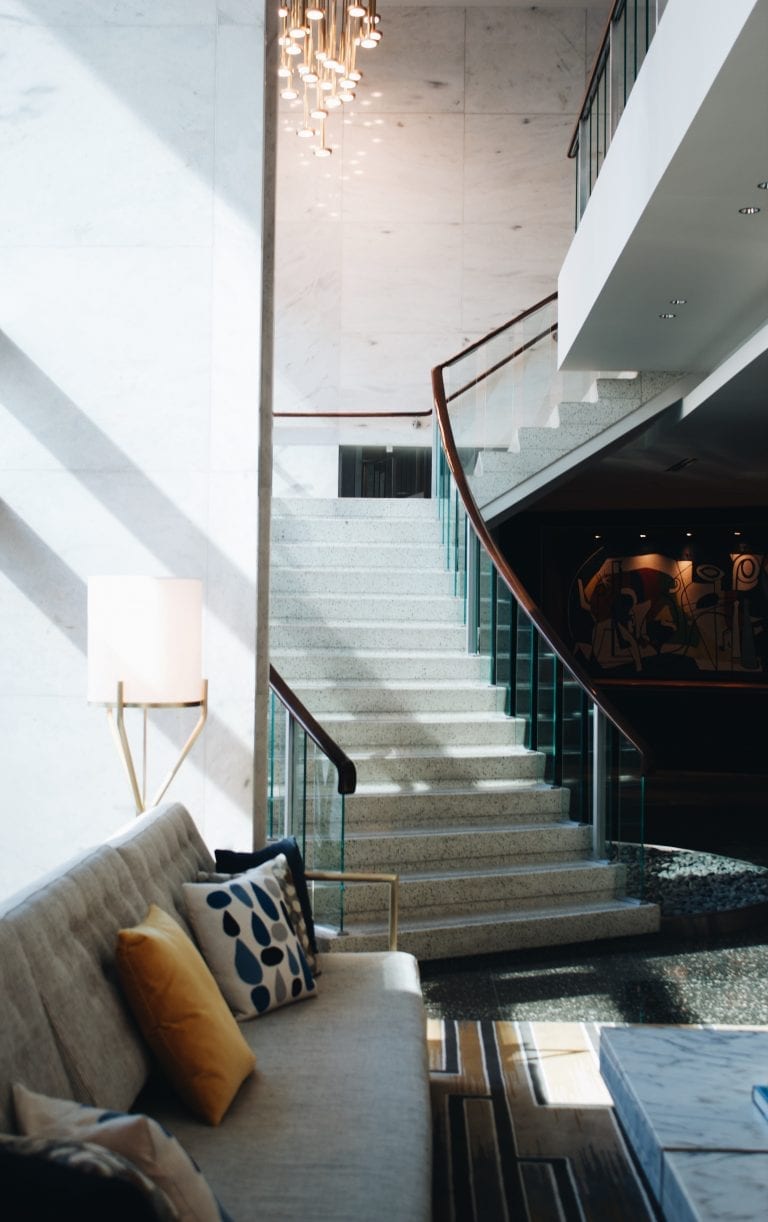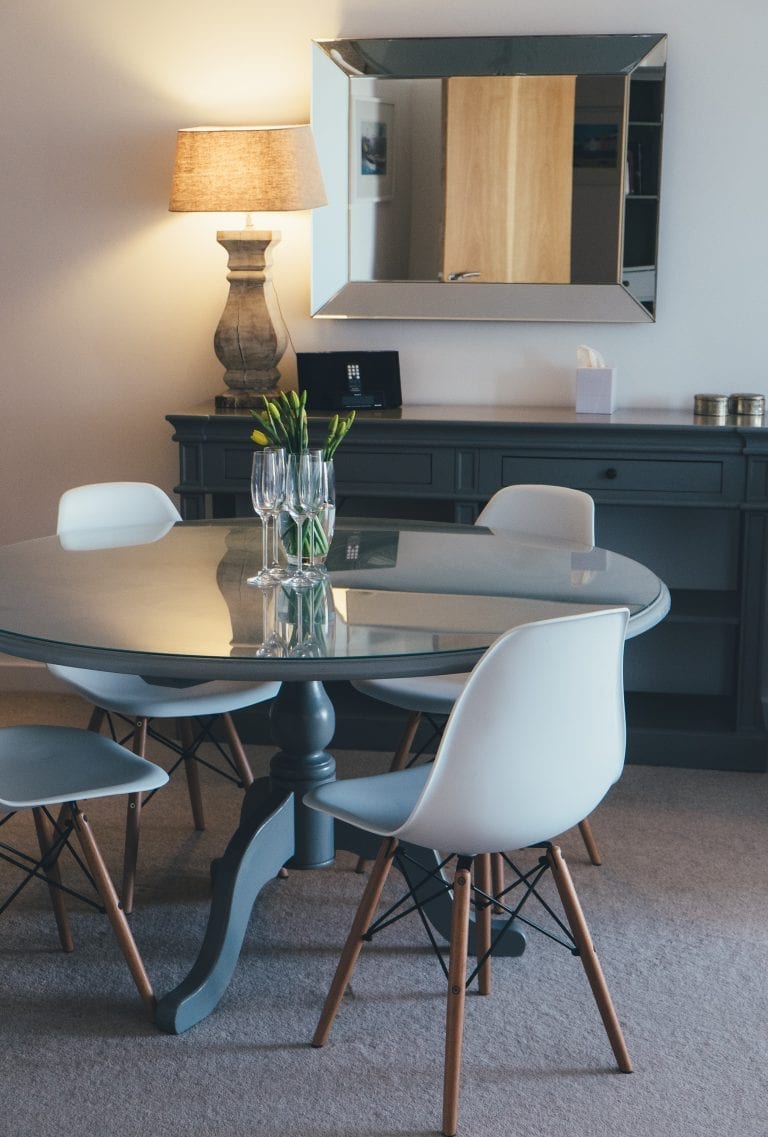 You can create a cosy home, by adding items like rugs, throw pillows, and blankets. You can even make a rug area! Rugs are helpful no matter what type of floors you have. Tile floors can be cold and not always aesthetically pleasing, while hardwood floors can scratch easily. A simple solution is to add a rug area. Rugs will add warmth to your rental and will make you want to take your shoes (and pants–we don't judge) off and unwind. Not only that, they will also prevent scratches and scrapes, effectively preserving the quality of your floors longer.
Scent is more important than you think. Invest in a couple of scented candles that you love or that remind you of good memories. That will instantly make your rental feel–and smell–like home.
If you have a smaller space, putting a lot of furniture can make it feel packed & congested. One solution is to buy smaller versions of furniture–a small loveseat or moveable chairs to create seating areas for friends when they come over, for example.
17. Don't throw all your old belongings away
When you move into a rental, avoid throwing away all your old furniture pieces and replacing them with brand new ones. That's going to make your house feel like an Ikea showroom. If you are looking for new furniture, try shopping for some vintage and one-of-a-kind items to give your house some personality & quirkiness.
18. Use Kijiji, or other community-based sites
Speaking about shopping for furniture, community-based marketplaces will be your best friend! There's not only Kijiji, many Facebook groups allow people to buy and sell furniture. Take advantage of those, because you can end up finding very interesting things without breaking the bank!
19. Take advantage of your outdoor space
If you have a balcony, take advantage of that small outdoor space by decorating it too! Simply add some plants and a table and chairs to create a comfortable seating space where you can take coffee in the morning or hang with friends at night (& risk getting bitten by mosquitoes) during those warm summer days.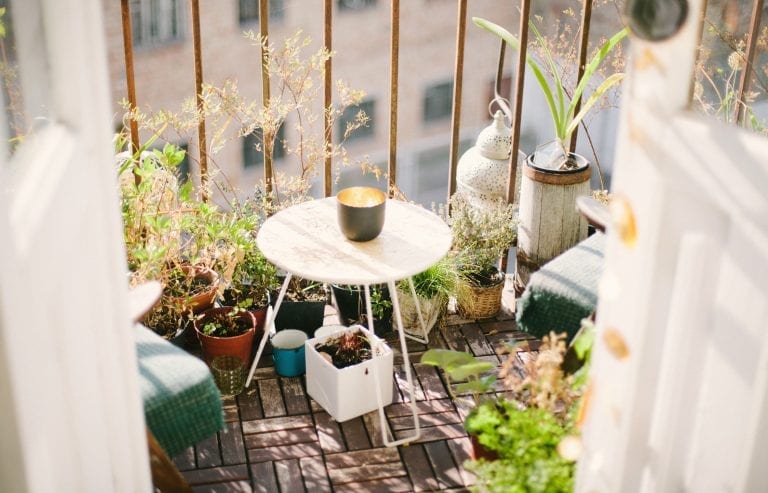 20. Create new memories in your rental
After moving into your rental, do a housewarming party so that you create memories as fast as possible in your new space hence, making it feel more like home.
Giving your rental a homey touch doesn't need to be complicated or pricey. Decorating your rental should be a fun & agreeable task! Using these 20 tips, we hope you can turn your rental into something that truly reflects you, your taste and your personality. If you are currently in the process of moving, and are wondering how to make the most out of your moving boxes, make sure to check out our article on how to pack your house strategically!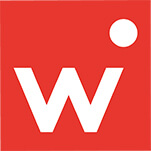 One website for all your address change | MovingWaldo.
Do you have any question concerning your address change? MovingWaldo has been the reference in this sector since 2015. In fact, our free online service allows you to communicate your new contact information to a selection of over 600 private companies and governmental institutions in less than 5 minutes! Let's just say there is a reason why RE/MAX and Sutton Quebec have chosen MovingWaldo has their official change of address partner.
To learn more about our free change of address service, click here.