The Ultimate Moving Supply List For Your Next Move
You're organizing your next move and you want to make sure everything is under control? In this article we give you tips and information on the essential supplies you need to organize your move successfully and without any risks!

We know that moving can seem like a stressful and chaotic experience. That's why it's important that you make sure you have all the necessary supplies before doing it. To make your move easier, we made you a list with all the basic moving supplies you need, as well as tips to make your move as smooth as possible.

Whether it's moving companies or storage units you're looking for, in this article you will find everything you need to know and more. Sit back and take note. Your new home is waiting for you!
MovingWaldo's supplies list to have on hand when moving
What supplies do you need to move?
When you are moving, you can either hire a company specialized in moving or do it yourself. Obviously there are advantages if you hire a recognized moving company. Their experience and know-how will give you the security of moving in an efficient and secure way, but above all, it will take pressure off and save you time. Here you can find some of the best movers near you. 
Regardless of whether you take care of packing and moving yourself or hire professional movers, it's essential to have everything organized if any unforeseen events arise. Here's the list of all the supplies you need to make your next move as safe as possible and avoid setbacks.
Moving out supplies checklist
If you want to start going forward with your moving checklist, these are the best moving supplies you need to start off.
Before buying any material, look for everything that you already have that can help you pack your things. Take advantage of your travel suitcases to store all the clothes that fit in there.
It's the first thing that comes to mind when we think about our moving supplies list. Most people wonder if they should buy boxes that are specifically for moving or if ordinary cardboard boxes can be used for packing.

The answer depends on the budget you have. Normally you can use both if you plan your packing ahead of time. Try asking the staff at the grocery store down your street to save you some big cardboard boxes a few weeks before your move. This is a great tip to save money. 
It's preferable to buy quality boxes (if possible with handles) to transport your most valuable or fragile items. According to experts, no full box should weigh more than 25 kg. Therefore, it's not really convenient to use very large boxes. 
An ideal measurement for a box is 40 x 30 x 30 cm. You can use these boxes to store tableware, kitchen utensils, books and magazines, lamps, etc. 60 x 40 x 40 cm boxes are perfect for electronic objects, small home appliances, clothes, pillows, bed sheets and large items that are not too heavy.
It's better to use packing tape guns than to use regular duct tape. Why? It will help you save a lot of time when sealing all your boxes. We all know that finding the end of the tape is nerve-wracking!
Booking trustworthy movers starts here
Compare multiple moving quotes calculated across the same metrics
Scissors and cutters are two things that we always have at home. Make sure you have them on hand when packing, as you will need them for many things. They will be essential when you unpack your stuff at our new home. Try to keep them in a bag or kit where you have your basic moving supplies.
Bubble wrap is essential to move, but you already knew that! It's definitely the most suitable material for packing fragile items. Old clothes, blankets and newspapers can also help you create more layers. This way you'll make sure your precious items arrive safely.
When packing for a move, it is important to follow a certain order. Labeling your things will be really useful for this. For example, you can distribute your boxes in different rooms. To know which box belongs to each room, you should label each one of them. 
For this, you will need a permanent marker to write on cardboard boxes, plastic bags, etc. You can also use stickers or tags. If you follow an order, unpacking all your boxes will be way easier!
Large plastic bags can also be very helpful when packing. They can be used to store clothes, shoes, toys, curtains, duvets, bedding and other objects that are not fragile. Airtight bags can also be used for small belongings that would be easy to lose if stored in boxes.
Another tip to make a neat move is to write down a list of all the things that you keep in each box. You can also number the boxes to know exactly what objects are inside each one. Make your own inventory!
2. Supplies to transport furniture
The process of packing furniture is very important and it must be done in a certain way so that it arrives at your new home safely and without any scratches. Here are the best moving out supplies to transport furniture:
Furniture pads and covers
Furniture pads will help protect your heaviest items. There's no need to buy them, you can rent them for cheap. As for furniture covers, they help you keep furniture clean and safe.
Plastic wrap will be useful to avoid scratches or dirt on our furniture. They are recommended for covering objects such as tables or lamps.
Screwdrivers, tweezers and pliers
You will need these basic tools in order to remove some pieces of furniture or disassemble them if necessary.
Foam or bubble wrap will help you seal and cover furniture. It's better to make sure you have extra protection.
Any cardboard that you can mold will do the job. The idea is to cover the most vulnerable parts of your furniture such as corners and edges.
Materials such as newspapers, towels, clothes or blankets will help you fill in the empty spaces or cover large furniture a little more.
Corner guards are very useful especially on furniture such as tables, chairs or platform beds to prevent the corners from deteriorating. You can find both cardboard and foam corner guards.
When you move out of a house, one of the most important things is to make sure you leave the house perfectly clean and in the best possible condition. You want to make sure that the full security deposit fee will be returned to you without any issues.

This is the basic checklist for cleaning supplies:
Bleach

Floor cleaners

Furniture polish

Mop

Paper towels

Rags

Rubber gloves

Scrubbing brush

Sponges

Stain remover

Vacuum cleaner

Vinegar
Make sure to leave all parts of the house clean: ceilings, walls, windows, kitchen, bathrooms, floors and bedrooms. You should also be aware that there is no trace of strong odors. If you are a smoker, you should use an air freshener spray to neutralize the smell of tobacco.
4. Extra supplies that can make the difference
There are a couple of extra supplies that can come in handy if you want to be 100% confident everything is under control. Check out this extra moving supplies list:
Security padlocks

Set of tools

Measuring tape

Trash bags
As the saying goes: Sometimes it's better to be safe than sorry.
How do I pack my belongings to move?
Moving day is arriving soon and you're not sure how to pack all your belongings? Remember that it's always better to go step by step, completing tasks one by one and packing without feeling pressured.

Moving and packing can seem a bit messy, but we've got your back. As a tip, you should grab this opportunity to reorder your belongings and donate or get rid of things you don't need. Check out the following steps in order to pack your stuff properly:

Collect all your moving boxes and packing material. 

Use old clothes as padding material. You can wrap glass objects in socks.

Create a folder with all your important documents (reservation of moving transport, contracts, etc.)

Take pictures of all your electronic devices setups. 

Pack your suitcase and put everything into boxes. Remember to pack your utensils and cleaning supplies last, as you will probably need them soon.
What items should you move first when moving?
The most (or less) expected moment has arrived! Put on the most comfortable clothes you have and play some nice music. There really is no magic recipe or specific order, but here are some moving and packing tips that will surely help you out:
The best way to carry out an organized move is to go room by room: all the objects that are in the bathroom together, all those in the living room together and so on… Think about it, when you have to unpack your boxes, the less you have to move from one place to another, the better.

Another useful tip is not having any furniture or objects empty. If it's furniture you're

moving

, fill the drawers. If you have a lot of backpacks, fill them with clothes!
Share this article on social media
Related questions from the community
Have a question about your move? Ask our community.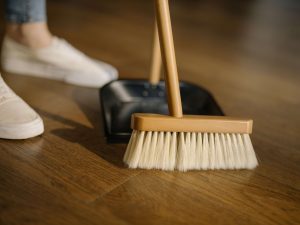 House Cleaning Service
MovingWaldo is Canada's largest online resource when it comes to moving. This is our ultimate spring cleaning checklist. Use it for a flawless move!
Read more »