The Essential Checklist for Moving to British Columbia from Another Province​
Moving can be a hassle, especially if you are moving to BC from another province. It is in such circumstances that one often wonders if they had access to a one for all documents that could help them out in the procedure. The hassle is not because of the length of the entire procedure, per se. It is mainly because of the sheer amount of stuff one needs to get done before they can truly claim to have settled in at a new place.
Settling into British Columbia is a tedious task in itself. With this guide, get a grip on all the things you might need to get done after you move into your new humble abode in this province.
MovingWaldo's checklist when moving to another province:
1. Hire an interprovincial moving company
What should I look for in a long distance moving company?
If you're planning for a big move such as moving to BC from another province, you need to make sure you hire a long distance moving company that you can trust with everything you have. Here are a few things you should look for when you inquire long distance professional movers.
Are Your Movers an Established, Experienced Moving Company?
Naturally, you would want only the best movers to take care of your family's belongings—keep in mind that a good mover learned from years of experience. It takes years of fine-tuning, training their staff and even through trial-and-error. With that in mind, always ask your prospecting companies about how long they have been in the business for. By going after established movers, you're ensuring that they have all knowledge on all the rules and regulations that need to be adhered to while moving across the country. They should have strong online reviews, rewards and accreditations form established institutions such as the Canadian Association of Movers or the BBB. Moreover, these interprovincial professional movers will also have networks across Canada to help make your move a lot more streamlined and safer. Luckily, we curated interprovincial movers, so you don't have to.
Is Damage Insurance included with the Moving Services?
It's crucial that your movers offer damage insurance. Make sure you get a full rundown of their insurance policy when you request your quote. Moving across the country is a lengthy process and it's likely your stuff will make many stops before reaching its destination—there's a chance it may get slightly damaged in the process. You should always ask the movers about what is included in the damage insurance.
2. Connect your home to BC Hydro prior to moving to BC
How Much Is the Average Monthly Cost of a Utility Bill in BC?
Energy services are pretty simple when it comes to signing up while living in British Columbia. The main company providing energy services to the provinces is the BC Hydro and Power Authority. Signing up for the service is simpler than one might expect. All you will need to do is sign up for free through their website, which is easy to use and even easier to find.
What information is required?
Basic details including your name, address, and billing credentials are required in order to process this signing up request, and for the continuation of services to your account.
3. Set up internet & TV at your new home in BC
In the province of British Columbia, Telus and Shaw are leading internet providers in BC but many other internet companies offer great services. These two are unmatched in terms of service quality throughout British Columbia. Signing up for the can be done through a simple phone call or book online through their websites.
4. Set up a Home Security System
Their are many options when it comes to domotics and home security in British Columbia. Services for home security typically include top-notch smart locks that can only be accessed by the owner, doorbell cameras for distance security, as well as many smart sensors with multiple applications.
When you are ready to compare the various options available for your home, you can visit the link below where we curated a few options for your new home.
5. Secure Home Insurance with an accredited insurance carrier in British Columbia
Before moving to British Columbia, you should reach out to your current home insurance carrier. Chances are they do not have to authority to protect your new home in BC. If that's the case, you should investigate local home insurance and get multiple quotes. It is true that one has to go through a multitude of forms and documents to make it to the end, but the benefits far outweigh the cons.
6. Open an account with ICBC Autoplan
If you are moving to BC from Manitoba (Manitoba Public Insurance) or Saskatchewan (SGI), you are familiar with auto insurance managed by the public system. Otherwise, it might be new to you to go through the government to secure your auto insurance. 
In British Columbia, Autoplan insurance is sold exclusively through the province-wide network of 900 ICBC Autoplan brokers. The public coverage includes great benefits post any mishap or accident.
You have 30 days upon arrival to BC to register, license and insure your vehicle with Autoplan.
How to apply to ICBC Autoplan?
7. Apply for your Health Card from the BC Government
Health cards are one of the most important parts of any Canadian's life, and living without one is considered highly irresponsible. All BC residents must enroll in the Medical Services Plan (MSP).  In such a situation, it is only right that one looks for health card registration as soon as they shift to British Columbia as well. Health cards are issued on your national identity and are easy to obtain. When moving to BC from another Canadian province, one must arrange for coverage with your former medical plan during the transition period.
How to apply to Medical Services Plan (MSP)?
You can easily apply online on the BC Government website. It takes 15 minutes to complete the form of an MSP coverage.
What information is required?
You will be asked to upload identification proof (photo or scan) for every family member in your application. For a Canadian citizen, you must provide at least one of the following proofs of identification:
Canadian Birth Certificate
Canadian Passport
Canadian Citizenship or Certificate
Visit the BC Government's website for more details.
You can also visit an office of the Insurance Corporation of British Columbia. Over here, the staff will guide you and help you out through the entire procedure of obtaining a photo BC Services card.
What if all my family members did not move to BC yet?
All family members that did not move to BC yet must keep their existing provincial health care. Once they arrive, you can apply to add them to your plan. The wait period for each family member will begin on their individual arrival date.
What if my MSP coverage is under a group plan?
In that case, you should contact your group administrator.
8. Apply for a Driver's Licence upon arrival in BC
Once moved to BC, you have 90 days to apply to your ICBC driver's licence. All you need to do after this is making yourself available for a visit to your closest ICBC office, where you will need to fill registration forms and other such paraphernalia. The insurance corporation of British Columbia (ICBC) has offices set up for driver's licences all over the province.
What information is required?
You will be asked to show two accepted ID by the ICBC agent. Below are some of the most popular accepted ID. For more information about valid ID, you should visit the ICBC's website.
BC driver's licence or learner's licence
BC Services Card
Birth Certificate
Canadian Passport
9. Apply for BC Public Drug Insurance
BC PharmaCare is your go-to place for public drug insurance as you move to British Columbia. BC PharmaCare's responsibility is to help BC citizen with the cost of drugs. Insurance plans offer contingency against any measures that may be detrimental to your health as well as finances. BC PharmaCare covers comprehensive list of drugs, certain medical supplies and pharmacy services.
What are the requirements to apply to BC PharmaCare?
All BC citizen is eligible to the program. You must be registered to Medical Services Plan (MSP) and accept that BC PharmaCare checks your income with the Canada Revenue Agency (CRA).
What information is required?
BC Fair PharmaCare is an Income-Based program. For that reason, you must provide income information when you want to register to the program.
For all family members:

Personal Health Number (found on the back of your driver's license or BC Services Card)
birth date

For you and your spouse:

Social Insurance Number
Income from the tax return from two years ago, including:

net income (line 236 of the return)
any income from a Registered Disability Savings Plan (RDSP) (line 125)
British Columbia is a province with great opportunities and growth prospects. However, it does have its own set of rules as well, which dictate certain norms of living. These need to be followed in order to lead a comfortable and hassle-free life within the area. These abovementioned documents and requirements cover the absolutely necessary portion of things you need to take care of when you move into BC, and any other things that you might need come under the optional tag.
Share this article on social media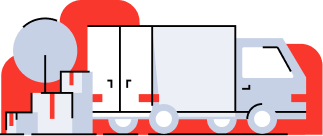 Compare the Best Moving Services available at your address!
Moving States
How to Notify the New York DMV of an Address Change? How to change your address for your New York DMV? When looking to change your address for your New York DMV, you have three options
Read more »
Check out MovingWaldo's free moving app that will save you up to 10 hours of paperwork. And it's free.