Shortline Moving: Reviews, Pricing, Services & More!
ShortLine Moving is the preferred moving company for residents and businesses in Winnipeg, rural Manitoba, and Northwestern Ontario. It was established in 2015 by Alex Hupé and has risen to the top of the moving industry. Alex started the journey to being a renowned mover in February 2014 when he bought his first 5-ton truck. Since its inception, ShortLine Moving has dedicated itself to honesty, integrity, and respect for the customer, which has allowed it to grow into a loved brand. In line with their founding principles, ShortLine Moving is big on charity and is awake to its social responsibility. It supports some charities, including The Dream Factory, Main Street Project, Willow Place, Agape Table & Gonzaga Middle School.
Review of Shortline Moving
Booking trustworthy movers starts here
Compare multiple moving quotes calculated across the same metrics
Shortline Moving's Service Locations
ShortLine Moving's headquarters is in Winnipeg, Manitoba. Their headquarters provides residential and commercial moving services to customers in Winnipeg, rural Manitoba, and Northwestern Ontario. ShortLine Moving also offers long distance moves between Manitoba and Saskatchewan.
ShortLine Moving's popular routes
Shortline focuses on local moves, catering to residential and commercial clients. They also move all sorts of offices and even heavy machinery around Manitoba. Popular routes include:
Winnipeg to Tuxedo

Winnipeg to St. James

Winnipeg to Charleswood

Winnipeg to Saskatoon
Shortline Moving's Review from the Web
ShortLine Moving's reviews are nothing short of expected. Shortline offers exceptional next-level moving services. Their business growth is based on referrals, so they understand that delivering 100% to their customers is the topmost priority.
4.6/5 based on over 500 reviews from the web
Excellent customer service and top-rated client reviews
Website

Reviews

Google 

4.7/5 out of 235 reviews

"The moving team was efficient and expeditious! They moved large, awkward, and heavy furniture with relative ease,  never brushing up against any wall or stair railing in the process. They had no problem maneuvering the furniture through the house entrance doors. They laid floor mats out to protect the flooring. And this on a day when it was brutally cold out !! And the price was very fair !! GREAT JOB GUYS!!!"

Facebook 

4.7/5 out of 30 reviews

"Great experience. My move was from a 2nd-floor condo into a storage unit. The invoice came in at less than quoted. Both gentlemen were nice, friendly, quick, efficient & provided a quality service. Will be using again in the future."

Nice Local 

4.4/5 out of 99 reviews

"Very pleasant experience! My first contact with customer service was phenomenal! They were professional, responsive and very accommodating. Our movers were very nice, professional and most importantly they took great care of our belongings. Will definitely choose Shortline again if I move and highly recommend it to anyone who is looking for a moving service."

Live Way 

4.6/5 out of 140 reviews

"Had a great crew from Shortline handle our move across town. The movers hustled from start to finish to give us the best value for the time it took. They made sure items were handled safely and efficiently. If you need a great crew, these are the guys."
ShortLine Moving's pricing
Shortline Movers' pricing system is straightforward and has no hidden fees. As a matter of fact, from the website and ShortLine Moving's reviews, they offer the most accurate moving estimates. You can get the most accurate moving quote & save 10% off your move by using ShortLine Moving's Moving Calculator. You can also get a quote by filling out their contact form, by emailing them or by calling.
ShortLine Moving's services
Moving services offered by ShortLine Moving
Besides residential and office moves around Winnipeg,  ShortLine Moving also provides other services.
Other services offered by ShortLine Moving
Commercial moving
ShortLine Moving assists big and small businesses with cross-docking, logistics, third-party warehousing, delivery, and other commercial moving services. Their fleet of 5-ton trucks and cube vans is ready to get to work. ShortLine Moving provides this service to businesses in Winnipeg and surrounding areas. Even if you require a 200,000 square foot factory relocation or need to move a fully stocked warehouse, ShortLine Moving can handle all of the logistics. They'll assign a commercial relocation manager to scope and price every aspect of your upcoming move to ensure a smooth move.
Packing materials
ShortLine Moving has all of the essential packing materials you could need for your move. Their rates are also comparable to big-box retailers, and they offer partial refunds on some used materials. So if you need supplies for any type of move, they have what you need to wrap it up in Winnipeg and the surrounding areas.
Storage
In Winnipeg, ShortLine offers affordable and secure indoor storage solutions in a 10,000+ sq ft. warehouse climate-controlled, secured, and monitored 24/7. Through this, you can rest assured of the condition and safety of your items under their storage care.
Specialty item moves
Specialty items moves include pianos, gun safes, hot water tanks, and more. Moving a piano safely and adequately takes trained and experienced professionals. The ShortLine Moving team has the knowledge and equipment to properly move your piano from your new location without any damage or stress, no matter the piano type. They are also insured to transport your specialty cargo and handle it with care from initial contact to delivery at its destination. The movers know how to disassemble and set up your piano in a precise manner to get it to your new home without so much as a scratch.
Heavy equipment moves
Not every move involves relocating your entire business to a new location. Sometimes you may just need to move a piece of equipment within your space, but it still presents your team with difficulties such as being extremely heavy, delicate, or awkward. Yes, ShortLine Moving also has a dedicated team specializing in rigging equipment to move heavy objects. Your equipment and infrastructure are valuable, so don't risk damaging them. Let the experts move all your heavy equipment with fast, next-day service.
Why MovingWaldo recommends ShortLine Moving
MovingWaldo recommends ShortLine Moving because they offer a multitude of services catering to all your moving related needs in Winnipeg. ShortLine Moving's reviews show that they fulfill their promise to provide the most accurate moving estimates, which help customers make better-informed decisions, especially within their budgets. ShortLine Moving has also proven its worth and expertise in the industry through its consistency, earning it a Better Business Bureau (BBB) A+ rating.
Pros & cons of ShortLine Moving
Accurate and free moving estimates 

Professional and highly skilled team

Secure, climate-controlled storage unit. LEED Certified.

Better Business Bureau A+ rating member

They transport plants

Specialty moving available for single item 

Multitude of  moving related services available all in one place

A moving calculator that helps you save 10% of your moving cost

Speedy response, effective communication, swift services.
Services like storage, packing materials, and commercial moves are limited to Winnipeg and surrounding areas.

Long distance moves are limited to Manitoba and Saskatchewan only.
Frequently asked questions about ShortLine Moving
What type of insurance policy does ShortLine Moving offer?
ShortLine Moving's level of insurance depends on the services that you request. Ensure to ask your questions or concerns about the insurance you are entitled to when requesting your moving estimate.
How does ShortLine Moving charge?
On residential and commercial moves, they charge on an hourly basis. Their clock starts when they leave their office and ends when they return from your move. Moves within Winnipeg have no fuel surcharges or hidden fees outside of their regular hourly rate. Specialty items such as piano or hot tub moves, rates are set on a fixed price basis. Their moving staff will review the charges with you before accepting payment.
What items can ShortLine Moving not move?
ShortLine Moving cannot transport matches, propane, oil, paint, aerosols, and other flammable materials. Clients must drain fuel from things such as lawn mowers before transporting them.
What forms of payment does ShortLine Moving accept?
They accept cash, e-transfer, Mastercard & Visa. They do not accept debit cards, cheques, or American Express.
Share this article on social media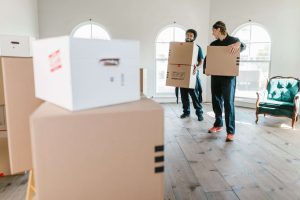 Long Distance Moving US
There are several factors that determine whether you can trust a long distance moving company. You can find dozens of recommendations over the internet. However, it is difficult to weed out the good from the bad. To help make the task easier for you, we have compiled a detailed list of the best long distance movers in Canada.
Read more »