Review of International Van Lines Services - Everything You Need to Know
You may have searched for the best moving company to assist with your planned move and came up with International Van Lines as one of your choices. The company is an all-in-one moving provider that specializes in international, local, and long-distance moves.  In this article, we will give you a full review of International Van Lines and everything you need to know about this company.
Review of International Van Lines
General Information About International Van Lines
International Van Lines or IVL opened on July 7th, 2000, mainly as an international moving and logistics provider. In 2004, the company opened its doors to local moving after buying its first truck. They then discovered the vast domestic market, expanded their fleet, and started offering long-distance moving services. 
IVL handles full-service moving, including automobile transportation and storage services. The company was recognized by INC500, being one of the fastest-growing businesses in America. Today, IVL has more than 200 employees consisting of movers and office staff. 
Where Is International Van Lines Available in the United States?
International Van Lines covers the entirety of the United States and over 150 countries worldwide. Currently, they have locations in Florida, Illinois, California, Pennsylvania, and Texas. They can also support pickup services in almost any state in the US and the availability of warehouses nationwide. The company is a broker and a carrier, so it may outsource transportation services to other companies. For outside the states mentioned above, IVL partners with other moving providers to carry out the process. 
What Services Are Offered by International Van Lines?
The following will be a comprehensive list of International Van Lines services. It is categorized into three services – long-distance, international, and local. 
If you are moving within your state or to a nearby neighborhood, it is called local moving. Rates and charges will be on an hourly basis. 
Packing and Loading.

Rather than renting a truck, packing, and loading by yourself, allow IVL to handle the load. This will also ease your burden of worrying about your move. You can also have a professional packing of smaller items, like your books, clothes, and shoes. An inventory is done of all the things that will be transported to your new place. 

Storage.

You can opt for short or long-term storage. You can be sure that all your belongings will be safe with their cameras systems. All your items are fully insured and you can have them ready for delivery whenever you want. For long-term storage, your items will be in a crate at a temperature-controlled warehouse. 

Disassembly and Reassembly.

You can also rely on IVL to disassemble and reassemble furniture for you. All furniture will be properly wrapped and protected. 

Insurance.

All moving services of IVL come with basic insurance coverage. For property protection, IVL also keeps a one-million-dollar insurance policy. 
Long-distance services still involve those mentioned on local moving and more. They also offer services like assembly/disassembly, full packing, and supplies, custom crating, storage, insurance, and offloading/debris removal. 
Additional services under long-distance moving are the following:
Auto Transport.

International Van Lines has open and enclosed trailers if you wish to ship an automobile overseas or cross country. They also offer container service for any ocean freight transportation needs. 

Corporate Relocation Moving Services.

There can be instances when your employees have to relocate to the company branch as soon as possible. IVL has experts to work with businesses and their employees closely. This is to formulate logistics and design a relocation plan to help save you time and money. 

Office Moves.

Whether it is a large-scale move or only two porters for an internal move, it is essential to have a plan with your moving provider. An efficient moving provider for an office move is vital since not all businesses can pause operations for longer days to accommodate the move. 

Government and Military Moving Services.

IVL has specialists to assist clients planning for a military or government move. Whether you plan to ship containers, freight, equipment, or move household items, you can count on International Van Lines services to fulfill those. 
International Van Lines excels in international moving. IVL is a direct source of international relocation, so moving will be cheaper. More importantly, you will not be passed from one agency to another after reservation. IVL assures to oversee the process until the end. 
Ocean Freight Shipping.

This is the most affordable choice if you plan to ship boxes or a whole household. IVL offers door to port, door to door, port to port, and port to door service solutions. 

Full Containers Load Sizes.

There are 20' and 40' dry containers that you can choose from for your international move. They are manufactured from either steel or aluminum and are ideal for most types of cargo and a standard for international moving. 

Air Freight.

This is the fastest way to ship goods internationally. Transporting goods through air freight is much quicker and easier. This service can be costly. However, if you need to ship your items urgently, then this can be your option.

IVL has a door to terminal, door to door, terminal to terminal, and terminal to door services. Your items will be shrink-wrapped and be put on pallets. 
Auto Shipping.

IVL also excels in motorcycle, auto, boat, and cargo shopping services in the UK, US, China, and Australia. The company will assist you in the necessary customs and shipping paperwork and clearances. 

Marine Insurance.

There are two kinds of marine insurance that IVL offers- the All Risk Marine Insurance and the Total Loss Marine Insurance. The first one is open to clients that have their items professionally packed. This insurance covers any damage or loss to your shipment. Meanwhile, the Total Loss Marine Insurance is for customers who choose to pack their goods themselves. 
Whether it is an International Van Lines rental cost or the entire cost of the moving service, it is best to estimate, so you know how much you will spend. Here are a few  examples of the cost of services with IVL. 
Here you will see an average cost for a local move. Remember that, unlike long-distance moving, the rate is on an hourly basis. 
For

3 movers

, you can expect an

hourly rate of 150$

and an

hourly rate with full packing of 180$*.

For

4 movers

, you can expect an

hourly rate of 200$

and an

hourly rate with full packing of 230$.

For

5 movers

, you can expect an

hourly rate of 250$

and an

hourly rate with full packing of 280$.

For

6 movers

, you can expect an

hourly rate of 300$

and an

hourly rate with full packing of 330$.
* An hourly rate with full packing means that the price indicated will be charged for each hour that you use and that the company takes care of the packing. 
Here is another local move cost estimate with reference to the number of bedrooms in a house. 
For

Two-Bedroom

,

3 movers

are suggested at a

150 hourly rate

.

For a

Three-bedroom

,

4 movers

are suggested at a

200 hourly rate.

For a

Four-bedroom

,

4 movers

are suggested at a

200 hourly rate.

For a

Five-bedroom

,

5 movers

are suggested at a

250 hourly rate.
Here is an estimated cost for long-distance moving. 
For

300-500 cubic feet

the estimated cost is

between 357$ and 625$

for a full pack.

For

600-900 cubic feet

the estimated cost is

between 750$ and 1125$

for a full pack.

For

100-1500 cubic feet

the estimated cost is

between 1250$ and 1875$

for a full pack.

For

1600-2000 cubic feet

the estimated cost is

between 2000$ and 2500$

for a full pack.
Different other factors should also be taken into consideration for pricing such as: 
Is there an elevator?

How many flight of stairs?

Is it long to carry?

Do you need packing materials?

Will you be needing shuttle service?

Do you have bulky items?

Do you require piano handling?

Do you require motorcycle handling?

Do you need storage?
It is also essential to note the International Van Lines does not provide exact pricing for their services, and the above costs are just estimates. This is because moving costs will depend on several factors such as distance, the number of items you need to transport, and other services. The moving cost calculator can help with your moving costs, or you can request a quote from IVL's website. 
Pros and Cons of International Van Lines
As good as a moving provider is, you still need to weigh your options and see what other people say about a service. Below is a quick International Van Lines review. 
Their services are available worldwide

Excellence in customer service

Optional storage

Provides full-service moves, including automobiles and specialty items
Some moves are outsourced from other providers
Why Choose International Van Lines For a Moving Company?
One of the good reasons clients look forward to the services from International Van Lines is its ability to take care of their clients. Its website has a live chat option and 24/7 customer service over the phone IVL was even nominated as America's Best Customer Service in 2021. 
It's no secret that with the extensive services IVL offers, every client has the full privilege of taking part in every moving service that they offer. They are an experienced provider that caters to international and domestic moving needs. So you can expect that IVL has great connections not just in the US but also overseas. 
FAQ - The Most Frequently Asked Questions About International Van Lines
What Are International Van Lines Business Hours?
Business hours for International Van Lines are not indicated, but you can reach them through char or call anytime. 
How Can I Modify or Cancel an Existing International Van Lines Reservation?
If you wish to cancel your reservation, you need to contact IVL through email (cs@internationalvanlines.com) with your reference number. Suppose you need to make changes with your reservation; you need to call IVL to make the necessary adjustments. 
How Do I Find International Van Lines Near Me?
Once you plan to get a quote from IVL, you will also be asked for your location so that the company will know about the International Van Lines near you. 
How Much Advance Notice Do International Van Lines Need?
For a long-distance move, IVL requires an advanced notice of a minimum of two weeks for off-season and four weeks for peak season. In the moving industry, the off-season starts from September to March, while the peak is from March to September. 
What Is International Van Lines Cancellation Policy?
 International Van Lines has a required deposit of 25% upon reservation. Once you cancel, the deposit will be refundable if you reach out and inform the company 48 hours before the pickup date. 
Do International Van Lines Offer Storage?
Yes. International Van Lines offers storage.
International Van Lines is on top in the moving industry, hence the good reviews from clients. When choosing a moving provider, what other people say about a service can always come in handy, but it will still depend on your preference and the services you'll need for your move. If you plan to move overseas or long-distance, IVL can be on top of your options. 
Share this article on social media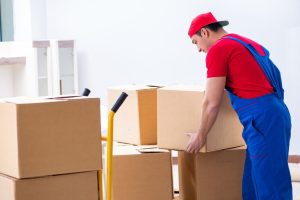 Moving tips
How much do movers cost in Gatineau? Understanding your moving quote. In the past several years, MovingWaldo collaborated with various of Gatineau-based moving companies and learned plenty about their various pricing models. We gathered information that
Read more »