Best Office Moving Companies Victoria - Find the perfect office mover near me.
Moving an office to a different location is stressful and not simple. Fortunately, there are great office movers in Victoria to make the process organized and safe. The most reliable office moving company will take the ultimate care of your office resources and help you move from your old office to the new one in one smooth process. They will also assist you and will offer removal services to clean your office space. Some companies will provide storage and packing options as well. All these solutions will be at the most reasonable price.
Did you know? Commercial movers can assist different types of industries
Businesses move for many reasons: usually it's due to a shift in their business opportunities or a strategic decision for the growth of the company. Let's not forget that all industries can move which included detail stores, libraries, hospitals to name a few. Some other industries will also move to a different site for business needs.
MovingWaldo's list of the 5 best office movers in Victoria
MovingWaldo is Canada's #1 Free Moving Concierge Service. Since 2016, we help millions of Canadians tackle moving tasks in minutes. We care to take the stress away from moving by offering free tools, tips and tricks and referral of service providers that you can trust. MovingWaldo is everything moving under the same roof!
How are moving companies selected?
Our network of movers you can trust is carefully built based on professionalism, years of experience, accreditation, awards and social proofs from customers. We care to help you through the maze of information the web provides about this unique industry. You can trust the movers listed here to guide you and your family safely into moving day!
Are you a good moving company?
4.8 stars based on 182 reviews from around the web

You Move Me is a professional moving company that services Victoria and the surrounding area. It has been in business since 2014, earning an excellent reputation on Google and Yelp, alongside a BBB accreditation and A+ rating. This makes it ideal for anyone seeking a friendly and professional moving service in the Victoria area.
Office Moving Services offered by You Move Me
Dedicated moving coordinator for easy and efficient management of the move
Packing and labelling of boxes
Furniture disassembly and reassembly
Unpacking and setup of electronics
Protective padding and wrapping of large furniture
Locating storage facilities
Inventory management
A+ (Accredited since 2016)
Victoria, with offices in British Columbia and Ontario in Canada, Arizona, California, Florida, Hawaii, Kansas, Minnesota, Ohio, Oklahoma, Pennsylvania and Washington in the USA
Simple and hassle-free moving process
Service is always on time and within budget
Movers are friendly, courteous and uniformed
Fully licensed and insured
Services are restricted to North America only
Do not have own warehouse for storage
Types of industries You Move Me specialized in
Residential
New store setup
Warehouses
Retail closures
Store rearrangements
Small and big office moves
Why do we recommend You Move Me for your office move in Victoria?
Even if you check out the services of other office moving companies, you will still come back to You Move Me for many reasons. First, the punctuality and professionalism of their moving crew is just unparalleled. There will be absolutely no damages or mishandling of items. They work efficiently and often finish earlier than scheduled, which will result in a lower fee. They go above and beyond to ensure that your move, whether residential or commercial, goes as smoothly as possible.
4 stars based on 1 reviews from around the web

Office Move Pro specialize in commercial moves, making them ideal for any business that is seeking to relocate. They have earnt an excellent reputation and are members of all the relevant moving organizations, including CAM and the BBB. They can also be used for larger residential moves, making them perfect for anyone who wants a quick, efficient, and professional move.
Office Moving Services offered by Office Move Pro
Office Moving
Furniture Installation
Commercial Storage
Moving Box Rental
Furniture Removal
Covid-19 Workplace and Delivery Services
Certified office furniture systems installation
Panel and chair cleaning and refurbishing
A+ (Accredited since 2016)
Calgary, Edmonton, Halifax, Kitchener-Waterloo, Montreal, Ottawa, Regina, Saskatoon, St. Catharines, Toronto, Vancouver, Victoria, Winnipeg
Usually accepts last minute bookings
Dedicated project manager for each office move
Office Move net system for tracking status of office relocation
Custom crating for special items
Environment friendly recycling programs
Some services are not included in the initial estimate
Types of industries Office Move Pro specialized in
Laboratories and Medical Centers
Hospitals
Schools and libraries
Warehouses
Internal and external business offices
Why do we recommend Office Move Pro for your office move in Victoria
Office Move Pro is a very reliable company to hire for any office move. They have had several years of experience in the moving industry and with their deep understanding of the process, you can be sure that the move will go smoothly. Office Move Pro also offers several extra services outside the standard package, which can make your office relocation even more efficient. They can even accommodate last minute requests!
933 Ellery St #4, Victoria, BC V9A 4R9
4.9 stars based on 288 reviews from around the web

GetMovers is a moving company operating throughout Canada. For many years, now, they have offered their customers punctual and safe services to ensure a stress-free move. Specializing in local residential and commercial moves, they are a great option for anyone looking for a mover. However, they also offer long-distance services, perfect for interprovincial moves. They also distinguish themselves from the competition by having back up trucks and crews in cases of last minute moves or emergencies. This ensures you always have your movers on time as schedule. Finally, they are a one-stop-shop for every moving needs, whether you need storage, packing, moving or manpower only, they offer many services and can meet all your demands.
Services offered in Victoria
Residential moving

Commercial moving

Long-distance moving

Interprovincial and international moving

Senior and student moving

Last minute and emergency moving

Storage services

Packing services


Junk removal
They services every provinces and territories in Canada.
Available in all provinces and territories
Emergencies and last-minute moves
Specialized services such as senior, student or piano moves
Open 7 days a week in order to always be available.
Insurance fees are not included
3-hour minimum charges.
Types of industries GetMovers specialized in
Commercial Moving
IT and computer moving
White gloves service for B2B
Factories
School and public areas
Office relocations
Why Should I choose GetMovers for my Office Move in Victoria?
Offering customizable services, GetMovers can answer all your needs and preferences, making sure your move goes as plan. With many years of experience, they understand the logistics of a move and can help you with this whole process from A to Z. Their number one goal is to offer you an easy moving experience, as such, they make sure their movers are well-trained and professional, and always on time.
4.3 stars based on 12 reviews from around the web

AMJ Campbell is the largest coast-to-coast moving company in Canada. Moving can be a very complicated and stressful process, which is why they always do their best to take all the stress and worry away from you. Their system for moving and relocation is very efficient and reliable. They have the most courteous and trustworthy movers. You can be sure that their team will handle all your office furniture and equipment with the utmost care!
Office Moving Services offered by AMJ Campbell
Complete document shredding and recycling services
Commercial storage solutions for different businesses
Climate-controlled storage with 24-hour security
Furniture consultation
Disassembly and reassembly
Decommissioning of used furniture
Design and space planning
Inventory management
Document storage
A+ (Accredited since 1981)

Ontario, Manitoba, British Columbia, Saskatchewan, Newfoundland, Quebec, Ontario, Prince Edward Island, New Brunswick, Alberta, Nova Scotia, Florida USA
More than 1 million satisfied customers and 500,000 businesses moved
Special consideration for small details and client requests
Back-up plans in case of sudden changes
Fees are higher compared to most moving companies
Types of industries AMJ Campbell specialized in
Residential
Small and Big Offices
IT Equipment and Electronics
Why do we recommend AMJ Campbell for your office move in Victoria?
The 85 years of experience of AMJ Campbell in the industry of moving and relocating homes and offices is in itself a tribute to the kind of service that they can offer. Indeed, for them to last so long in the industry only means that they have encountered every single possible hurdle in moving, and have already created solutions for these problems. Thus you can be assured that things will go smoothly if you hire them to handle your home or office move.
4386 Westshore Pkwy, Victoria, BC V9B 5Z1
4.3 stars based on 14 reviews from around the web

Bekins Moving and Storage was first established in 1891 – the company has over 120 years of experience helping Canadians to move their homes and businesses. They provide extensive residential and commercial services to the city of Nanaimo from their Coombs location. This company also offers international moving services for people moving to the United States from Canada.
Office Moving Services offered by Bekins Moving & Storage
Centralized account management to better manage your move
Market specific office moving and IOMI certified team members
Technology relocation
Short term and long term storage
Transportation
MAC works
A+ (Accredited since 1981)

Nanaimo (serviced by the Coombs location), Coombs – Parksville, Surrey – Vancouver, Kelowna – Okanagan, Prince George, Saanichton – Victoria
Local moves completed within 24 hours
Free basic liability protection for all items, and optional full replacement value coverage for an extra charge
Fully licensed with the Federal Motor Carrier Safety Administration (FMCSA), Department of Transportation (DOT), and local governance
4-hour minimum charge for local moves, and 1000lb minimum load charge for long distance moves
Types of industries Bekins Moving & Storage specialized in
Small and big office spaces
Why do we recommend Bekins Moving & Storage for your office move in Victoria?
MyBekins is focused on moving your office safely and in as little time as possible in order to minimize business downtime. They understand the importance of time in any business and thus will work hard to reduce interruption as much as possible. They are very good in what they do. Essentially all you have to do is tell them where to bring your office and they will take care of everything for you.
6598 Bryn Rd, Saanichton, BC V8M 1X6
Moving is often synonymous of stress, long administrative tasks and a significant waste of time and money. MovingWaldo helps you solve all these problems in just a few clicks! After some shameless self-promotion, we invite you to discover our free moving tools available to all.
Connect the Internet, TV and phone.

Secure home and auto insurance

Find resources, checklists and more.
We bring together more than 700 organizations across Canada with a single and simplified form.
Other Commercial Moving Companies in Canada
Frequently Asked Questions about Office Moving
How much does an office moving company charge?
Office Moving Company set their charges based on several factors. For instance, your business size is the most important factor that will calculate the cost. Movers need to know the number of workstations, desks, cables, and servers you must transport to the new location. Not to forget, the overall design of the new space and the presence of business equipment may affect the cost.
Do I have to close my business on moving day?
Most of the business owners feel that they will have some disruptions on the day of the relocation. However, the best movers always try their best to minimize the hassle. You may need to shut down your business for a few hours to avoid potential operational issues depending on your activities. We think that you must prepare in advance to prevent complications. If it's possible, prioritize work from home on the day of. There will be fewer people in the way of the movers, and they will have more space to circulate.
What should my employees do prior to the moving day?
You must assign some responsibilities to your employees before the move and inform them on how the move will go. In other words, you must remind them when to pack their belongings and answer all their questions. A move can create some stress for some, it is important that Human Resources are ready to do some change management counselling to accompany employees throughout the process.
Does the mover set up the electronic devices?
Office moving company works with teams of certified engineers and technicians who will set up your electronic items, including telephone lines, servers, and cable networks. They will help you with the proper installation of IT infrastructure. If they do not provide the service, they will direct you to the right resources.
What are 5 tips for a perfect office move?
We have the best tips to reduce your stress during the office move.
Choose the best team of professional movers by communicating your needs and demands.

Engage your employees, it will encourage them to collaborate with the move.

Communicate often with your employees, vendors, and the moving companies.

You must start packing your electronic items,

 

documents, and other resources several days before the day of your move. Everything needs to be ready on your Moving Day.

Be aware of weather conditions, traffic problems, and several other issues that may delay the overall process. Thus, you must anticipate the possible delays while thinking of relocating your office.
Share this article on social media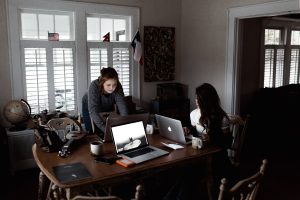 Internet Service Providers
Getting the right telecommunication provider for yourself is a matter of research and understanding what are your expectations. Today technology is helping us more and more to develop ways of communicating with each other. So if you need alternatives to Shaw and Telus in Victoria, Nanaimo, and Vancouver Island, BC, you are in the right place.
Read more »
Check out MovingWaldo's free moving platform and find everything your need for your move. No sign up required!