Best Office Moving Companies Mississauga - Find the perfect office mover near me.
Moving an office to a different location is stressful and not simple. Fortunately, there are great office movers in Mississauga to make the process organized and safe. The most reliable office moving company will take the ultimate care of your office resources and help you move from your old office to the new one in one smooth process. They will also assist you and will offer removal services to clean your office space. Some companies will provide storage and packing options as well. All these solutions will be at the most reasonable price.
Did you know? Commercial movers can assist different types of industries
Businesses move for many reasons: usually it's due to a shift in their business opportunities or a strategic decision for the growth of the company. Let's not forget that all industries can move which included detail stores, libraries, hospitals to name a few. Some other industries will also move to a different site for business needs.
MovingWaldo's list of the 5 best office movers in Mississauga
MovingWaldo is Canada's #1 Free Moving Concierge Service. Since 2016, we help millions of Canadians tackle moving tasks in minutes. We care to take the stress away from moving by offering free tools, tips and tricks and referral of service providers that you can trust. MovingWaldo is everything moving under the same roof!
How are moving companies selected?
Our network of movers you can trust is carefully built based on professionalism, years of experience, accreditation, awards and social proofs from customers. We care to help you through the maze of information the web provides about this unique industry. You can trust the movers listed here to guide you and your family safely into moving day!
Are you a good moving company?
4.6 stars based on 127 reviews from around the web

Miracle Movers offers packing and storage services to its residential and commercial customers in Canada. With a team of courteous, careful, and efficient movers coordinated by knowledgeable and customer-oriented staff, this moving company has been successful at winning their customers' trust. They even have a high customer return rate! Honesty, Integrity, and Transparency matters most at Miracle Movers! The company's name speaks for itself!
Office Moving Services offered by Miracle Movers
Local, cross-province, and cross-border relocations
Premium car-shipping services
Zoning and tagging during the planning stage
Short-term and long-term storage
Secure and controlled paper shredding and waste disposal
Efficient movers with excellent organization skills
Professional, courteous and friendly employees
Expertise in handling delicate items like fine art and antiques
Provides insurance and other safety measures for your belongings
Does not rent out moving containers

Does not offer International relocations

Does not move heavy industrial machinery
Types of industries Miracle Movers specialized in
Government agencies
Airports
Law Firms
Accounting Firms
Non-government agencies
Real estate agencies
Designing and staging companies
Why do we recommend Miracle Movers for your office move in Mississauga?
Moving can be a very stressful and challenging endeavor and most people just expect a thing or two to go wrong. But when you hire Miracle Movers, they certainly live up to their name and deliver nothing short of a miracle. Many of their clients attest that their performance exceeded their expectations. If you want a hassle-free move, Miracle Movers is definitely the company you should call.
 4980 Timberlea Blvd #8, Mississauga, ON L4W 5C6
4.8 stars based on 475 reviews from around the web

Let's Get Moving & Storage is an award-winning moving company located in the Greater Toronto Area as well as in other parts of Ontario and Quebec. They provide a variety of moving essentials such as junk removal, professional cleaning, and storage units. The company gained an excellent reputation during its 10 years in business – winning the prestigious Yelp moving award from 2016 to 2018. They won many more awards such as being in Toronto's top 3 best moving companies from 2018 to 2020, receiving the Consumers Choice award in 2020 as well as the Best of Homestars 2020 award!! They definitely go above and beyond to give the best moving experience at affordable rates.
Office Moving Services offered by Let's Get Moving & Storage
Hassle-free relocation of workstations and office equipment
All-inclusive office moving services that leave you with nothing to worry about
Evening and weekend office moves to minimize downtime
A+ (Accredited since 2017)
Award winning company
All-inclusive hourly rates
Full insurance coverage
Do not offer international moving

Do not have offices outside of GTA
Types of industries Let's Get Moving & Storage specialized in
Small to large office spaces
Retail stores
Warehouses
Government agencies
Agricultural centers
Manufacturing chains
Why do we recommend Let's Get Moving & Storage for your office move in Mississauga?
With more than 60 years of experience in moving offices in Canada, you can be sure that Let's Get Moving & Storage can get the job done. The company proudly claims that they always go the extra mile in serving their clients and indeed, the stellar reviews definitely confirm this claim.
1805 Wilson Ave, North York, ON M9M 1A2
4.7 stars based on 335 reviews from around the web
CARGO CABBIE is a prominent Torontonian, locally owned and operated full-service moving company, which provides high quality, professional moving, packing and storage services for all sizes and types of residential and commercial moves. The vision of the company was to create a new brand, one with integrity and that would treat each and every client as if they are family. Their first priority is to excel in the services they provide and to keep their clients 100% satisfied. They have been multi-awarded "Best Business of 2021" from ThreeBestRated, featured "The Best Movers in Toronto" with BlogTO since 2014, rewarded "Best Movers Toronto" for many years in a row from HomeStars, and the over-870 HomeStars reviews demonstrate the quality of the services they provide.
Office Moving Services offered by CARGO CABBIE
Residential Move

Storage

Packing Services

Office Move

Plastic Bin Rental

Furniture Removal

Single-Item Delivery

In-Home Move

Specialty Moving


Furniture Assembly
First Hours is $290 and $70 every 30 minutes
Toronto and GTA, all of Ontario
Full storage services


Specialized in business and home moves but we can handle any and all sized moves

Award-winning moving company

Plastic bin rental available


Several moving services available
Office closed on Sundays

Deposit required
Why Should I choose CARGO CABBIE?
Recipient of awards of excellence for several years in a row, CARGO CABBIE is undoubtedly a great option for anyone moving in Toronto. Offering several services and possibilities, they will be able to move you regardless of the complexity of your move. They also specialize in condo, loft and studio moves, which are difficult and intricate moves. However, their experienced and professional movers will be able to take care of it with efficiency.
105 Brockhouse Rd Unit #100, Toronto, ON M8W 2X1
4.8 stars based on 22 reviews from around the web

Metropolitan Movers is one of the best-known moving companies in Canada. The company offers full moving and packing services for their commercial and residential clients. Their sales and customer service agents are available to answer all your moving questions at the click of a button on their main page. Metropolitan Movers are verified and reliable in the moving industry. They also offer packing services and various storage facilities to accommodate your moving situation.
Office Moving Services offered by Metropolitan Movers
Local and international office relocation
Fully customized moving, packing, and storage solutions
Temperature-controlled storage in multiple locations
Competent professional movers
Competitive pricing
Accepts last minute bookings
Eco-friendly packing
Do not offer international shipping

End month dates fill up fast

Do not accept personal cheques
Types of industries Metropolitan Movers specialized in
Small to big offices
Computer and IT companies Libraries
Museums
Corporate offices
Warehouses Universities
Why do we recommend Metropolitan Movers for your office move in Mississauga?
Client data shows a 94% approval rating which means that a big majority of clients are highly satisfied with the services of Metropolitan Movers. Since their debute in 2010, they have completed more than 50,000 residential and business moves. All moves are completed on time, on budget, and with zero damages. Metropolitan Movers has more than 40 branches in Ontario and 15 branches across the rest of Canada, so they can easily serve you wherever you may be.
5 stars based on 27 reviews from around the web
New Era Moving is a Toronto-based moving company offering many services to make sure your move is stress free. Whether you are looking for packing services or storage services, their team will be able to satisfy your needs. They even offer personalized moving plans, to make sure your experience suits your needs. New Era Moving will absolutely make sure to answer all of your questions and satisfy your needs!
Office Moving Services offered by New Era Moving
Full assembly and disassembly of office dividers, cubicles, tables and shelves
Full protection of office furniture and business space
Floor plan strategizing for new workplace
Full and partial office packing
Corporate relocations
IT equipment relocation
Furniture and equipment storage
Various locations in Ontario
Professional and punctual service
Clean and fully equipped moving truck
Fully licensed, insured and bonded
Highly efficient in handling electronics and IT equipment
Does not do moves that take less than 4 hours and require just one mover.
No BBB Accreditation
Types of industries New Era Moving specialized in
Residential
Small and large office spaces
Military housing
Medical
Electronics
Trade shows and exhibits
Museums
Why do we recommend New Era Moving for your office move in Mississauga?
New Era Moving is a highly professional moving company that deeply cares for its customers. Their stellar reviews and multiple awards speak volumes about the quality of service they give. Their moves are always completed within budget and on schedule. They are willing to make adjustments to make the move as hassle-free for you as possible. Their customer service is very responsive and they give regular reminders with regards to the schedule. If you want your office relocation to be safe and smooth, New Era Movers can do the job for you.
205 Bentworth Ave, North York, ON M6A 1P8
Moving is often synonymous of stress, long administrative tasks and a significant waste of time and money. MovingWaldo helps you solve all these problems in just a few clicks! After some shameless self-promotion, we invite you to discover our free moving tools available to all.
Connect the Internet, TV and phone.

Secure home and auto insurance

Find resources, checklists and more.
We bring together more than 700 organizations across Canada with a single and simplified form.
Other Commercial Moving Companies in Canada
Frequently Asked Questions about Office Moving
How much does an office moving company charge?
Office Moving Company set their charges based on several factors. For instance, your business size is the most important factor that will calculate the cost. Movers need to know the number of workstations, desks, cables, and servers you must transport to the new location. Not to forget, the overall design of the new space and the presence of business equipment may affect the cost.
Do I have to close my business on moving day?
Most of the business owners feel that they will have some disruptions on the day of the relocation. However, the best movers always try their best to minimize the hassle. You may need to shut down your business for a few hours to avoid potential operational issues depending on your activities. We think that you must prepare in advance to prevent complications. If it's possible, prioritize work from home on the day of. There will be fewer people in the way of the movers, and they will have more space to circulate.
What should my employees do prior to the moving day?
You must assign some responsibilities to your employees before the move and inform them on how the move will go. In other words, you must remind them when to pack their belongings and answer all their questions. A move can create some stress for some, it is important that Human Resources are ready to do some change management counselling to accompany employees throughout the process.
Does the mover set up the electronic devices?
Office moving company works with teams of certified engineers and technicians who will set up your electronic items, including telephone lines, servers, and cable networks. They will help you with the proper installation of IT infrastructure. If they do not provide the service, they will direct you to the right resources.
What are 5 tips for a perfect office move?
We have the best tips to reduce your stress during the office move.
Choose the best team of professional movers by communicating your needs and demands.

Engage your employees, it will encourage them to collaborate with the move.

Communicate often with your employees, vendors, and the moving companies.

You must start packing your electronic items,

 

documents, and other resources several days before the day of your move. Everything needs to be ready on your Moving Day.

Be aware of weather conditions, traffic problems, and several other issues that may delay the overall process. Thus, you must anticipate the possible delays while thinking of relocating your office.
Share this article on social media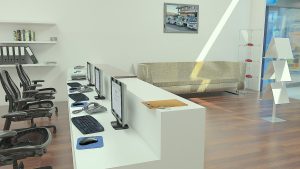 Office Cleaning Service
A clean office not only means a clean space but also a clean mind. Office cleaning has many benefits including the satisfaction of your employees and a better work environment! Studies have even shown that a
Read more »
Check out MovingWaldo's free moving platform and find everything your need for your move. No sign up required!