Cheapest Places to Live in Florida with the Best Quality of Life - 2022
Florida offers a warm and sunny climate, amazing beach resorts, amusement parks, global attractions such as Walt Disney World, the Kennedy Space Center, and Miami Beach. From mortgages to everyday prices, the state's cost of living is a major factor in determining whether you want to settle there.  Nevertheless, you can find cities with affordable living costs and great quality of life in the Sunshine State.  Before moving to Florida, you might want to know the cheapest places to live in this state in 2022 with the best quality of life. These cities were chosen based on their quality of life, access to essential facilities nearby and the average house and apartment prices. 
The Top 10 Cheapest Places to Live in Florida
Bartow, Florida, United States, was founded in 1851 as Fort Blount. The city has many recreational spaces and outdoor activities that let citizens experience the warm subtropical climate. Bartow has sixteen parks with large lakes, playgrounds, overnight camping areas, softball, baseball, soccer fields, and tracks for remote-controlled cars. If you plan to live in the area, the average home price in Bartow is around $96,500. As for an apartment, the average price of rent in Bartow is around $821 per month.
(*AreaVibes)
Palm Bay is central Florida's secret gem filled with natural resources for those adventurous enough to explore. It is located southeast of Orlando in east Central Florida, nestled between Jacksonville and Miami. Palm Bay offers residents elegant dining, scenic waterfront views, and unique shopping experiences. The Fred Poppe Regional Park, formerly Palm Bay Regional Park, was built in the 1990s, and it's the largest in the city. Palm Bay also offers affordable accommodation. If you plan to live in the area, the average home price in Palm Bay is around $110,000. As for an apartment, the average rent in Palm Bay is around $949 per month.
(*AreaVibes)
Sebastian is a small fishing village located on the mainland side of Florida's east coast. Sebastian boasts beautiful parks, hotels, resorts, museums, great public and private schools, an unobstructed view of the intracoastal waterway in the Indian River Lagoon along its dazzling riverfront district, and proximity to Atlantic beaches. In Sebastian, you can find a good home for $145,900. And for an apartment, the average rent price in Sebastian is $1,015 per month.
(*AreaVibes)
Newberry is a small city located in the southwest corner of Alachua County in Florida. Its population is 7,342, according to the 2020 census. Newberry is an excellent place to live in because it offers an affordable cost of living, lower crime rates, and low poverty rates compared to the national average. Despite its size, Newberry still provides great recreational activities to its residents. The city has unique stores for all your domestic needs, parks for relaxation, and restaurants. Generally, Newberry offers residents a suburban rural mix experience, and most residents own their homes. You can buy a house in Newberry for $146,100. The average price for rent in Newberry is $894 monthly.
(*AreaVibes)
Dunedin is one of the oldest towns on Florida's West Gulf Coast between Clearwater and Tarpon Springs. Dunedin has a wooded and subtropical setting with almost four miles of picturesque waterfront. The city offers a relaxed lifestyle and activities for all types of people and ages, which makes Dunedin a truly delightful place to live. Dunedin ranks in the 20 safest cities in Florida. The city is also home to the renowned Honeymoon Island, a great destination for tourists. Owning a home in Dunedin will cost you $157,200, while it'll cost an average of $985 to rent an apartment in Dunedin monthly.
(*AreaVibes)
Port Orange in Volusia County is 5 miles south of Daytona Beach and 91 miles southeast of Jacksonville. With a population of over 60,000 people, Port Orange is one of the best places to live in Florida. The city has many attractive parks for outdoor activities such as scuba diving, snorkeling, kayaking, and fishing. There are also numerous golf courses, including Port Orange Public Golf Course. There's also the nearby Daytona Beach Shores. If you plan to live in the area, the average home price in Port Orange is around $157,200. As for an apartment, the average price of rent in Port Orange is around $985 per month.
(*AreaVibes)
Cape Coral is located in Lee County, Florida, on the Gulf of Mexico. Cape Coral has a vibrant and friendly community that gives off the true beauty that you expect from Southwestern Florida. The renowned Gulf Coast beaches, golf courses, and family attractions like the popular Sun Splash Family Waterpark makes this city a great place to live and have a family. Florida SouthWestern State College's main campus is located east of Cape Coral in Fort Myers. If you plan to live in the area, the average price of rent in Cape Coral is around $1,095 per month. You can also find a house in Cape Coral for $173,400.
(*AreaVibes)
Temple Terrace is a suburb of Tampa with a population of around 26,600 people. It is the third-largest incorporated city in Hillsborough. It is located precisely in northeastern Hillsborough County, Florida, adjacent to Tampa. Temple Terrace is known for its rolling landscape, Hillsborough River views, and majestic sand live oak trees. The city was created as a golf course community. Temple Terrace gives off a small-town feel with modern facilities for recreation and everyday living. The quality of life is great, and the cost of living supports that claim. You can find a good house in Temple Terrace for $174,900. If you opt for apartments, the average rent in Temple Terrace is $1,001 per month.
(*AreaVibes)
Niceville is a small city in Okaloosa County, Florida, located near Eglin Air Force Base, along the shores of Choctawhatchee Bay in Florida's panhandle. Niceville is considered one of the best and safest places to live and raise kids in Florida due to the many educational and recreational facilities, such as parks, sports centers, playgrounds, and religious chapels. It also has a low crime rate and affordable standard of living. You get a house in Niceville for $204,600. Rent is also relatively cheap, with the average rent for an apartment in Niceville being $954 every month.
(*AreaVibes)
Winter Springs is the largest city in Seminole County, Florida. The city has several amusement parks that are ideal for family picnics and other fun activities for adults and kids. Winter Springs is near  famous places like DisneyWorld  and Universal Studios. Getting a house in Winter Springs costs around $214,800. While renting an apartment in Winter Springs costs an average of $1,093 a month.
 (*AreaVibes)
Affordable Housing Options in Florida
Even though we've looked at some of the cheapest places to live in Florida, you might want to know other affordable housing options. To avoid breaking the bank, check out the affordable housing options below.
Generally, tiny houses are small houses typically under 600 square feet. A tiny house is mobile and is moved by attaching them to trailers. However, they may be built on foundations in the ground. Tiny houses should not be confused with RVs (Recreational Vehicles). Some countries and states still debate the laws surrounding tiny houses. For example, since they are mobile, do they need to pay for the use of land, where they can't, or can they set up their homes? In Florida, there's flexibility to owning tiny homes. The state adopts the "Appendix Q" within its Building Code. This gives legal specifications on what qualifies as a tiny house in Florida and the laws relating to their uses. Here are some of the existing tiny house communities in Florida.
Circle Pond Tiny Community

Orlando Lakefront Tiny Home Community

Gracious Tiny House Park

Cross Creek Village
Getting Roommates in Florida
Shared apartments are beneficial to everyone looking to save costs on rent and utilities. This practice is extremely common among students, although young adults can leverage this opportunity when starting their careers. Getting roommates in Florida also gives you an extra hand to handle the chores. As much as this is beneficial, it also comes with its downsides. Conflicts are bound to happen, and sometimes personal belongings can go missing. When getting a roommate, it's important to consider the legal implications and requirements to avoid future issues with payments and other responsibilities. 
How Much Mortgage Can I Afford?
Mortgages given to you by a bank depend on the amount of money you earn, debts incurred, and your general living expenses. The higher mortgage you can afford, the more expensive a home you can afford to purchase. 
The price of homes can vary depending on which states you are living in the United States. However, you might want to find out how much mortgage you can afford with this mortgage calculator based on your household income, debts, and down payment amount. 
Household Income 

before taxes, no debts 

Down Payment

Maximum Mortgage You Can Afford in America

Term length: 30 years fixed

Interest rate: 3.500%

$70,000

$20,000

$256,983

$100,000

$30,000

$396,668

$120,000

$40,000

$493,125
Why Do People Move to Florida?
Here are some of the reasons people move to Florida:
More affordable property

No individual income tax

Recreational activities

Friendly neighbors

Quality education

Great weather

The beach!

Cultural diversity and a flourishing foreign born community
Florida is a great place to live in. The state offers some of the country's best recreation, entertainment, jobs, and education. This list of the cheapest places to live in Florida in 2022 shows that you can get the best quality of life at affordable rates. If you are planning to move to Florida, you might want to look for the safest cities in the U.S. with the best quality of life. 
Share this article on social media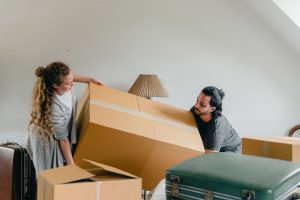 Moving tips
The Impact of Covid-19 on the Moving Industry The COVID-19 health crisis has affected our lives in significant ways, and has disrupted many habits and behaviors, both at the personal and collective level. We wanted to
Read more »
Check out MovingWaldo's free moving platform and find everything you need for your move. No sign up required!