Best Home Workout: 5 ways to stay active over the winter
Cold weather conditions and reduced hours of sunlight are the two main reasons why our physical activity slows down during winter time. Outdoor sports practised during the milder months of the year are often out of reach during winter, and it can be difficult to find the will to work out and stay in good shape, especially when it's dark and -10 °C outside. Nonetheless, physical activity is well known for its virtues against seasonal gloom, which is often due to being confined indoors. The list of reasons why it is important to stay active during winter is long: for the moral, which tends to decrease during the cold season; to activate your immune system, which is responsible for your energy level; to stay motivated, by fixing fitness goals for yourself, etc.
Working out at home is the most accessible and efficient alternative to stay physically active during the coldest season of the year. Even if you never even considered this option, or if you don't think you have the necessary space or material, at-home training is totally feasible, and you might even become a fan, for every winter to come! With only a little preparation and motivation, you will be ready to incorporate your physical exercise sessions to your daily routine, and to enjoy all of the benefits.
We have prepared a list of the best indoor exercises there are, in order to stay in good shape, and to maintain your physical and mental health throughout the upcoming months.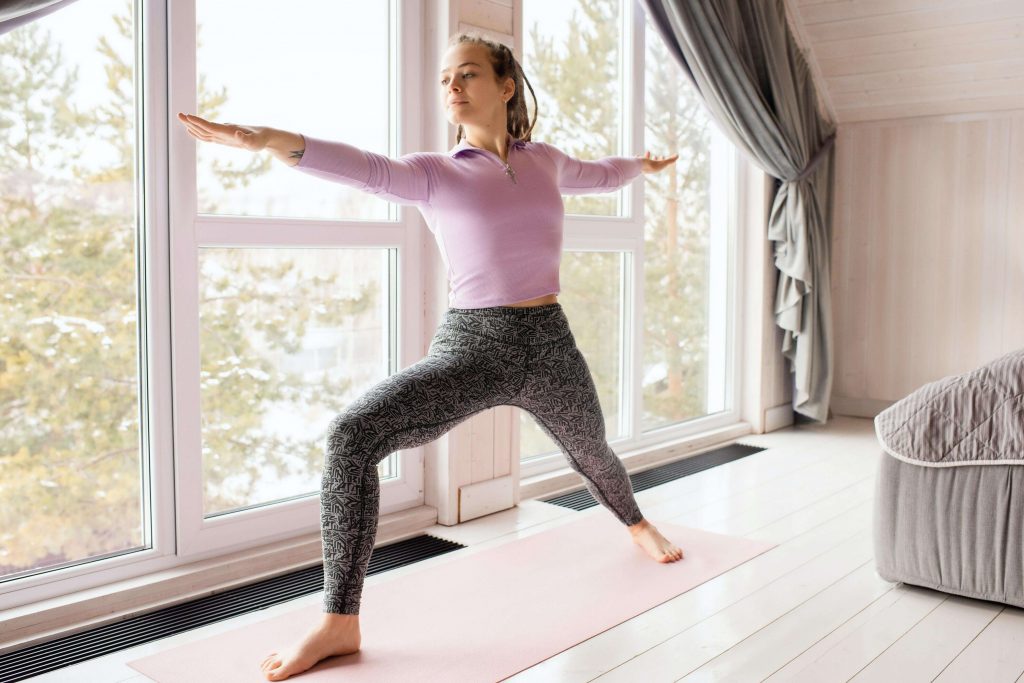 If you are lacking inspiration when it comes time to discover new ways to work out at home, or if you simply need a little encouragement, alone in your living room, we have the perfect solution for you: online fitness classes. Many studios and gyms have developed ways for their subscribers to attend their favourite workout classes online, and this way allows them to stay active from the comfort of their home. Some classes are given in real time, where the trainer streams their class to you and other remote participants. Otherwise, some platforms and coaches offer access to workout videos for you to watch at any time.
Popular and accessible, HIIT (high-intensity interval training) workouts are short, but intense cardio sessions, good for burning fat rapidly. This thorough exercise combines muscular strength and cardiovascular fitness, but can be adapted to all levels. By soliciting different muscles and offering a diversified and evolutive practice, HIIT workout allows you to improve your lung capacity and increase your performance in just a few weeks. Also, there are many alternatives possible for people with no equipment to still practise at home.
Boxing studios are also offering online courses for beginners, allowing you to initiate a new sport while keeping yourself active. On top of developing your muscular strength, your agility, your boxing tactics and to burn calories, fitness boxing also allows you to reach an incredible post-workout bliss, from blowing off some steam.
Dance studios are offering online classes to everyone that wants to move and exercise while also having fun. No matter what level you are at, what dance style you like or which musical tastes you have, many videos and classes are available to you, allowing you to stay active while staying at home. Conceived by choreographers or trainers, these videos will motivate you to master dance moves that you would have never done before, and will keep you in good shape all throughout winter.
Another way to maintain a good physical condition this winter is to build a targeted training plan, with goals to reach to spark your ambition. Many trainers and online platforms offer their help to find the best workout program for you, helping you to safely achieve your goals.
Highly recommended by kinetic trainers, this workout is one of the best muscular exercises, while also being low-impact on your body. As per its name, this training have you work your muscles using your own weight instead of free weight tools. On top of being safe, body weight workouts are free and offer a wide variety of exercises. With a program suited to your body and goals, you will rapidly see results.
Rope jumping is a timeless and effective exercise, practised by numerous professional athletes as a complementary workout. All you need is to get a jumping rope and find a workout plan adapted to your level of cardio, and you will notice an improvement in your performance within weeks.
It can be challenging to consider exercising outside during the winter months, and to face the freezing temperatures, the ice and the snow. However, there are many good reasons to step outside and find an activity that we like, even in winter. Staying confined indoors can, in the long run, have negative effects on our physical and mental health. By going outdoors, we oxygenate our brains with fresh air, fill our bodies with vitamin D (specially precious in winter), as well as taking in all of the beauty of the winter landscapes in nature. 
Running and active walking are two exercises that include many cardiovascular benefits, which are essential to our physical and mental well-being. Cold temperatures tend to limit our trips and travels, and discourage runners from training in the streets. However, with the proper attire and shoes, running and walking outside is absolutely possible, and allows you to visit parts of your neighbourhood that you wouldn't otherwise.
Many say that the best way to overcome Canadian winter is to take advantage of all the hiking trails around, and to appreciate the beauty of the territory in winter time. Most hikes are free, and some parks are also open to cross-country skiing and snowshoeing.
Over the past few years, more and more urbanites have developed a passion for fat bikes. A fat bike is an all-season means of transport that allows users to go through the most extreme surfaces and road conditions, because of its large and solid tires. This being said, many noted how valuable fat bikes are in winter, allowing them to easily commute through the snow. Bike enthusiasts; this is your chance to discover winter biking!
Despite being less active during the cold season, the body accumulates stress and tension in many different ways, which can cause damages to our physical and mental condition in the long term. It is important to keep a healthy balance between work, exercise and sleep, even when confined inside your house. It is common to spend more time at the computer or television, which can lead the tension in your muscles to build up. Don't neglect these rejuvenating exercises, open to all. 
A sedentary lifestyle can cause serious problems to your posture, your blood flow and your energy levels. Stretching sessions are ideal to remedy the lack of exercise that comes with winter, because they contain many benefits: oxygenate the body, flush out toxins accumulated by sleeping muscles, activate a healthy lung and blood circulation, tone muscles, etc. Many stretching exercise plans are available online, and can be done quickly, in the morning or at night.
Meditation helps with anxiety, but not exclusively. Today, tons of platforms and videos are accessible online for you to find a meditation that corresponds to your needs and preferences. This free and simple practice will have you feel its benefits almost instantly, which is why millions of people around the world adhere to it in order to find happiness, concentration, peace and composure.
Yoga apps and platforms are abundant and accessible, which means that you can easily find high-quality videos, given by professionals. The benefits of yoga are numerous, and attested: increases the level of energy, reduces stress, improves flexibility and strength, etc. No matter your level, you can attend a guided yoga session from your own home, and make it a healthy and relaxing habit.
If you desire to truly commit to maintaining an active lifestyle during winter, you should consider investing in at-home workout equipment. This is a sustainable solution to stay in physical shape without having to leave the house, and that can be shared between members of your household. From the comfort of your home, these appliances allow you to work out while watching your favourite TV shows, listening to your favourite music and even working, and even to save on time and money spent on a gym subscription.
Stationary Bike / Home Trainer
A stationary bike (and/or spin bike) is a powerful fitness equipment that is perfect for those who like to pedal. Combining muscular training with cardio workout, indoor biking is a complete physical exercise that can easily be fitted into your daily routine. For those who already have a regular bike, you might want to consider purchasing a home trainer, which allows you to bike indoors by simply attaching your own bike into the structure. In both cases, you can watch online spinning videos according to the intensity level of your choice, and get into your best physical shape without leaving your home.
Replicating the movements of rowing, the rowing machine is one of the most efficient fitness equipment for weight loss and muscle bulk and strength. By purchasing this equipment, you can follow a training program and get all of the benefits of having a complete and healthy physical exercise routine throughout all winter.
For all runners that have no business running outside during the cold season, running machines are the best options for you. You can now find on the market many different models for all needs: silent, foldable, inclined, manual, etc. By investing in a good treadmill, you will be able to stay active and in good shape every coming winter, while still practising your favourite sport. 
Being confined at home during the coldest months should not prevent you from staying active and in good physical and mental health. Quite the contrary, the body requires more care during winter, a difficult season for the immune system and morale. Instead of being sedentary, start the winter with a workout plan and avoid getting ill, losing your energy or productivity. Amongst the activities offered above, pick the ones that seem most interesting to you, try them out and embrace your new solution to staying healthy, happy, while also facing the harsh winter months.
Share this article on social media
Related questions from the community
Have a question about your move? Ask our community.