9 Desk Organization Ideas & Tips
Whether you're moving or just reorganizing your workspace, keeping your desk in order is essential. Messy desks, for example, have negative effects on our stress, anxiety and ability to focus. Whereas a clean desk, proper furniture and accessories can increase your productivity. In this article, we've compiled 9 desk organization ideas and tips to help you improve your work environment. 
Are you moving and wish you had some help? Check out our free interactive checklist.
Tackle Your Move in Minutes.
1. Save time with every task
2. Access exclusive deals
3. Track your progress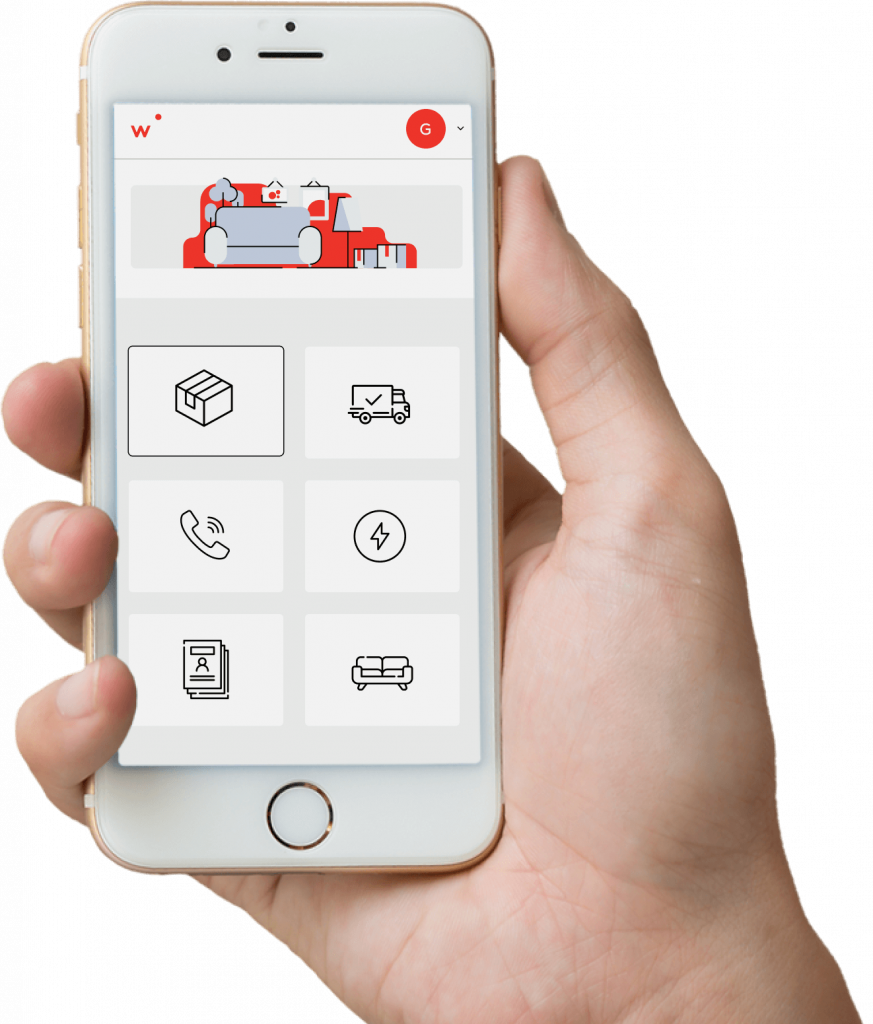 1. Select the right desk for you
The first thing to consider when organizing your desk is if the desk itself is suitable for you. As the main item of your workplace, it has to be carefully chosen. To make sure to select the right desk for you, ask yourself what size do you need and what shape desk is best for your space. As desks are quite heavy, you may need to get help to transport your item or use a service like Ikea delivery or Kijiji delivery. 
Another useful tip is to have the ideal desk height. Keep in mind that your arms and hands should be parallel to the floor when you type on a keyboard when sitting. Also, your feet should be flat on the floor and your legs comfortably fitting under the desk.
2. Hang a shelf over your desk
Hanging a shelf over your desk is a nice way to avoid messy desks and bare walls. You can opt for a floating shelf and hang as many shelves as you need (or as your wall can support) so that you free up space from your desk. Moreover, unlike drawers, shelves are right in front of your eyes. It makes it easier to spot and reach frequently used items. By surrounding your desk with shelves, you can store your books, paperwork, files and tools that need actioning. To avoid wasting time when searching for desk supplies, it is recommended to label them if you have too many.
3. Frequently declutter your desk
As mentioned above, a clean workspace is crucial for productivity purposes. The 3rd desk organization tip we're giving you is to declutter. Stay organized! You should purge your space by keeping only the essentials on your desk (items you use every day). Plus, it is recommended to put the things you use most near your dominant hand. The items you use less frequently should remain in the drawers of your desk and all the things you're not using can be stored.
Using drawer dividers is a good idea to cut through clutter. It might be the perfect solution for your space if you have too many tools. Compartmentalizing your drawers helps you find items more easily. It takes no time to restore order in your desk by using drawer dividers. Simply attribute a compartment to each tool or group of tools and put them in. Once you'll use drawer dividers, you'll never want to get rid of them. It is nice to be able to see everything in the drawer and to know that every item is in the same place as before.
The 5th desk organization tip is to use a monitor stand or riser. As more people work from home, internet connection is a requirement. Computers are therefore the most important item for many teleworkers in Canada. To make your work setup more comfortable, use a monitor stand. It contributes to proper monitor placement. It is indeed advised to place the monitor at least 20" (51 cm) from your eyes (about an arm's length distance). Laptop risers also exist for those who don't use a monitor.
Using a monitor stand makes your work setup more comfortable so that you can read text comfortably while maintaining good posture. Moreover, they give you extra space for your accessories. Some monitor risers even come with drawers.
6. Attach a pegboard for organization & decoration
Attaching a pegboard is a very practical and affordable way to store and organize many different items (desk supplies, essential items, craft tools, and more). You can even hang shelves on a pegboard. This desk organization idea can make you save precious desk space. 
Pegboards are extremely modular and you can use as many as you want. Why not mix desk supplies and decoration? It can be great to hang something that brings you joy or motivation as you will see it every time you work on your desk (like canvas art or family photos). Let your imagination and creativity flow!
7. Consider using a rolling cart next to your desk
If you need more space even after decluttering or hiring small movers to store your things, consider using a rolling cart next to your desk. Carts are especially useful if you have a small desk. It will extend your workspace as you can add extra storage to it. You can put whatever you want in it. The main advantage of using a rolling cart is that it is portable: it has wheels, so it can be wheeled out of the way and placed somewhere else when you don't need it.
8. Opt for a clamp-on desk lamp
Lighting is an important thing to consider when organizing a desk. You have to make sure you benefit from proper lighting since it has a huge impact on your productivity. When choosing a lamp, we recommend you to opt for a clamp-on desk lamp. It contributes to maximizing your working space since, unlike a regular desk lamp, a clamp-on lamp doesn't take room on the desk. Plus, it's smaller than a floor lamp.
Note: You might not need a desk lamp if all your work is done on the computer. No matter the brightness of the room, your screen should be bright enough to see.
9. Opt for an ergonomic chair to make your desk more comfortable
Your chair is just as important as your desk. You should be sitting comfortably in it. This is why this last desk organization tip we're giving you is to opt for an ergonomic chair. Also, a chair on wheels will give you easy access to your desk's entire surface. Whether it is an Ikea delivery or Kijiji delivery, it's a good tip to hire smaller scale movers in Montreal to take care of your furniture delivery.
In addition to improving your productivity, an ergonomic chair can help you maintain good posture, whereas an uncomfortable chair can affect your health negatively (back pain or strain). The curve in the back of the chair should follow the natural curve of your lower back. The height of your chair can also have a much more important impact on your productivity than you think. Just like for the desk, your feet should be flat on the floor.
These practical 9 ideas and tips should help you organize your desk so you can save time and make your work area more comfortable. Bear in mind that choosing the proper transport method for moving your large desk is smart to prevent accidents and that the proper furniture, accessories and lighting all contribute to enhancing your everyday life, since you probably spend the majority of your week working on your desk.
Share this article on social media
Check out MovingWaldo's free moving platform and find everything you need for your move. No sign up required!